Brother Weds Late Air Force Officer's Fiancée 3 Weeks After His Death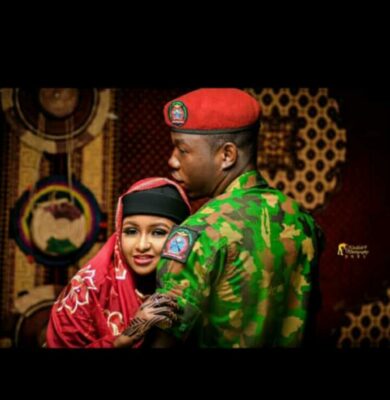 Suleiman Muhammad, the younger brother of a Nigerian Air Force officer, Abubakar Muhammad, who died in an ambush staged by bandits in Birnin Gwari, Kaduna State has opened up on why and how he married the deceased officer's fiancée, Hajara Ahmad three weeks after his brother's death.
The late Abubakar died on February 15, 2021 in ambush three weeks before his scheduled wedding to Hajara, his fiancée of many years.
In the absence of Abubakar on the wedding date, his brother Suleiman dumped his own lover and went for his brother's fiancée, Hajara.
Daily Trust reports that the wedding last Saturday in Kaduna got the consent of the two families involved. It, however, set tongues wagging as to the propriety of Suleiman getting married to his brother's fiancée a month after his death.
However, Suleiman in an interview with Daily Trust gave his explanation.
"After my elder brother's death, both families were devastated especially because Abubakar and Hajara where to get married in three weeks. So, our families, with the wise counsel of my mother, decided to hook us up.
"I am someone who does whatever my mother says as long as it does not go against Allah, so when she approached me with this idea, I agreed and hoped Hajara too will agree. She agreed and today everything is history as we have been joined as man and wife. I love her like I have known her for years," he said.
Explaining why he had to dump his own fiancée, Suleiman said:
"I never thought of getting married at this time because my girl is still in secondary school and I do not think she will be ready for marriage in the next five years."
The late Abubakar joined the Air Force only in 2017 and had recently finished a two-month special forces training before he died.

Send Us A Press Statement Advertise With Us Contact Us