All Ndi Igbo Want Is Justice, Equity, And Fairness
By Nnemeka Okafor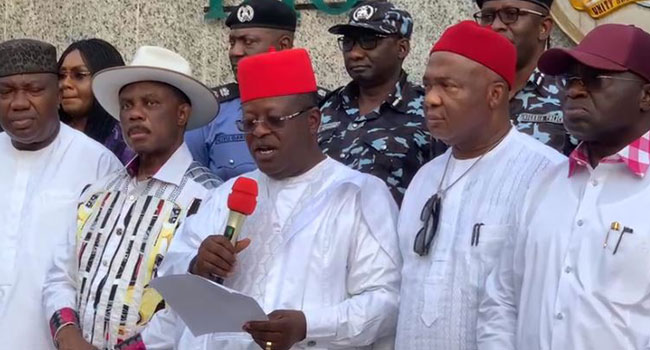 Against the background of agitations in the Southeast, Mrs. Nnaemeka Okafor, an aide of Governor Hope Uzodimma, from her close proximity to power ventilates what Ndi Igbo want in the polity. She writes:
Over a period of time now, the South East has witnessed series of orchestrated attacks on institutions, lives and properties across the fives Igbo speaking states that make up the South East geopolitical zone of our great nation.
What Ndi Igbo Want
Various degrees of conspiracy theories has been circulating in justification of these heinous acts of terrorism. Prominent amongst them is the ideology that Ndi Igbo are not in synergy with the Federal Government and as such, seek to secede by fanning the embers of discord and violence leading to war.
No one would urinate inside a well that serves his family – quote by Sen. Hope Uzodimma. Having experienced the civil war and its consequential attachment, the onus is on us to appeal to our teaming youthful population to jettison the approach from the angle of war, while dialoging on every pressing needs.
"…while I will not easily subscribe to the school of thought that believes that the South east is under siege, I will readily agree that since the end of the civil war,  Ndigbo has not witnessed such a monumental existential challenge as the one now staring us in the face. The question of how we came to this sorry state is no longer necessary. What matters now is how to get out of it fast enough and how to secure the zone from further harassment by militants and terrorists, and free our people from the accompanying fear and panic; they are forced to live with in the aftermath of the mindless attacks…"
What Ndi Igbo Want
These were the words of His Excellency the Distinguished Senator Hope Uzodimma extracted from his welcome speech during the just concluded South Eastern Security Summit. He went on to add that:
"…nothing can be further from the truth. Perhaps that is the intendment of these merchants of violence across Igboland. But that is a wicked and malicious conspiracy theory, concocted by enemies of Ndigbo. Let us therefore in one voice declare here and now that the South east is not at war with the federal government. If anything, we are on the same page in not only condemning terrorism anywhere in Nigeria but in fighting same with all the arsenals at our behest…"
What Ndigbo want is justice, equity and fairness. A Nigeria where all would be treated with equal footing. Ndi Igbo, as the highest stakeholders in Nigeria deserves these without reservation. Nigeria needs Ndi Igbo as much as Ndi Igbo needs Nigeria. This mutualism type of symbiotic relationship between Ndi Igbo and Nigeria must be seen to be so. However, we cannot achieve that through violence, criminality nor terrorism but by constructive engagement with fellow nationals.
What Ndi Igbo Want
This fight against the enemy of South East who are trying to create a theory that Ndi Igbo are not united enough to produce the next President of Nigeria, must be fought with every zeal and firmness. We cannot continue to allow the enemies within to propagate discord on our soil.
By our unity across board and with the synergy existing between Ndi Igbo and the Federal Government of Nigeria, we anticipate a productive commitment towards the justice, equity and fairness as we earnestly yearn for.
Nneamaka Okafor SA New and Electronic Media to Gov Hope Uzodimma.