New Report Links Pantami To Smuggled Arms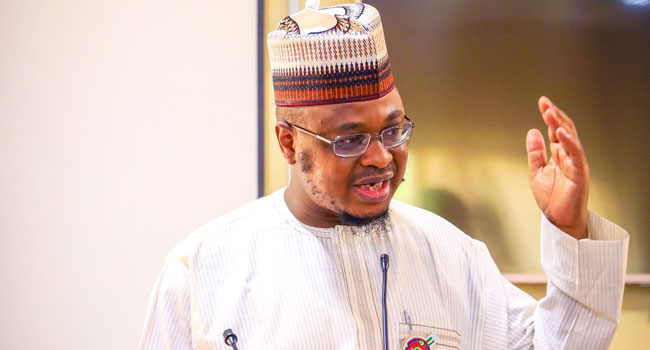 Fresh insight into the reported extremism of the minster of communications, Dr. Isa Pantami was unfolding in the internet on Thursday upon a report that he presided over a meeting that resolved to import arms to use in sectarian conflict.
Besides, the meeting allegedly presided over by Pantami was said to have agreed to use Islamists in the military to smuggle arms into Kaduna to fight the cause of Islam.
The details of the meeting came from Nairaland, the Nigerian run internet forum and social networking site. Efforts to get the minister's response by an online newspaper Peoples Gazzette were unsuccessful.
The communique of the meeting held on 13th July 2010 was trending on social media on Thursday and drawing applause for Nairaland.
Besides the communique on Nairaland, a Nigerian journalist, David Hundeyin was also being praised on social media for his serial exposes of the alleged connection of Dr. Pantami to extremism.
Mr. Hundeyin has countered that contrary to claims that Pantami has moderated his views, he reported that Dr. Pantami has remained fixated even using his government position to promote his extreme Islamist proclivities.
Extracts of the meeting of the JNI chapters from four states, Bauchi, Plateau, Kaduna and Niger with the theme to Fight Christianity and chaired by Pantami showed several efforts to promote violence using smuggled arms.
Among the most touching aspects of the communique of the JNI were moves to violently curtail the spread of Christianity in the north and more touching, the report that 3,000 arms had been imported to fight jihad.
While detailing measures to stop Christians including denial of building rights for churches, the meeting also said:
"Any attempt by the Christians to disobey or revolt against the decision shall mean fighting against the religion of Allah which the followers of Allah shall not watch but we shall violently wipe away the Christians in these states."
The meeting which also resolved to stir violence on the plateau to disorder the Christian population, said:
"The Muslim Ummah in Jos have solemnly resolved to fight the governor, his government and the entire Christians in any way possible. They shall never support this government and they will destroy any development that shall come to Plateau, even the existing ones.
Noting that the group had secured 3,000 foreign arms, the communique read thus:
"Again, they are ready for Jihad in the state as we have presently secured the needed arms. Over 3,000 foreign arms have now entered Jos and we will not vote during the governorship election," it was resolved at the meeting presided over by Pantami.
Pantami and his group according to the communique also pledged to "use our men who are in the military to help us bring arms and ammunition into Kaduna."