2023: Uproar As Obasanjo Shuns Tinubu, Obi, Pushes Adesina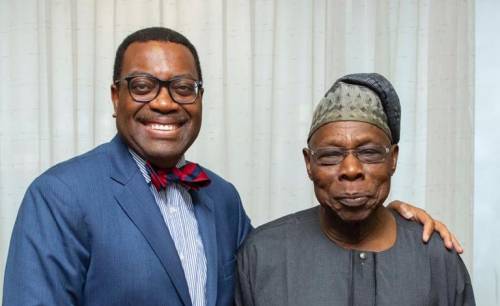 Dr. Olusegun Obasanjo is projecting new permutations into the 2023 presidential election by drumming support for Dr Akinwunmi Adesina, the president of the African Development Bank and former minister, it has emerged at the weekend. The move has seen Obasanjo scorn Asiwaju Bola Tinubu and the growing momentum for Mr Peter Obi, the former Anambra State governor who has been praised for his record in public office.
Saharareporters reported that the move by President Obasanjo followed his failure to bridge the discord between Governor Aminu Tambuwal of Sokoto State and Dr. Rabiu Kwankwanso over a common candidate.
Obasanjo's move is, however, being received with concern in some sectors of the country, especially in the Southeast as it discounts the raging agitation by the region to produce the president in 2023.
The move by Obasanjo is also bound to be received with concern by the leading aspirant from the Southwest, Asiwaju Bola Tinubu.
The online newspaper referenced Vanguard which reported that a source close to the former President said that it was the reconciliation of the two men that took the former leader to the Caliphate last week while he was in the state to commission some projects completed by the state government.
Obasanjo's aide said, "Last week, Baba was in Sokoto under the guise of flagging off some projects completed by Tambuwal but the real intention was to reconcile Governor Aminu Tambuwal with Rabiu Kwankwaso ahead of 2023 because two of them, who are his political sons, are keen on the Presidency.
"But it is also clear that Baba is trying hard to put up structures for another political son of his, that is the current African Development Bank President, Adesina, under the Peoples Democratic Party since it is clear to him that the North would not support his candidates for the posts.
"It is obvious to him that the reconciliation that the former leader is pushing is not in the interest of the North and he might jettison his current party and push for the formation of a hybrid party that will weaken both the PDP and the APC and strengthen the new one to win the Presidency in two years.
"Baba's backing for the AfDB President is predicated on his sound educational, economic and leadership pedigree that he believes can guaranty him easy victory over other recycled politicians with some baggage," the top politician said.
While some alluded to the long rivalry between Obasanjo and Tinubu for his decision to shun the former Lagos State governor, the former president's decision not to take his dragnet to the Southeast in the face of the region's agitation is bound to elicit questions from those who have hailed Obasanjo as Nigeria's most nationalistic leader ever.
Meanwhile, the development has led to a strong debate on twitter with Nigerians reacting with mixed feelings.
Ijiji Anthony @ijiji_anthony said:
NIGERIA have areas of strength & of weakness. In Nigeria, ethnicity, religion & nepotism are major weaknesses among our leaders. However there are few leaders who did not allow the trio factors to tarnish their regime: Yakubu Gowon Olusegun Obasanjo Shehu Musa Yar'Adua
God's Creature Son @GodsCreatureSon
Akin Adesina fot yhe Southwest candidate and Ngozi Okonjo Iweala for the East. They're both Obasanjo's candidates for long. Sometimes when OBJ talks, we failed to reason with d man & we have forgotten that OBJ is no part of d suffering in dis country. He don already get money
Kay Kings @Iamkaykingz
Baba Obasanjo is an elder statesman, he should show equity & love for SE by supporting Mr Peter Obi for president.
Okwudili @SirSimone
You think obasanjo can reciprocate the genocide he did in odi and zaki ibiam on igbos? I pity you. Ask him why he ran when he saw biafran forces in owerri during the war he was even shot in his buttocks according to alabi isama
Lesticalf @lesticalf
Who is even Obasanjo to choose President for Nigeria, people who destroyed this country want to perpetuate their oligarchy
Sulaiman Adoga Ibrahim @soaibrahim12
I wish Obasanjo made the right choice in 2007 when he was in a position to anoint a successor. Adesina is a FANTASTIC choice but how far can he go in a corruption infested system where electoral outcomes are manipulated? Will still root for him anyday
@prinz_sammy
How many Candidates have Obasanjo supported and won? Obasanjo is highly inconsequential as far as Nigeria Politics is concerned
@thebitt72583411
Obasanjo and his likes only want one Nigeria for selfish reasons. Many of these past leaders are still on 'huge' pension salary and other remunerations, so what do you expect? We are talking about restructuring, Obj is talking about the 2023 election.
@tessol Obasanjo playing Godfatherism already…. help sort out the Nigerian problem which you're part of …!
@Peterahmed7
Obasanjo nightmare will be Tinubu presidency because of his selfishness, Just because he did not believe in abiola nd june 12 struggle and he has not forgive the Yoruba's that did not support him during 1999 election and tinubu is one of them
@iykelystic
If Obasanjo supports you, hm watch your steps because you are already on the ground.
@tee_pro1
True. We can't also deny fact it is the same set of Leaders such as Obasanjo that has led the country to the current state. While it might be tempting to think bringing the right candidate is the solution, it is not. Why? The system is faulty
@tee_pro1
While Akinwunmi is great Candidate, we shouldn't rule out the fact that Obasanjo is his "Oga at the top".
@st_bennetts
Does Obasanjo have votes anywhere to give Akinwunmi victory? Anyone supported by Obasanjo directly earns Obasanjo's evil;he is one reason Nigeria is still where it is today.He left governance and setting of structures to attacking pple and seeking supremacy over all others .