How Peter Obi Stopped My Re-Election – Victor Umeh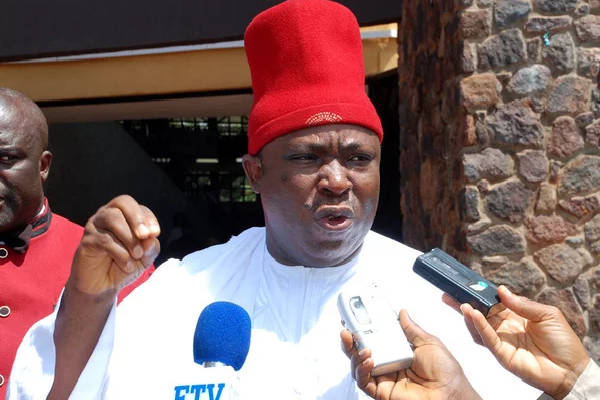 Senator Victor Umeh has opened up on how the emergence of Mr. Peter Obi as the running mate to Atiku Abubakar cost him his re-election to the Senate in 2019.
Senator Umeh emerged as senator to represent Anambra Central in January 2018 after more than two and half years of legal cum political battles with his longtime political rival, Senator Uche Ekwunife.
GreenWhiteGreen GWG reports that Umeh's bid to return to the Senate was derailed after Ekwunife defeated him in the 2019 election.
Speaking in public for the first time how the momentum he got in the 2015 election was derailed in 2019, he said:
"The PDP gave Peter Obi the vice presidential ticket and he went about saying that if he became the vice-president and didn't have a senator from the PDP on his side that he wont be able to do much and that was what affected me," Umeh said in a television interview.
According to him the urge by his constituents to have Obi as vice-president was the momentum that drove the momentum in favour of Ekwunife and cost him the election.
GreenWhiteGreen GWG reports that the presidential election in which Obi stood as the vice-presidential candidate of the Peoples Democratic Party, PDP and Umeh stood on the platform of APGA were held the same day.
Reacting to claims of discord in APGA ahead of the forthcoming governorship election, Umeh, who became the second chairman of the party and ran it for more than decade said:
"Yes as it is normal with any other party, yes APGA may have its issues but I believe that the governor of Anambra State who is the leader of the party should be able to step out now, now, right now and resolve the issues."