Nigerians React As Akpabio Fights Link To Murder Of Akwa Ibom Female Job Seeker
Twitter Reactions To Akpabio's Demand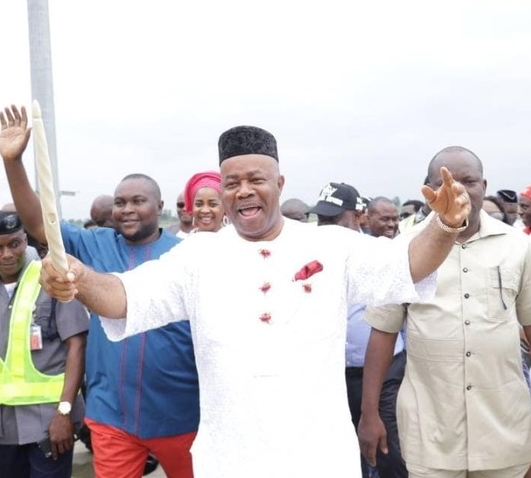 Minister of Niger Delta affairs Godswill Akpabio has been brought to the fore on social media after he threatened to sue investigative journalist David Hundeyin for supposedly linking him and his wife to the major suspect held for the murder of the orphaned graduate, Iniubong Umoren.
Hundeyin had alleged in his report that Uduak Akpan, 20 who was paraded on Friday for the murder of Umoren called a number of people after the murder among whom he mentioned was an aide of Akpabio's who he claims works as a protocol officer in the minister's office. According to Hundeyin, the said aide is well known in the Federal Secretariat as the minister's aide.
He alleged that Akpan and Akpabio's aide also "met physically at a certain 58G, Ewet Housing Estate in Uyo", which is a hotel named as Davok Suites.
He claimed that the hotel belongs to Akpabio.
The insinuations prompted Akpabio to write Hundeyin to withdraw his claims within 14 days or he would sue.
In a letter from his lawyers, Akpabio had given Hundeyin 14 days to withdraw the assertion failing which he would sue him in the courts.
"We hasten to make a point that assuming (though without conceding) that Kufre Effiong is a staff of the Ministry of Niger Delta Affairs and/or one of its contractors, Senator Akpabio does not know, has never met and has never had any contact whatsoever with him. Neither Sen Godswill Akpabio nor his wife, Mrs Ekaette Akpabio had anything whatsoever to do with the horrific death of Iniobong Umoren," the letter read.
"Secondly, neither Davok Suites (which is a corpate entity) nor the land housing it belongs to Mrs Ekaete Akpabio.
"Indeed, a proper search at the Corporate Affairs Commission would have disclosed to you that Mrs Ekaete Akpabio is neither one of the Directors nor Shareholders of Davok Suites."
Hundeyin who is remembered for his exposing reports on Dr. Isa Pantami past links with terrorist groups and support of Boko Haram, had promptly replied daring the minister to sue.
Meanwhile, the development has enlivened twitter with users weighing in over the issue. Among those who weighed in was former presidential candidate and civil rights activist, Omoyele Sowore who encouraged Hundeyin not to back down on the claim that Akpabio will not have the moral fibre to bring a court action.
The minister and his wife also demanded immediate retraction of the publication and public apology within two weeks else they would file a lawsuit.
Omoyele Sowore @YeleSowore
Dear @DavidHundeyin
please don't be scared of a Defamation lawsuit from Godswill Akpabio, they just wanna scare you shirtless. Akpabio doesn't have a reputation that could survive in a Magistrate's court. Thank you!
Mista_Ife_™@Hifehimovic
He made some heavy accusations tbh, so I fear for him too but I want to believe his confidence is motivated by availability of abundant evidence
Ojenima Righteous @OjenimaR
Indeed… That confidence is base on convincing evidence from his search. However the case, in due time, we shall all know the outcome. All the best to him for his good works.
OMOBOLANLE ADESUYI
@merrybola
They can't even sue. The courts are still on strike. But, it's good that Akpabio and his wife are challenging the report, it's the right thing to do. It'd only expose the truth further.
Nafti @nafty_kachiis
The choice of words are beautiful as David choke Akpabio. See finishing
There's that. What I sense more is the confidence of someone who knows exactly what he is doing. At some point he mentioned ritual killing alongside organ trafficking, and from then on, his tweets have basically hit more on organ trafficking…
OlaSunkanmi @the_olasunkanmi
…He is a smart guy and knows what is at stake if he's wrong. The entire hardwork will come crumbling down if they can find the smallest of solid error. He knows this and yet he is so confident. If I was in their shoes, I'd be scared. Very scared.
David Hundeyin @DavidHundeyin
…is not just a senior civil servant, but a well known face at the Abuja federal secretariat. When it emerges whose office he works in and what he does there, I will laugh my ass off
Please sue o!!!
ọdụm @mark_bina26
Uneku "Clark Kent" 20/10/20
@UnekuE
Why is Godswill Akpabio so defensive, has anybody accused him of anything?
Iamauxin @iamauxin
Akpabio gave David Hundeyin 14 days to withdraw the report. David Hundeyin on receipt of the letter waived the 14days ultimatum and asked Akpabio to go ahead and sue. Akpabio over to you:
Chris Ofoluwa @edirinofoluwa
See the person wey Akpabio dey try to distance himself from. Now, he works with Akpabio. Some traction, at least. Soon, them go gree say him dey work under/around/about/beside Akpabio. We dey wait.