Bank Packs Away Cash As Fire Guts Ladipo Market In Lagos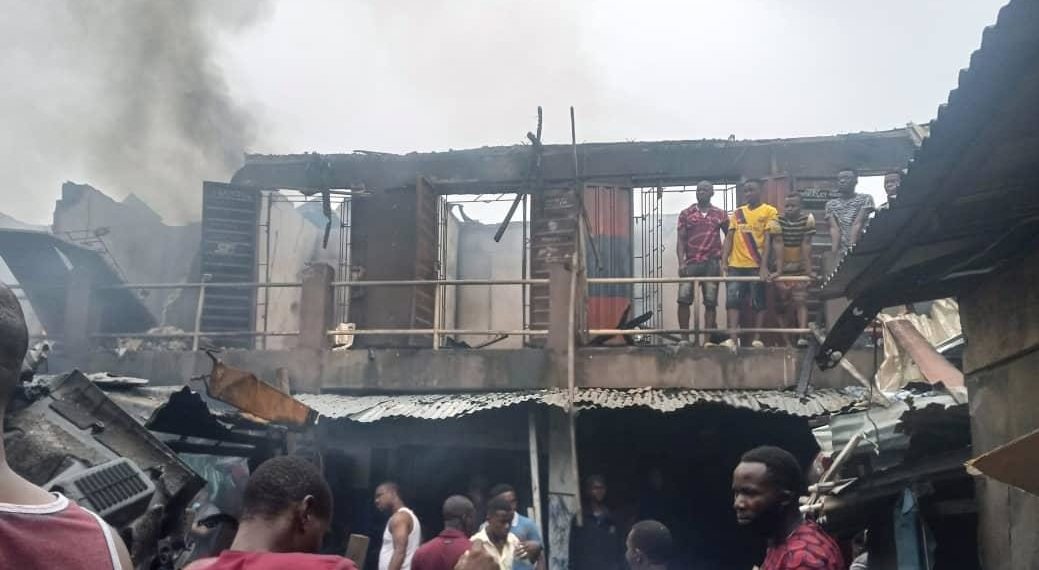 A bank evacuated cash from its vault on Wednesday following a fire outbreak at the popular Ladipo Market in Lagos. The fire in the popular Ladipo Market came as the police in Lagos warned cultists against celebrating the July 7 otherwise known as the 7/7 celebration in the state.
Ladipo is the major spare parts market in Nigeria's commercial capital. The cause of the fire which reportedly started around 4:20 am is yet to be known. No fewer than seven shops have been gutted by fire.
The affected shops contained various types of explosive items including domestic gas being sold to customers.
Police Explosive Ordinance Department, Federal State and Lagos Fire Services are responding, according to the National Emergency Management Agency (NEMA).
"So far, no information on anyone trapped, no civilian has been injured except one responder whose was injured by strapnel of the explosion."
"Operations still ongoing," LASEMA said in a statement.
 With the cause of the Ladipo Market fire remaining unknown, the police in Lagos on Wednesday warned cult groups against coming out for their 7/7 celebration as planned.
The police in a statement issued by Lagos State Police Command's Spokesperson, CSP Olumuyiwa Adejobi, said the warning was necessary to curtail cult-related activities in the state.
"In its bid to curtail cult-related activities and forestall any possible breakdown of law and order in Lagos State, the Lagos State Police Command has warned against any gathering, under whatever guise.
"In commemoration of the 7/7 Annual Celebration (Boogie-Night) of the Neo Black Movement of Africa, a.k.a Black Axe today July 7, 2021, the command has put its officers and men on red alert.
"The Police Command, based on availability and processed intelligence at its disposal, has deemed it necessary to warn the group to desist from any celebration to commemorate today 7/7/2021," Adejobi said.
GreenWhiteGreen, GWG cannot confirm any relationship between the Ladipo Market fire and the 7/7 planned protest.
(With reports from Daily Trust)