PDP Govs Are Too Lazy – Buhari Supporters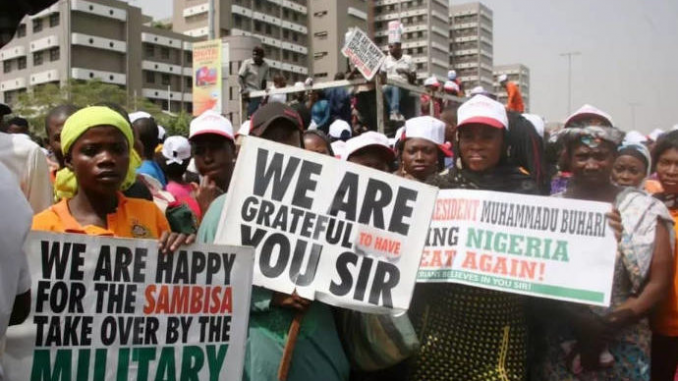 Supporters of President Muhammadu Buhari have dismissed the recent calls by Peoples Democratic Party, PDP governors against the defection of their colleagues to the All Progressives Congress, APC and the president's role in receiving them.
The Buhari supporters under the aegis of the Buhari Media Organisation, BMO described as an embarrassment the communique of the PDP governors at their Bauchi meeting describing them as rumour peddlers and lazy leaders.
Delivering the verdict, the Buhari Media Organization (BMO) described the PDP Governors' Communique as "unintelligent, lacking in substance and truth".
In a statement signed by its Chairman Niyi Akinsiju and Secretary Cassidy Madueke, BMO said "it is incredible that a group of Governors under the aegis of PDP Governors would sit down and come up with a communique that sounded like the outcome of a beer parlour meeting. It was based on untruths and fake news".
The group noted that the President and his party had been elected into office and thus the Presidential Villa is his residence, consequently, he could receive guests, whether new entrants into the APC, or even Governors of the PDP coming to thank him for being a man of integrity.
"It should surprise no one that new entrants into the APC come to meet with the President in his residence. It is in this same manner that Governors like Godwin Obaseki of the PDP and Willie Obiano of the APGA have come to the same Presidential Villa to thank the President for not interfering in their elections, and allowing a free and fair playing ground for the elections to hold.
"These kinds of appreciation could never happen under PDP administrations when leaders used all manners of state apparatuses to bully opposition and force their will over that of the people.
"Also, there has never been a point where the APC claimed that the evil of kidnapping, banditry or terrorism was a business; it is preposterous that such falsehood is coming from Governors, and not roadside activists.
"By making such an unfounded allegation, these Governors have acted as if they are desperate busy-bodies with no serious work to do — meanwhile their States are barely receiving any proper care or management.
"We beat our chest to say that this government is dealing decisively with terrorists and bandits, killing hundreds of them weekly and recovering their plunder while returning communities back to sanity and peace.
"The troubles and security challenges the country is facing in some areas will soon be history. More equipment and tools are being acquired to strengthen the fighting power of Nigeria's armed forces. Serious Governors should be commending this and finding ways to work with the Federal Government to tackle issues of security they face within their localities".
The group advised PDP Governors to "go and be better, and more responsible leaders in their States, and abandon the unprofitable business of roadside rumourmongering, and dereliction of duty".
Send Us A Press Statement Advertise With Us Contact Us