Re: Edo PDP Crisis: Choices Before Our Party Members By Akemokue Lukman
By Osagie Kenneth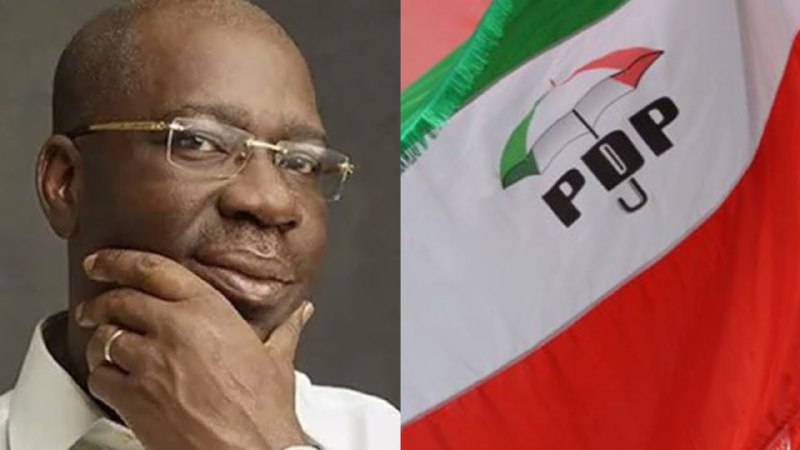 The first thing that comes to your mind whenever you read from Akemokue Lukman is that of idolization of evil in PDP because he is yet to embrace the idea of being joined into the Party of decency, integrity and unity.
He makes himself readily available to be used as a tool for destabilization of PDP. His series of now uninspired satanic verses since his Channels TV interview on all social media platforms are meant to bring the party to disrepute and opprobrium. What charms him more is how his master will be able to destroy PDP by factionalizing it the way he did to APC before he was pushed out into the rain and sun.
It was unfortunate and eternally regrettable that such an unsuspected character was brought to PDP with repulsive inclination. The Frankenstein Monster will go to the end of the world to destroy everything on his way.
After the election, Obaseki never dealt with all strata of leadership in PDP for harmonization as erroneously claimed by Lukman. What Obaseki did was appoint Ogie, his right-hand man, without consulting with the original PDP members. The position was ideally supposed to go to Hon. Paschal Ogbomhe who was the Campaign Director of Obaseki in Edo North – a quintessential gentleman and a friend to all.
Secondly, it is not true that Mike Oghiadomhe, Tom Ikimi, and Lucky Igbinedion had a faction in PDP. Oghiadomhe and Tom Ikimi, with due respect, have no following in the party. Chief Mike was a Chief of staff to GEJ for 6 years, can Edo or any Edo citizen say specifically what he brought to the state? And as for Tom Ikimi, his history from Abacha is a well-known story.
Even in Ighueben, he doesn't command following. It was unfortunate that Obaseki doled out money to them without finding out who they were or what they really stand for in the party.
And as alluded by Lukman, the governor had no reason to wait for over 1 year to make his appointments if he had no intention to run a cabinet-less government. This same type of decamping happened in Sokoto and Benue States, they didn't wait for over a year to name their cabinets because they were fair to the party members decamped to.
Obaseki is not fair, not just, and not sincere. That's the simple truth. His appointments are to his immediate family, friends, and those who decamped with him. Point to any old PDP in his cabinet so far.
As expected, Governor Godwin Obaseki has cut out a part of PDP for himself, which Lukman has called 'Anselm Ojezua-led the new-PDP group.' What do you expect of a divisive man who created EMP and OSM in APC before he left?
Lukman talks so much like a spoon-fed child he is: Hear him, "Obaseki will empower his harmonized formidable structure with appointment of 21 commissioners, 192 special assistants, 72 senior special assistants and 15 special advisers and plenty of boards appointments." So after all these appointments, will the world stop becoming night and day? Will people stop eating or will hunger stop immediately for those who will get those positions? Very laughable small mind Lukman is!
PDP shall overcome certainly. The party has stopped Obaseki's plan to bring his so-called 'harmonised Exco' to the PDP National Convention. Since Lukman is not aware, he needs to be told. The national is not choosing between his evil and the party, he is a well-known character at the National from his betrayal of Oshiomhole.
Obaseki is now a known national figure with a legacy in betrayal which PDP at the national is not ready to deal with, they fear he will betray them again and go back to APC having betrayed them by not signing the Anti-Grazing Bill that was agreed at the Asaba Declaration but ran to Buhari, in a decoy, to start begging for alms. No national PDP officer or governor trusts Obaseki.
The statement that if they are not allowed his illegal harmonized list, he will not be attending the national convention is loading…he will get to know about PDP that the Party does not tolerate illegalities that Obaseki has brought to the party.
Osagie Kenneth Wrote from Benin City.