Wilson Badejo Foundation 15th Annual Lecture: Press Conference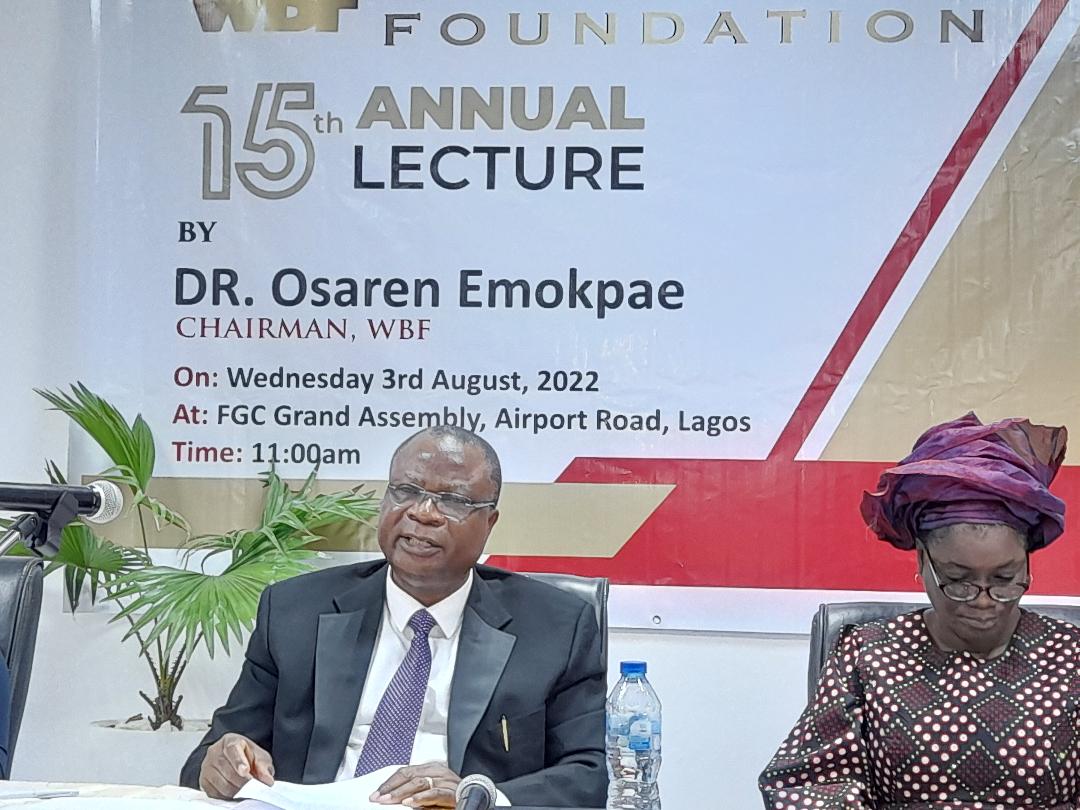 FOR THE RECORDS:
Dr Osaren Emokpae, chairman of the Wilson Badejo Foundation, WBF on Wednesday, August 3, 2022, addressed the media to herald the 15th annual lecture of the foundation.
The lecture holds at the Nigeria Institute of International Affairs, Victoria Island, Lagos on Wednesday, August 10, 2022.
Full Text of the press conference which was preceded by a one minute silence in honour of Rev Dr Wilson and Rev Mrs Adeyinka Badejo.
It is with mixed feelings that I welcome you to this press conference; Mixed feelings because the founder, Rev Dr Wilson Badejo and co-founder, Rev Mrs Adeyinka Badejo are no more with us here to personally welcome you to this press conference. Their sudden departure shocked the world. But I am glad their vision for a fairer, more equitable world did not depart with them.
That is why the theme for this year's annual WBF lecture focuses on the twin problems of poverty and insecurity, with an eminent and erudite scholar-Professor Eghosa Osaghae, the Director General of the Nigeria Institute of International Affairs (NIIA) as the guest lecturer. He also gave us the venue for the lecture gratis for this year and next. And the Father of the Day and Very Special Guest of honour is President Olusegun Obasanjo. Chairing the Occasion is the General Overseer of Foursquare Gospel church in Nigeria Rev Sam Aboyeji. We have other special guests of honor – Mr Femi Adesina – Special Adviser to the President; Mr Obaro – Founder of Systemsspec; Dr Godwin Ehigiamusoe, CEO of LAPO Group; Dr Iyi Uwadiae, Former Registrar of WAEC and Chairman of Governing council ED–JOHN Institute of Management and Technology. Several other eminent personalities will grace the occasion.
'The journey of a thousand Miles begins with taking a single step.'
To remind us, Wilson Badejo Foundation (WBF) was birthed at the 60th birthday anniversary of the Visioner/Founder/Chairman, Reverend (Dr) Wilson Adebogun Badejo, a trained Veterinary Doctor turned Cleric, on the 19th May, 2007 at the Mainland Hotel, Oyingbo in Lagos, Nigeria.
Rev Badejo thereafter, had a meeting (around August 2007) with Dr Kemabonta (The General Secretary) and said his dream was to put smiles on the faces of people especially the downtrodden masses, the less privileged and those, who, for reasons other than their faults, have been displaced from the country's economic equilibrium. Such people he has passion for, are particularly the youths (boyz) who are full of energy but have channelled it to causes other than productive. These are guys (men and ladies) who live in the ghettos of their communities, unable to feed themselves and their dependants. Many of them live irresponsible lives like taking to drugs, alcoholism and crimes. The conclusion at that meeting included:
To have an annual programme for the boyz (outreach and skill acquisition program)
Give scholarship annually to "Indigent" but brilliant students
Organize annual Lecture
Outreach to Villages and suburbs
Community development
Vision Statement
To integrate, as much as possible, the less privileged in our society into the nation's economic system in a bid to reduce poverty in the country.
To enhance the economic status of the less privileged in our society through the sharing and caring ministry.
Objectives of WBF
Reach out to the less privileged in our society;
Provide empowerment via Vocational Training and Skill Acquisition programmes;
Provide counselling to individuals in need of godly counsel;
Provide opportunities for the educational advancement of indigent but brilliant students by the award of scholarships and support arrangements;
Initiate, encourage and sustain selfless service to the society, undertake all other activities that will ensure free and uninhibited enjoyment of assets acquired through the Foundation;
So far, the foundation has consistently lived to its mandate. To deepen the capacity of the foundation to meet its goals on a sustainable basis, the new board began to build institutional organs and processes to effectively and efficiently drive the organisation with a development Economist, Dr Osaren Emokpae as chairman and Wall Street veteran, Femi Badejo as vice chairman, and financial guru Ore Badejo as Treasurer. Of course, with the guidance of Professor K. Kemabonta – the General Secretary and other very capable board members taking institutional responsibilities.
Most of the present board members are going to move over to a guidance Board of Patrons to enable more fresh energy and fresh blood to be injected into building WBF within the next three years. Currently, there are four board committees – Finance and General Purpose, Care and Compassion, Lectures and Scholarship and finally, Board Audit committee.
As you are already aware, this year's annual WBF lecture focuses on the twin problems of poverty and insecurity. Therefore, I will, at this juncture give you a peep into them and other related Nigerian problems in the following order:
misery index in Nigeria compared to other African countries;
poverty level in Nigeria;
insecurity in Nigeria;
kidnapping numbers in Nigeria compared to other countries;
looting of public funds;
Nigeria corruption index compared to other countries;
Nigerian life expectancy compared to Egypt and South Africa.
Misery index in Nigeria compared to other African countries:
The misery index is a measure of how miserable the citizens of a country can be at a particular period of time. It is measured by evaluating the addition of Inflation Rate, Unemployment Rate and Lending rate, minus Year-On-Year growth in GDP per Capita. This shows that the higher the misery index, the more the citizens are in a miserable state and the lower the misery index, the higher the level of happiness in the country. Alternatively, it can be said that a miserable state is associated with lower level of employment, higher lending rates, higher inflation rate and a lower growth in GDP per Capita.
According to Hanke's Annual Misery Index, a global economic study of countries conducted by Steve Hanke, a professor of applied economics at Johns Hopkins University, Maryland, United States, in 2021, Nigeria fared abysmally in all the misery index parameters and was the fourth most miserable country in Africa only better than Sudan, Zimbabwe and Angola.
The high misery indices of Sudan, Zimbabwe and Angola are understandable. Sudan was for many years wrecked by civil strife, Zimbabwe is yet to recover from the atrocities of the Robert Mugabe era while Angola's oil wealth has been plundered by its successive leaders.
The reasons for the Nigeria's high misery index are obvious. The Buhari's economic policies are delivering pains for the majority. Since he assumed office in 2015, the country has witnessed two recessions. In 2020, Nigeria recorded a negative growth of -1.8 per cent. It was -1.6 per cent in 2016. For a country of about 211 million struggling with a GDP of $432.29 billion (2020), this translates to mass deprivation.
We should recall that in 1981, Nigeria recorded the lowest misery index of 7.53% to indicate that about 92% of the citizens were happy. The index level later increased at an increasing rate from 1982 to 1984 until it increased at a decreasing rate in 1985.
The year 1995 saw the misery index at its highest point of 96.43% to show that only 4% of the citizens were happy (during the Sani Abacha regime). In 1999, the misery index level of Nigeria was down (perhaps because of our transition to democracy). It remained relatively so until 2017 when the country recorded an upward misery index value of 67.09%. Since then, Nigeria has unbearably been battling with high misery indices and the resultant mass poverty up till now.
The result is unemployment, which was 25.2 per cent in January 2017, climbed to 29.5 per cent in July of that year, 33.10 per cent at the end of the year and 33.3 per cent at the end of 2020.
Annually, millions of youths graduate into the labour market with little hope of gaining employment. According to National Bureau of Statistics, 20 per cent of full-time workers lost their jobs in 2020 due to the COVID-19 pandemic, a situation which exacerbated youth joblessness which is currently estimated at between 42.5 per cent and 55 per cent.
2. Poverty level in Nigeria:
In its poverty assessment report titled 'A Better Future for All Nigerians: 2022 Nigeria Poverty Assessment', The World Bank stated that the number of poor Nigerians is projected to hit 95.1 million by the end of 2022.
According to the report, the number of poor people in Nigeria was 82.9 million in 2018/19. But the COVID-19 pandemic drove the country's poverty rate up and likely to push more than 5 million additional people into poverty by the end of 2022.
The report further noted that "were the pandemic not to have hit, the poverty headcount rate would have remained virtually unchanged, but its effect caused the number to rise from 82.9 million in 2018/19 to 85.2 million in 2020 and 90.0 million in 2022, due largely to natural population growth" .
The World Bank added that Nigeria's dependence on oil exports is one of the leading causes of its frail growth prospects, and it may also prevent any growth from being broad-based. For example, in 2019, while oil represented just 10 percent of GDP, it also accounted for more than 80 percent of Nigeria's total exports.
"Indeed, this has been true in every year since the 1970s," the bank argued, noting that it leaves Nigeria's economy extremely exposed to movements in global oil production and global oil prices. Despite oil's importance for exports, extractive industries are not a large employer in Nigeria", the bank said.
The World Bank argued that other distortionary policies – especially on exchange rates and trade – could further weaken Nigeria's prospects for inclusive growth and poverty reduction.
According to the bank, Nigeria's multiple exchange rates for different types of transactions and the country's trade restrictions—including bans on certain goods and the 2019 border closure—may have reduced investor confidence, which, in turn, limited foreign direct investment (FDI) and competition, factors required to support firms and the job creation needed for broad-based growth.
"Such policies can also have immediate negative effects on poverty reduction through the price channel, as trade restrictions can make the goods that poor households consume—especially food items—more expensive, reducing people's purchasing power and welfare in turn."
Also, according to the Nigerian Living Standards Survey report published by the National Bureau of Statistics, 40.1% of Nigerian are poor. This indicates that four in every ten Nigerians are poor. Since Nigeria's population is about 215 million people, it therefore means that over 80 million Nigerians live in poverty. Also, whereas the poverty rate in urban areas is only 18.0%, as much as 52.1% of rural dwellers are poor.
The report also revealed that northern Nigeria had the most poverty rate. Across geo-political zones, North-Eastern Nigeria had the most poverty average while South-Western Nigerian had the least. The current average poverty rates by geo-political zone are: North–Central (43%), North–East (72%), North–West (65%), South–East (42%), South – South (21%), and South–West (12%).
The report also indicates that the states with higher poverty rates are Sokoto (88%), Taraba (88%), Jigawa (87%), Ebonyi (80%), Adamawa (75%), Zamfara (74%), Yobe (72%), Niger (66%), Gombe (62%), and Bauchi (62%).
On the other hand, Lagos (4.5 %), Delta (6%), Osun (8.5%), Ogun (9.3%), Oyo (9.8%), Edo (12%), Ondo (12.5%), Anambra (15%), Kwara (20%), and Bayelsa (22.6% have the least poverty rate in the country.
According to the report, over 44 percent of the states in Nigeria have poverty ratio of over 50 percent. By implication, over half of the population in 16 of the 35 states and the FCT live in poverty. The survey excluded Borno State, as some parts of the state were not safe to visit.
CAUSES OF HIGH POVERTY RATE IN NORTHERN NIGERIA
Despite the endowment of the three northern zones with many natural resources such as tin, kaolin, gold, a variety of agricultural products, a huge fertile land and the fact that they are duly represented in every arm of government and also share from federal allocations and federal government employments, they still have the worst indices of poverty compared to the other zones.
Consequently, not only are majority of people in the zones in abject poverty that has led to a plethora of crisis in forms of insurgency, electoral violence and crime, the three zones have also become a hub of joblessness, illiteracy, maternal mortality and early marriage.
The World Bank report titled "Advancing Social Protection in a Dynamic Nigeria" therefore aptly states that "Nigeria experiences high inequality along geographical lines, with poverty mostly concentrated in the North and in rural areas." To buttress its point, the report expresses that, "poverty in the northern region of the country has been increasing, especially in the North-West zone. Almost half of all the poor live in the North-West and the North accounts for 87% of all the poor in the country in 2016."
In its bid to identify the causes of poverty in the country and the three northern zones in particular, the World Bank (in Okey-Kalu, 2020) ascribed it to the following:
Insurgency and Conflicts:
Due to the activities of the Boko Haram terrorists and other bandits in the zones, about 2.7 million people most of whom were farmers have been displaced and are now badly in need of humanitarian assistance.
Poor Social Service Delivery:
"Social protection measures in the country in general are neither well-suited to respond to conflict, nor well-placed to anticipate and mitigate the risks of natural disasters."
Poor Infrastructure:
"Poverty remains high in the zones due to their lack of basic infrastructures."
Poor Education System:
"The zones are among the highest number of out-of-school children of primary school age in the world."
Poor Healthcare Delivery:
"Healthcare delivery is poor and grossly inadequate in the region and Nigeria in general."
A differing kind of mindset.
"Most of the people believe that poverty and wealth come from predestination. Therefore the poor in the zones are content with their poverty and wouldn't want it any other way. To them, they are where they were meant to be."
Information Underload
A lot of northerners are deprived of important and life-changing information. For example, vaccination is hard to administer in the North because the northerners rejected it due to misinformation and information underload. Information underload is also the reason out-of-school children are more in the north. A lot of them do not see the need to go to school; they will rather go to Islamic schools, which is only there to uplift their spiritual lives and not their social or financial well-being. Some parents believe that regular schools teach Western education and religion, and so keep their children away from them.
Also, most of the people living in rural areas in northern Nigeria are ignorant. Worst is they have no one to ask. Those that are curious may end up asking the wrong people that will pass on worse information to them. By the end of the day, poverty continues to permeate deep in them.
Waiting on the Government for Everything
Depending on the government to provide everything, including employment, is also the bane of the North.
CAUSES OF HIGH POVERTY RATE IN EBONYI AND ENUGU STATES
"Urban migration shunning the dangers of an uncertain sojourn to Lagos, Abuja, Port Harcourt and Onitsha is one of the reasons why Ebonyi state is in poverty. The gap between urban and rural poverty rates continues to diverge as more young productive labour flee the rural areas in search of opportunities in urban areas, leaving the rural areas poorer. This has been the fate of Ebonyi State and just a drive through Lagos traffic in recent years will tell you part of the story.
In Ebonyi state and other parts of south-east, the activities of Indigenous People of Biafra (IPOB), bandits and "unknown" gun men and the current Mondays "sit at home" adversely affect business and economic activities. As a result, meaningful investment can hardly take place in the state since investors are not safe, in such an environment. Also, considering the fact that unlike other south–eastern states such as Abia and Imo states, Ebonyi is not an oil and minerals producing state, nor is it a commercial center like Anambra state, poverty is bound to bread speedily in the state irrespective of any government programme.
Other causes of poverty in the state which stems down development are: bad governance, low productivity, unemployment (because of low industrialization), high population growth rate without equitable means of sustenance from the economic plan, poor human resources development plan, poor educational system, poor rural and urban infrastructural facilities and self-aggrandizement of stakeholders.
Overall, poverty in Nigeria is worsening health standards, limiting access to education and deteriorating living standards. While four in every ten Nigerians are poor, quality of life measurements is also tending towards the negative. Thus, hopes of the Nigerian masses appear unpredictable. As Nigeria battles its poverty crises, the country is also experiencing increasing growth in insecurity, violence, and crime. With rising levels of poverty, Nigeria's security may continue to be hampered. Also, poverty hampers human health which in turn limits productivity.
WAY FORWARD
From the NLSS (Nigerian Living Standard Survey) survey report, it is important that the government rethink its poverty reduction strategy. It needs to develop more effective solutions. In doing this, the government should understand that poverty is a structural problem and that there is a need for synergy between the social and economic sub-systems to achieve real changes. Private sector partnership, as well as coordination between the national and subnational governments, can also help to improve the poverty outlook.
With the variations in poverty levels across states and geo-political zones, a uniform poverty alleviation strategy might not produce desired results. Rather, poverty reduction strategies should be developed to have state and regional outlook. This would improve effectiveness and ensure that proposed solutions meet specific local needs.
Other necessary longer-term pro-poor policy priorities include using macroeconomic levers to speed Nigeria's structural economic transformation and the creation of wage jobs; boosting productivity in farm and non-farm household enterprises, for example through investments in human capital; and investing in bedrock infrastructure for inclusive growth.
Also, there is need for the strengthening of the private sector to provide jobs for the jobless and for the adherence to prudence, transparency and accountability in poverty alleviation programmes.
Fiscal intervention can complement monetary but can corruption and fraudulence make it work?
3. Insecurity in Nigeria:
The country's insecurity challenges are multi-dimensional and the most serious of them are: (i) Boko Haram Islamic extremism, (ii) militancy in the Niger-Delta, (iii) incessant kidnapping, (iv) Fulani Herdsmen crisis, (v) Banditry and "unknown" gunmen crises in the South-east, (vi) ritual killings and (vii) armed robbery.
Boko Haram Insurgency
Boko Haram is a Muslim sect that seeks to abolish the secularity of the Nigerian State and establish Sharia Law in Nigeria (Alaneme, 2011). The terrorist group abhors western education, culture and the elite Muslims who promote western ethics.
Other activities of the group also include killing of innocent Nigerians, raping of women and indiscriminate bombing of major cities, churches, police stations and public gatherings, especially in the northern parts of Nigeria. Thus, between 2009 and 2018, this group killed so many people in Nigeria, destroyed property of both the government and citizens and subjected millions of Nigerians to IDP (internally displaced persons) camps.
The magnitude and severity of the attacks by the terrorist group is greater in some states/cities than others in the same Northern part of Nigeria. According to Champion Newspaper Report of June 12, 2011, it is estimated that Borno State recorded the highest number of casualties (2,400) between 2009 and 2018, followed by Yobe (1,950), Adamawa (1,720), Bauchi (1,500), FCT Abuja (1,510), Kaduna (1,230), Plateau (1,200), Kano (850) and Niger (520). Similarly, Borno State has continued to receive several attacks from this terrorist group, even after the death of the Boko Haram founder. The climax of this inhuman act was the adoption of over two hundred (276) Chibok school girls in April, 2014 by the terrorist group.
The activities of the Boko Haram terrorist group have raised critical questions among investors on the safety of their investments in Nigeria, dented the image of the country, impacted negatively on the country's economy and constituted a serious problem to the effective implementation of the National Security Policy of Nigeria.
ii. Militancy in the Niger Delta:
The Niger Delta region comprises more than 50 ethnic groups which include the Bini, Efik, Ibibio, Annang, Oron, Ijaw, Itsekiri, Isoko, Urhobo, Ukwuani, Kalagbari and several others. It is also richly endowed with crude oil deposits, both in onshore and offshore. This has made it the center of international controversy over devastating pollution, ecocide, kleptocracy and human right violation, in which the Royal Dutch Shell has severally been implicated (Mathiason, 2009).
Before the discovery of oil in 1956, the main-stay of local economy of the people in the region was fishing and farming. Currently, these occupations have been dislocated by oil exploitation and exploration. Also, there is resentment that the communities in the region does not benefit enough from the oil wealth and are persuaded to endure its consequences such as spillage, gas flaring and several forms of ecological disasters. This pathetic situation partly explains factors responsible for perennial conflicts and crises over oil resources in the Niger Delta. (Akpan; 2011).
These conflicts and crises in the region periodically erupted into insurrection and kidnappings.
A recently published annual report by the Foundation for Partnership Initiatives in the Niger Delta (PIND) shows that there were 416 violent incidents resulting in over one thousand recorded deaths in 2019. In 2018, there were 351 episodes resulting in 546 deaths. The states most affected were Rivers, Edo, and Delta.
Although, the federal government has currently kept the insurrection at a relatively low level by payments to militia leaders, or "amnesty payments," kidnappings still persist in the Niger Delta region as in the other regions of the country.
iii. Incessant Kidnappings
Kidnapping is one of the criminal activities that have continued to pose serious security threat to the Nigerian State. According to Chukwurah (2011), kidnapping is conceived as the act of illegally taking someone away and keeping him as a prisoner for the purpose of receiving a ransom (money in return).
Kidnapping in Nigeria is a national phenomenon and can be categorized into:
Kidnappings by bandits and insurgents;
Political kidnappings and
Commercial kidnappings.
Generally, according to a report by SBM Intelligence – Kidnap Problem: The Economics of the Kidnap Industry in Nigeria, "Nigerian Government and citizens have handed over N4 billion ($11 million) to kidnappers for ransom in the last four years" (Erezi, D.2020) https://guardian.ng/news/nigeria-pays-11-million-as-ransom-to-kidnappers-in-four-years/
"Even more frightening is that the larger proportion of that figure was paid out between January 2016 and March 2020, indicating that kidnapping is becoming more lucrative."
The report which featured all 36 Nigerian states and the capital – Abuja said 18 of the states – Akwa Ibom, Anambra, Borno, Delta, Ebonyi, Edo, Ekiti, Kano, Kwara, Lagos, Nasarawa, Ogun, Ondo, Osun, Plateau, Rivers, Taraba and Yobe State have fewer deaths per kidnap attempt.
Rivers State, according to the report has 120 kidnap cases between 2016 and 2020, followed by Kaduna with 117. Delta is third with 96 cases of kidnap, Bayelsa is fourth with 85 and Borno fifth with 82 cases.
Other states in the top ten are Kogi with 59 cases of kidnap, followed by Edo State with 55, Ondo 54, Katsina 52 and Taraba with 47.
The report said ongoing violence from other sources could have contributed immensely to the fatality rates from kidnapping in the states.
Bayelsa, a south-south state, the report said is the only state that had a decline in kidnaps related incidents in comparison to 2011-2015 when it had a spike. Kaduna, Rivers, Katsina, Zamfara and Taraba, have witnessed a rise in kidnap cases according to the report.
The report explained that a significant history of violence in Kaduna State, especially along its connecting road to Abuja could have contributed to it being ranked as the state with the second-highest number of kidnapping incident in Nigeria.
Although Nigeria's capital city – Abuja was not listed in the top ten states with cases of kidnapping in Nigeria, the report stated that "there is anecdotal evidence" which suggests "that some of the perpetrators responsible for Kaduna's high rate of kidnap attempts have extended their operations" there.
iv. The Fulani Herdsmen crisis:
This is an incessant mayhem launched by Fulani Herdsmen previously in the Northern part of the country but has now spread into some Southern states. Due to poor climatic condition in Northern Nigeria, which most often experience delayed rainfall, the 'Fulanis' move their cattle from the Northern part of Nigeria to South for grazing during the dry season months of November to April.
What used to be a common internal security challenge in the region such as Herdsmen-farmer clashes and Herdsmen-cattle rustlers has significantly metamorphosed into a more perturbing internal security challenge in the country.
This is because since 2012, the Fulani Herdsmen have started to move around for grazing of their cattle with guns and ammunition and frequently launch attacks on the civilian population (Aminu, et al, 2018). Indeed, such barbaric dispositions on civilian population, particularly farmers resulted in the destruction of lives and property of most communities in Benue, Kaduna, Zamfara, Borno, Yobe, Adamawa, Taraba, and some southern states. Thus, since 2012 till date, the clashes between Herdsmen and farmers have persisted and this has resulted to most communities running away from their homes.
The recent killings of Christians during a Catholic Church service in Owo, Ondo state Nigeria and other cases show that they now kill without any apparent reason.
(v) Banditry and "unknown" gunmen crises in the South-east:
Activities of bandits and "unknown" gunmen in south eastern Nigeria and the current Mondays' sit-at-home" order in the region is not only a security challenge but it also adversely affects businesses in the region.
(vi) Ritual killings
According to various sources, ritual killings in Nigeria are performed to obtain human body parts for use in rituals, potions, and charms. Such potions and rituals are reportedly motivated by the false belief that they can bring power and wealth to an individual while charms are believed to make people invincible and protect them from business failure, illness, accidents, and spiritual attacks (Daily Trust 21 June 2010).
Ritual killings are currently frequent and widespread in Nigeria. Worried by the rise in the killings and dismembering of human beings for ritual purposes, Governor Dapo Abiodun of Ogun State recently vowed to deal, according to the law, with anyone found culpable in ritual killings and other criminal activities.
(vii) Armed robbery
Armed robbery has been identified as one of the prevalent crimes in contemporary Nigeria (Rotberg, 2007). It has manifested in various forms and dimensions over the years. Prominent forms of armed robbery experienced in Nigeria include car snatching, high-way robbery and house and office robberies. It is obvious that Nigeria, at the moment, is bedeviled by multiple insecurity challenges. Amujiri & Agu (2012) attested to this. According to them, apart from the scourge of kidnapping, Nigeria has become a fertile ground for the dare devil robbers and all sorts of criminalities.
Robbers are on rampage on the major high ways in Nigeria and travelling on these roads remains a dreaded adventure. The Lagos State Command of the Nigerian Police Force disclosed that between December 2015 and November 2016, the command has arrested 486 armed robbery suspects (http://www.nsrp-nigeria.org/wpcontent/) This report did not give us statistics of successful armed robbery operations either in Lagos or across the whole Nigeria. Across Nigeria, armed robbers attack banks on daily basis and billions of Naira carted away. Armed robbers are indeed on rampage.
4. Kidnapping numbers in Nigeria compared to other countries:
In the past, Nigerian kidnapping victims used to be the wealthy and the prominent, and so kidnappers had every interest in keeping their victims alive to extract the maximum ransom possible.
But according to Campbell J., (2020), a report from SB Morgen, a Nigerian consulting firm, shows that over time, the pool of potential victims has greatly expanded. Now, victims are often poor villagers, sometimes kidnapped indiscriminately, a departure from the previously kidnappings of wealthy people. The report also presents a valuable attempt to quantify the costs of kidnapping and to map its spread. Between 2011 and 2020, it concludes that over $18 million had been paid on ransom.
However, the firm also reports that the total $18 million spent on ransoms in over nine years (between 2011 – 2020) in Nigeria is by far lower than ransoms Sahelian kidnappers extract from European states to free their kidnaped nationals, which can reach millions of dollars per victim. The report cites an estimate that ransoms can range from $1,000 to $150,000, depending on the economic status of the victims and their family.
According to Vanguard online Newspaper (July 13, 2021), another SBM report on the number of people kidnapped in Nigeria in first half of 2021 (from January to June) indicate that a total of 2,371 persons were abducted across 36 states of the federation and the Federal Capital Territory, FCT.
According to the report, N10 billion ($19.96 million) was demanded as a ransom for the kidnap victims. The highest number of kidnap victims of about 605, was recorded in February. This was closely followed by 534 in March and 355 in May while April, January and June had 316, 284 and 277 respectively.
The report indicated that Niger State recorded the highest number of persons abducted, with 643 victims in 28 kidnap incidents, while 58 people were killed during the abductions.
This was followed by Zamfara State with 519 kidnap victims in seven incidents, leading to the death of 22 people, while Kaduna State recorded 360 kidnap victims in 26 incidents, leading to the deaths of 41 persons.
The kidnap victims in other states were; Abia (6), Abuja (50), Adamawa (3), Akwa Ibom (2), Anambra (14), Bauchi (3), Bayelsa (7), Benue (6), Borno (1), Cross River (4), Delta (51), Ebonyi (5), Edo (18), Ekiti (14), Enugu (15), Gombe (1), Imo (25), Jigawa (2), Kano (3), Katsina (236), Kebbi (81), Kogi (31) and Kwara (10).
Others include: Lagos (6), Nasarawa (44), Ogun (26), Ondo (17), Osun (23), Oyo (61), Plateau (10), Rivers (14), Sokoto (10), Taraba (46), and Yobe (4).
Schools were often targeted in the abductions that took place in the first half of 2021, with hundreds of students taken hostage in the North-West.
The NYA24 (2018) incident data compiled from open sources shows Nigeria witnessed the highest number of kidnapping incidents in Africa in 2017 and therefore categorized Nigeria among the global kidnapping hotspots.
According to the report, the threat from kidnap for ransom is primarily fuelled by endemic corruption, inadequate policing and economic inequality in Nigeria. Also, kidnapping incidents are reported across the country but are particularly concentrated within the Niger Delta region, due to the prevalence of pirate gangs and criminal groups, as well as in the northeastern region where the Islamist militant group Boko Haram remains active. Whilst kidnappings perpetrated by Boko Haram have largely been characterized by their indiscriminate and violent nature, many incidents taking place in the Niger Delta are pre-planned and targeted.
Incidents within the Niger Delta region are predominantly financially motivated and primary targets consist of middle-class or affluent domestic nationals. Foreign nationals operating in the Niger Delta have also been targeted due to their perceived higher ransom value.
Besides Nigeria, other five global kidnapping hotspots listed in the NYA24 (2018) report, are:
Mexico: – where "over 6,235 kidnappings have been reported during the previous five years while 1,390 kidnappings took place in during 2017".
Colombia: – "Colombia's kidnap incident rate was on its 17-year downward trend in 2017, falling from 199 kidnapping incidents in 2016 to 190 in 2017. This is a 94% decrease from the 3,572 cases recorded in 2000".
Venezuela: – "In 2017, Venezuela remained severely affected by a high number of kidnap for ransom incidents. Although official kidnap statistics have not been released for over five years, specialized NGOs have reported an increase in the number of incidents in 2017".
Afghanistan: – "In 2017 the Afghan central government remained unable to exert full control over the country. Security forces have maintained a limited influence in areas controlled by local militias and are reported to be engaged against Islamist militants and other armed groups in at least 26 of Afghanistan's 34 provinces".
Philippines: – "The Philippine government's attempts to mitigate the threat of kidnap for ransom and associated crime are hindered substantially by the presence of multiple armed insurgent groups across the country".
5. Looting of public funds:
Ever since independence, the theme of looting, embezzlement and general corruption is not new in Nigeria's socio­political and economic space. At the commencement of the fourth republic in 1999, the Nigerian government, announcing a zero tolerance for the looting carnival of her national treasury, set up two anti-graft bodies namely: The Economic and Financial Crimes Commission (EFCC) and The Independent Corrupt Practices Commission (ICPC). Despite this, the flurry of broad-day plunder of the state's wealth has continued unabated, especially among politicians and government officials (Akinboye, G.; 2012); Department of Classics, University of Ibadan, Ibadan, Nigeria).https://www.researchgate.net/publication/314237766_Treasury_Looting_Treasury_Looters_Exploring_the_Parallels_Between_the_Ancient_Rome_and_Nigerian_Experiences
Since the oil boom era of 1970s, Nigeria has been operating largely an oil based economy. The major revenues go into the treasury through crude oil sales. The oil sector provides over 20% of her Gross Domestic Product, 95% of her foreign exchange earnings and about 65% of total government revenues. Revenues are also derived from numerous taxes, custom duties, agriculture, and so on. Apart from the internally generated incomes (IGR) which states largely turned out, all states are also dependent on Federal allocation to augment their IGR. This created a very virile ground for a political trend known as "Revenue Allocation Politics". Different revenue sharing formulae are set up from time to time. Thus, every year, billions of Nigerian Naira and US Dollars flow phenomenally into the treasury.
Therefore given the apparent over-abundant cash in the nation in recent times, it is not surprising that there is a dramatic escalation in the incidence of corruption and treasury looting by public officials from top to bottom.
Since her independence in 1960 till date, Nigeria has recorded intractable number of proven cases of treasury pillage. For instance, Akinboye, G.; (2012) highlighted the following cases:
"A commission of Inquiry into the 1956 arbitrary embezzlement of former premier of Eastern Nigeria, Dr. Nnamdi Azikwe, found out that the premier abused his position as the head of Eastern government by 'allowing public fund to be invested in the African Continental Bank (ACB) in which he (Azikiwe) had an interest (Tell Magazine, 2010:18)'. Azikiwe used his influence to further the interest of the ACB, the bank in which his family, the Zik Group of Companies and himself, were principal share-holders".
"Similarly on December 31, 1962, another commission of inquiry found the first premier of Nigeria's Western Region guilty of diverting public money into unauthorized projects. The reports noted that… "We came across evidence of reckless and indeed atrocious and criminal mismanagement and diversion of public funds. We are satisfied that Chief Awolowo knows everything about the diversion of large sums of money…into the coffers of the Action Group", Awolowo's defunct political party (Tell Magazine, 2010:18; Osoba, 2009:375).
"The post-independence period has also witnessed drastic widespread corruption and looting. Unspecified billions of Nigeria oil revenues was siphoned off through advanced looting methods. On his assumption of office as the former chairman of the E.F.C.C, Nuhu Ribadu announced that former president, Shehu Shagari's administration (1979-1988) misappropriated over $15 billion which was secretly stashed abroad, leaving over $18 billion debts for the country (Iroanusi, 2006:161). On Monday, April 4, 2005, the Independent Corrupt Practices Commission (ICPC) arrested and arraigned the former Inspector General of Police, Tafa Balogun for using the public fund to enrich himself to the tune of N13 billion" (Iroanusi, 2006:152).
"Later, many other top government officials were alleged to have shared about $180 million. The money was the Halliburton bribe purportedly given to these Nigerian leaders to enable Siemens, a German company, win various contracts in Nigeria between 1995 and 2004 (Tell Magazine, 2010:18). On September 11, 2006 it was alleged that the EFCC seized the sum of $13.5 million from Patience Jonathan, who was then the 'first lady' of the Bayelsa state governor Goodluck Jonathan. It was believed that the seizure was made after the culprit had laundered the money through an associate" (Tell Magazine, 2010:20).
"Early in February 2010, the EFCC again arrested the former governor of Nasarawa State, Abdullahi Adamu in connection with a sum of about N15 billion. Similarly, the former governor of Adamawa State, Boni Haruna was arraigned with three others on February 9, 2010 for misappropriation of over N100 million" (Tell Magazine, 2010:21).
"Former governors of Ekiti State, Ayodele Fayose, Delta State, James Ibori and Plateau State, Joshua Dariye were in and out of court for alleged money laundering and looting of their states treasuries. Before the Nuhu Ribadu of EFCC left office, he disclosed that twenty-three former governors were being investigated for "monumental corruption" (Tell Magazine, 2010:22).
"Diepreye S. P. Alamieyeseigha was alleged to be also notoriously rapacious and corrupt. He became the governor of the oil rich Bayelsa State on May 29, 1999 and governed the state until 9th December, 2005 when he was impeached for money laundering and treasuring looting offences. On September 15, 2005, the governor was arrested at Heathrow Airport by London Metropolitan Police on suspicion of money laundering offences. Incidentally, he had drained off his state's treasury to the tune of N1.499 billion (Approx. $11 million), which he wanted to use for the purchase of a hotel- Chelsea Hotel Ltd".
"On further investigations, the sum of £920,000 (British pounds), raw cash was recovered from his London home. Having disguised as a woman, he managed to flee the United Kingdom and returned to Nigeria despite bail restrictions. It was also reported that between 2001 and 2005, he laundered the sum of $1,043,655.79, £173,365.41 and N556,455,893.34 into three banks. In December, 2005, the worldwide freeze of Alamieyeseigha's assets was granted by the Nigerian and English High courts".
Last year (2021), the Attorney General of the Federation and Minister of Justice, Abubakar Malami, reported that:
"Nigeria, through proactive and collaborative efforts with other countries has recovered and ensured the return of over $700 million from the United States, the United Kingdom, Bailiwick of Jersey, Switzerland, and Ireland in the past four years" (Sanni, K., 2021@) https://www.premiumtimesng.com/news/headlines/462555-nigeria-government-recovers-looted-700m-from-foreign-countries-in-four-years-malami.html).
"The country had received a fresh £4.2million (at N2.9billion at unofficial exchange rate) from the United Kingdom recovered from the convicted former Governor of Delta State, James Ibori's associates and family members (Sanni, K., 2021@) https://www.premiumtimesng.com/news/headlines/462555-nigeria-government-recovers-looted-700m-from-foreign-countries-in-four-years-malami.html).
6. Nigeria corruption index compared to other countries:
The Corruption Perceptions Index ranks countries and territories based on how corrupt their public sector is perceived to be. A country or territory's rank indicates its position relative to the other countries and territories in the index.
According to Transparency International (TI), Nigeria was the 154 most corrupt nation out of 180 countries, in the 2021 Corruption Perceptions Index reported by Transparency International.
The causes of corruption lie in part in political and cultural reasons. Ineffective law enforcement may further promote it. It is striking that it is regularly lower in democratically governed countries. Similarly, higher corruption occurs predominantly in low-income countries. In Nigeria, per capita income is 2,100 US $ annually, which is extremely low by global standards. The cost of living is well below the global average, indicating massive socioeconomic problems.
7. Nigerian life expectancy compared to Egypt and South Africa.
Life expectancy is a statistical measure of the number of years people would live if subjected to the mortality risks prevailing for the cross section of population at the time of their birth.
According to the UNICEF and United Nation's data, the year 2022 life expectancy in Nigeria is 55.44 years while those of Egypt and South Africa are 72.38 and 64.83 respectively. This indicates that Egyptians and South Africans live about 17 and 9 years respectively longer than their Nigerian counterparts.
Leading causes of death listed in the report are influenza and pneumonia (14%), diarrheal diseases (9.8%), tuberculosis (8.6%), malaria (6.8%), birth trauma (6.8%), and low birth weight (6.5%). Other causes include coronary heart disease (4.1%), stroke (3.9%), congenital anomalies (3.4%), HIV/AIDS (3.0%), meningitis (3.0%) and road traffic accident (3.0%) among others.
WAY FORWARD
The government should explore innovative ways of addressing healthcare delivery in the country, in a manner that focuses on partnership between states, the private sector, and the huge talent of Nigerian health professionals in the diaspora.
Also, it is time for Nigeria's leadership to start building in Nigeria those hospitals in Dubai and London they so delight to patronize and spare the country the costs and the ignominy of depending on other countries for the healthcare services they should be providing Nigerians here at home. In the event of a heart attack, London would certainly be too far to save anyone!
CONLCUSION
Gentlemen of the press, ladies and gentlemen, once again, you are welcome to this press briefing and thank you for finding time to be with us, and looking forward to seeing you at WBF ANNUAL LECTURE in Nigeria Institute of International Affairs, Kofo Abayomi St. Victoria Island. Remember that President Olusegun Obasanjo is the special guest of honor and would be making very special remarks during the occasion.
Send Us A Press Statement Advertise With Us Contact Us
Send  Us A Press Statement  Advertise With Us  Contact Us
 For Nigerian News Visit GWG.NG