How Sylva Blocked Dickson From Joining APC – Wike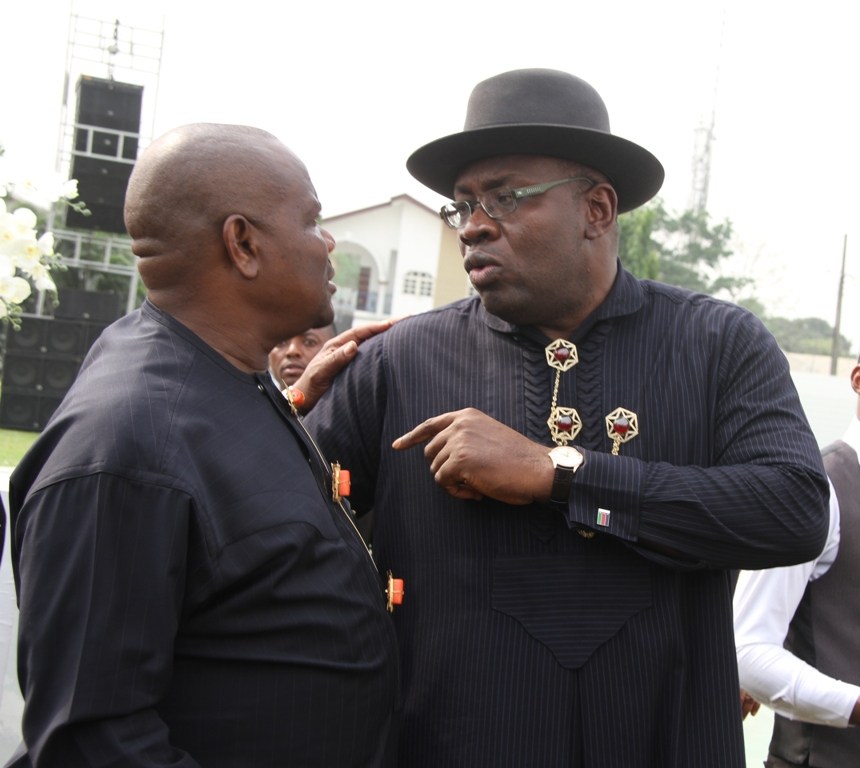 Governor Nyesom Wike has accused Governor Seriake Dickson of Bayelsa State of frustration after a secret plot to defect to the All Progressives Congress, APC, was botched at the last minute by former Governor Timipire Sylva.
Wike said that part of the defection deal that smoothened the way for the APC to score 45% in the last Presidential Election in the state.
Wike spoke on Monday to newsmen as he debunked allegations raised against him by his Bayelsa State counterpart.
Dickson had earlier fired at Wike accusing him of meddlesomeness, drunken behaviour and an overbearing attitude towards his colleagues.
Responding, Wike said that through the poor leadership of the Bayelsa State Governor, the PDP Governors Forum and the PDP South-South Governors Forum have failed to get traction.
He said that the outgoing Bayelsa State Governor was never committed to the PDP all through the elections.
He said: "We are the only State in the South-South that President Muhammadu Buhari never got 25percent.  Buhari got 45 percent in Bayelsa State.  So who colluded with who? It is now that Dickson has realised that they played him? All those nocturnal promises were not kept. I challenge Dickson to ask his Candidate,  Senator Douye Diri the contributions I made. Is it because I didn't pass it through him?
"Dickson planned for PDP to fail elections and he is now crying Federal Might. He assumed the role of God. Nobody could tell him anything. During his second term election, people resisted the Army. But this time, they left him alone.
"You cannot accord Former President Goodluck Jonathan respect. Simply because Rivers State honoured Jonathan, Dickson became angry."
He added: "Dickson concluded plans to join the APC. Timipre Silva and Heineken Lokpobiri blocked him. He knew I have strength, he would have consulted me.
"Dickson colluded with these people, so that EFCC will not arrest him when he leaves Government. If you like, carry any level of propaganda, I will protect the interest of Rivers State. "
Governor Wike said he is a good representative of Rivers State as he uses their mandate effectively to develop the State. He said in four and half years, he has achieved more for Rivers State than Dickson did for Bayelsa State in about 8 years.
"I have represented Rivers people very well. I have made Rivers people proud. Rivers State is multi-ethnic and I have ensured all ethnic groups get the dividends of democracy.
"Part of the Representation of Rivers State is to protect what belongs to Rivers State. Rivers people know that I have represented them very well", he said.
"Contrary to the allegation by the Outgoing Bayelsa State Governor, there is no local Government Area in Rivers State where we don't have projects. Let him mention the projects he has in the eight local Government Areas of Bayelsa State. Dickson cannot in all ramifications compare himself to me in terms of development."
Governor Wike said while Rivers State is a major construction site, the Bayelsa State Governor has failed his people by refusing to utilise their resources judiciously.
He said that for a small state like Bayelsa, it was wrong for the outgoing Governor to expend N70billion on an uncompleted airport, when Bayelsa State lacks good roads and Basic Infrastructure. He regretted that the outgoing Bayelsa State Governor refused to respect the rules of protocol, when he visited the Amanyanabo of Kalabari without informing the Rivers State Government