Chelsea Spells Arsenal's Worst Home Record In 60 Years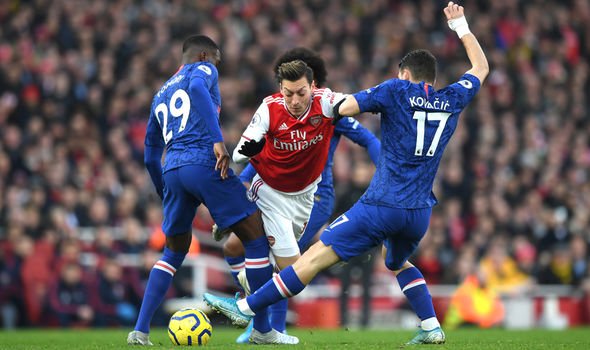 By Emmanuel Aziken
Arsenal suffered their fourth consecutive home defeat for the first time in 60 years after Chelsea staged a stunning late comeback to pull victory at the Emirates Stadium on Sunday.
The match had been defined by the parallels between the two managers as Mikel Arteta appeared for the first time as manager of the Arsenal team he starred for at the beginning of the century.
With Frank Lampard in the visitors' dugout, images of the two former players moving their rivalry from the field to the dugout was seen as a contest of capacity between two of the premiership's youngest managers.
Arteta seemed to have had the first laugh after Arsenal took the initiative by dominating play using an out of place Emerson on the Chelsea side to their advantage.
By the 12th minute, Arsenal were ahead through a header from Pierre-Emerick Aubameyang's who came from behind a seemingly static Emerson to head the ball into the Chelsea goal.
Arsenal continued to pile the pressure and for the first time in more than a month, the fans at the Emirates Stadium had the expectation of a win at home.
However, the music changed after Lampard removed Emerson and brought in Jorginho. From that moment to the end of the game Arsenal were almost a hopeless side putting in only about three attempts at goal.
In the second half, Lampard brought in teenager, Teenager Tariq Lamptey for his Premier League debut and he increased the tempo of the Chelsea side as Arsenal grasped for breath among a number of saves facilitated by former Chelsea player, David Luiz.
It looked as if Lampard would be frustrated until the unforced error by Arsenal goalkeeper Leno who missed a cross from Masson Mount leaving a lurking Jorginho to push in for the Chelsea equalizer.
Four minutes later, Nigerian born Chelsea striker, Tammy Abraham following a counter-attack outwitted Arsenal's struggling Mustafi to push in the winner.
The goal forced many dejected Arsenal fans to face the exit.
The result left Arsenal at the 12th position on the league table and they face Manchester United in their next game on New Year day.
It is the worst stretch of home defeats since 1959 when Arsenal lost four home goals in a stretch.