Aisha Buhari Under Fire For Putting Self First Always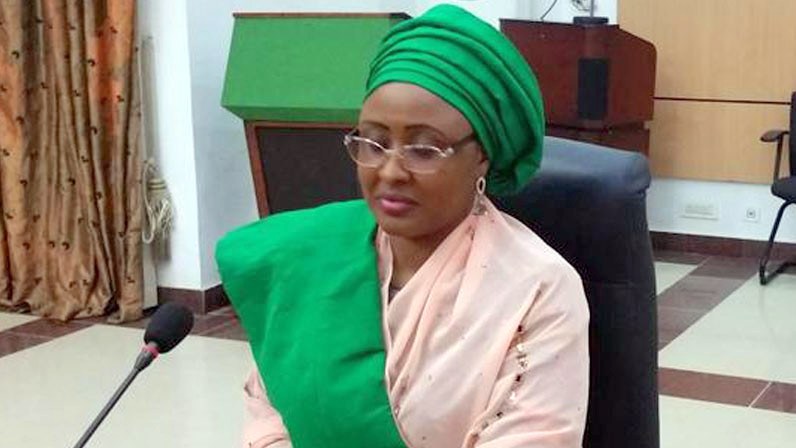 By Ayodele Oluwafemi
First Lady Aisha Buhari, has come under unusual social media scrutiny after she called out the Inspector-General of Police, Mohammed Adamu to release her aides following what has been alleged as a power show within the Presidential Villa.
Aisha had in a series of tweets on Friday evening, drawn reference to the need to abide by COVID-19 protocols.
The tweets were apparently in reference to the reported faceoff between her and President Muhammadu Buhari's personal assistant, Yusuf Tunde Sabiu who she and her children were reported to have requested to self-isolate following a reported trip to Lagos.
Mr. Sabiu's alleged refusal to self isolate according to reports led to a faceoff that saw her security aides engaged in a brush with the influential Sabiu which led to the arrest of her security men who were involved.
Bringing the brush to social media, she had said:
In the third tweet she had called for the release of her aides who were apparently picked up following the reported burst-up.
She said:
Her latest tweets, however, drew flaks from Twitter users who alleged that the first lady only speaks up against issues that only affect her, while neglecting other national issues.
This is not the first time, the first lady will be calling out Buhari's appointees, publicly. Aisha had publicly called out other senior aides of the president who came across her way.
@MrOdanz tweeted: "The only time Aisha Buhari speaks up is when her personal interest is threatened in Aso Rock. Aside that, all she does is wear Hijab up and down, commission useless projects and pose for pictures. Has she said anything about Uwa yet? Or Abba Kyari disconnected the TV in her room?"
@timmie_ tweeted: "That Aisha Buhari woman should never be taken serious. She disappears when there are pressing matters and reappears when an insect touches her skin. Where was she when we were preaching against rape? Black lives doesn't matter to her? It's her staff's that she's wailing about."
@Morris_Monye tweeted: "Patience Jonathan had a say in almost everything. She made her voice known. We laughed then because she wasn't eloquent. We thought her husband was not in control because of that. Now Buhari is not in control(or not aware), Aisha Buhari is not in control. Who is in control then?"
@NekkaSmith tweeted: "Started your thread with Awareness & safety on Covid-19 and ended it asking the IGP to release your Assigned Staff in Police custody, Madam Aisha Buhari, you deserve to switch roles with Patience Ozokwor , You are Nigeria's Drama queen, undefeated."
@FS_Yusuf tweeted: "They've touched Aisha Buhari personally; she's up on twitter ranting. Who go listen to her tape? Where was her voice when people who voted her phenomenally incompetent husband were being roasted by bandits in Katsina State?"
@firstladyship tweeted: "I call on IGP to release my assigned Staff who are still in the custody of the Police in order to avoid putting their lives in danger or exposure to Covid-19 while in their custody — Aisha Buhari. Aisha Buhari only speaks or tweets when her SELFISH INTERESTS are under threat..?"
@AyanfeOfGod tweeted: "Tell Aisha Buhari nobody cares abt her aide. Where was she when the street was calling for justice for Uwa? Where was she since bandits turned Katsina to a blood plain? If she thinks she can crawl out from time to time to elicit sympathy for her private matters then she's a clown."