Obaseki Gets Nearer PDP Ticket As Rival Backs Him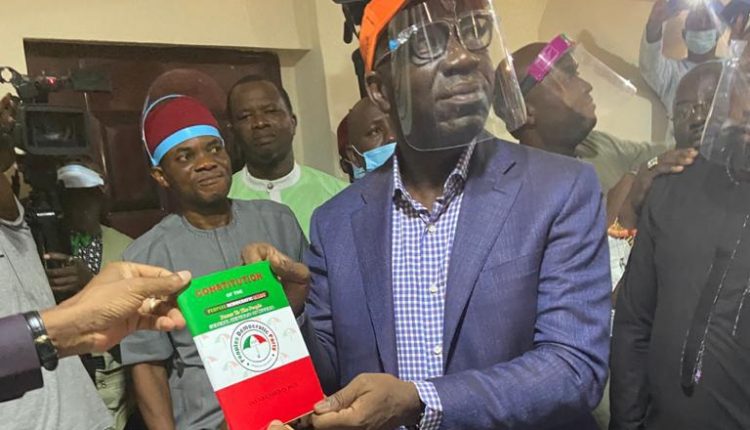 By Francis Ogbuagu
One of the PDP aspirants in the 23rd June governorship primary in Edo State, Engr. Gideon Ikhine has stepped down for Governor Godwin Obaseki following a visit to his rival in his Benin GRA residence.
The aspirant declared that he was currently collapsing his political structure into the Godwin Obaseki campaign structure, emphasizing that all delegates should vote Godwin Obaseki.
"I am hereby from today collapsing my political structure into the Godwin Obaseki campaign structure. We urge our delegates to please vote for Mr. Godwin Obaseki. We will not only support him,we will rally round him during the primary and the election," he said.
Obaseki thanked his host for his gesture declaring that, the aspirant had done what he himself would probably may not have done.
Thanking his host, Obaseki said:
"I don't know where to start from. I want to thank you so much. As I told you inside the house, you have done what I probably would not do myself. If there is no PDP, there may not have been a party for me to join. He had built the house.
"Gideon is like me, he doesn't spend money anyhow. He is not stepping aside, he is stepping inside, because we will work together.
"What I am preaching is what he is doing., he had said he will support me till we get to the promise land," he declared.
The Governor is billed to go into the PDP primary  on 23rd of June with two other aspirants, the member,  representing Oredo Federal Constituency, Hon Ogbeide Ihama and Mr. Kenneth Imasuagbon.