Two Former Enugu Govs, Nnamani, Chime Reconcile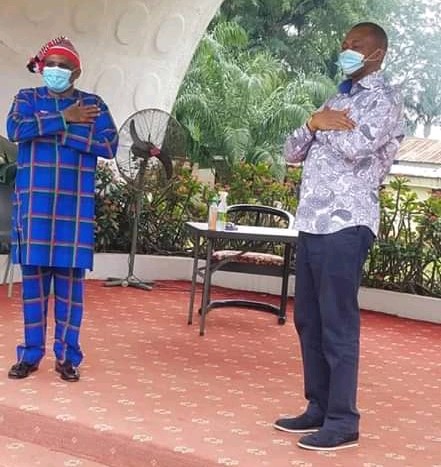 By Political Editor
The running episode of political acrimony between two former governors of Enugu State, Mr. Sullivan Chime, and Senator Chimaroke Nnamani was interrupted on Friday when the two men met on Friday for the first time in 13 years.
The closed door meeting betwpaveen the former political godfather and godson was ahead of Saturday's homage to Governor Ifeanyi Ugwuanyi by Nnamani's Ebeano political family.
The meeting at Nnamani's Agbani country home was at the instance of the senator who represents Enugu East Senatorial District.
Both men did not speak at the end of the historic meeting and it was not known whether Chime would be part of the Nnamani entourage at the Saturday visit of Nnamani's Ebeano delegation to Ugwuanyi.
Nnamani had in 2007 single-handedly foisted Chime as his successor.
However, not long after, the two men parted ways as Chime trudged an independent path of his former political godfather and reportedly orchestrated moves to ground Nnamani.
Nnamani defected from the Peoples Democratic Party, PDP but with Chime as governor he got no traction outside the PDP. Chime was, however, not able to push Senator Ike Ekweremadu out of the party who got the better of him in 2015 after the then governor made a desperate effort to stop the re-election of the then deputy president of the Senate.
Chime at the of his tenure, however, paved the way for Governor Ugwunanyi's emergence. Uguwanyi, however, changed the narrative with his policy of tolerance and accommodation which helped to bring all feuding political godfathers together.
For whatever reason, however, Chime left the PDP for the All Progressives Congress, APC but has not been able to give the party a bearing in Enugu which remains a largely PDP dominated state.