Bullets For Protesters, None For Bandits, Nigerians Lament Zamfara Killings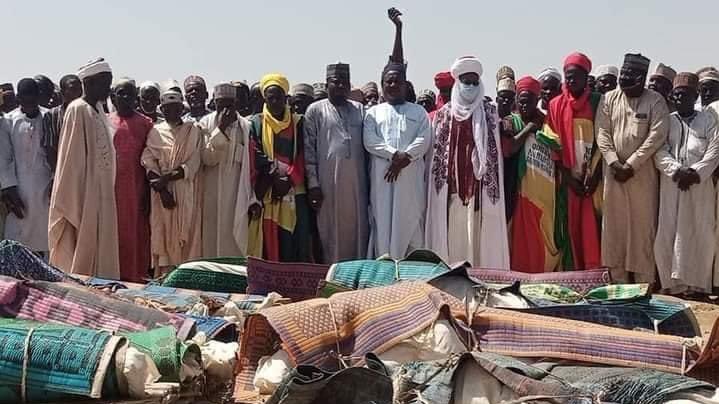 By Emmanuel Adigwe
A day after the recent carnage at the Lekki Toll Gate in Lagos, the news that bandits also killed 20 persons in Tunga Kwana village in Talata Mafara in Zamfara State has enlivened social media on the priority of government's security agencies.
The Zamfara incident was confirmed by Amnesty International in a tweet. AI stated that the village has been deserted after the attack.
The Emir of Talata Mafara, Bello Muhammed, on Wednesday morning led the funeral prayer for the victims of the attack.
This development has sparked reactions as many Nigerians criticized President Muhammadu Buhari for sending troops to attack harmless protesters and allowing the people of Zamfara to be ravaged by bandits.
GWG presents some of their thoughts below:

John Danfulani@john_danfulani wrote: "My north cant run short of hypocrisy & playing the ostrich game of hiding. If SARS are useful & effective: why the anomie in Zamfara & Kastina? Why a multibillion Naira business of kidnappings along KD-Abj highway? Why the menace of picking people from homes in cities in the north?

Ham $.@its_hammadrabiu wrote: "20 killings today in Zamfara and the government doesn't even care or talk about it, God is our strength."

Servant@Aleeyu_jnr wrote: "Innalillahi wa inna ilaihir raji'un.  20 people were brutally killed in Tugar Kwana village in Talata Mafara of Zamfara State by bandits. May Almighty Allah forgive them and bring an end to the killings. "

Ham $.@its_hammadrabiu wrote: "They have enough bullets for protestors but not enough for the bandits in Katsina, Kaduna, Maiduguri or Zamfara."

Al'ameen@Al_ameen_Yabo wrote: "I think Buhari is the worst president 9ja has ever produced, Killings are happening everyday in the nation especially the northern part. Bandits killed 20 people in zamfara and are doing that for long time yet our govt are more concerned about protesters than bandits #WhereIsBuhari."


Mustapha Bulama@Bulamacartoons wrote: "Did you know Zamfara state in northwest Nigeria has been facing a deadly conflict that started in 2012 as a result of clashes between farmers and herders? #SecureNorth."

Mustapha Bulama@Bulamacartoons wrote: "ARMED BANDITS ATTRACKS Do you know in rural communities like Anka, Maru and Tsafe in Zamfara state men sleep outside their homes and in trees as a way of keeping vigilant, while women and children sleep together in groups for protection? #SecureNorth."

MUSBEY@Mus6ey wrote: "More than 20 people were killed in Zamfara state yesterday. Buhari has failed us. "