2023: Nigerians React As APC Group Picks El-Rufai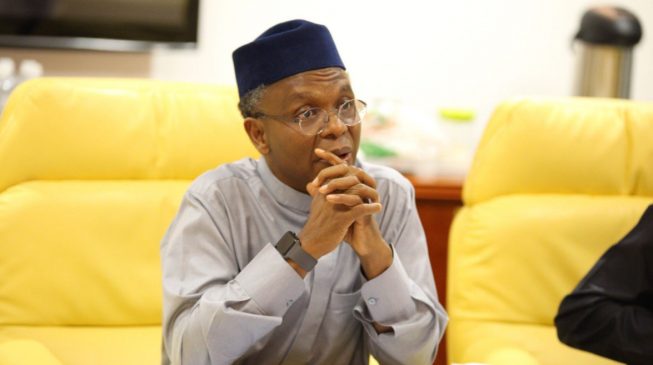 By Emmanuel Adigwe
The endorsement of Mallam El- Rufai, Kaduna State governor as the All Progressives Congress (APC) presidential candidate in 2023 by the NorthWest APC movement, under the umbrella of Nassiriya Organization has stirred the hornets' nest as many Nigerians are reacting to the news.
According to reports, the movement, said to have concluded negotiations in 21 states of Nigeria has started mobilization of members towards making the presidential ambition of El-Rufai a reality.
The national leader of the group and Zonal Vice Chairman of the All Progressive Congress (APC) Northwest, Dr. Garkuwa Ibrahim Babuga, stated that although the governor of Kaduna State is still declining to contest for the 2023 presidential race, he said the group will persuade him.
Remarkably, the endorsement came as a possible presidential running mate, Governor Kayode Fayemi was in Kaduna delivering the 50th anniversary lecture of Arewa House. Fayemi and El-Rufai are believed to be in cahoots in the game to outsmart permutations on national party leader, Asiwaju Bola Tinubu who is also a leading contender for the ticket.
Dr. Babuga said: "We also met his parents and relations but we've not gotten a successful answer. We have plans to go to court. Nigeria is for El-Rufa'i in 2023. El-Rufa'i is fit to be President based on his track records of achievements.
"Many people are yearning for El-Rufa'i presidency. I don't have to overblow the trumpet, you all have seen his developmental strides in the FCT and in Kaduna state.
"He is the best person for the villa in 2023. Let's continue to be loyal and support President Buhari to complete his tenure.
"But El-Rufa'i as President and successor to Buhari will further unite Nigeria. We are appealing to our elders in the North, please forget party differences, we should join forces and rally round El-Rufa'i so that he contest and win the presidency.
"Although he did not answer our call, we're going to court so as to compel El-Rufa'i to vie for the number one seat in Nigeria.
"On the 2nd of November, 2020 we're going to Court 13, here in Kaduna. Our lawyer is Barrister El-Zubair," he said.
Reacting to this development, many Nigerians took to the micro-blogging platform to express their opinion.
GWG brings some of their thoughts below:
Adeola Seun Adeyemi@clahws wrote: "Na to jaapa if this one makes presidency. Togo loading. Buhari go be like saint if this one gains power. No be Black Tuesday we go dey trend, na Black October. Vanguard: 2023 Presidency: Groups in 21 states root for El-Rufai. "
Strong BONE@EfeturiDC wrote: "Nasir Ahmad el-Rufai was previously the Minister of the Federal Capital Territory from 2003 to 2007; and the director of the Bureau of Public Enterprises, currently the Governor of Kaduna State, in office since 2015 My question is what has he done for Nigeria???"
Babs Olamide Ogundimu DMFR says #EndSARSNow@BabsOgundimu wrote: "Faceless Groups in 21 states are deceiving El-Rufai."
Olayinka Bakare@ykbonafide wrote: "El-Rufai ko, hell Rufai ni? Paupers and beggars everywhere; a family of six begged me for N200 TP yesterday around Asokoro. Why all the hullabaloo about 2023 this time around that masses are in pains? #changemustbeginnow."
F. K. Philips, Esq@PeaceisPricele1 wrote: "This is a huge dream for El-Rufai .. unfortunately in 2023, a Nigerian Youth will occupy Aso Rock!!"
TOA@TokunboAkerele wrote: "Affliction will not rise up a second time."
OlasunKanmy™@kanmyexcellent wrote: "You said Gov El-Rufai is A Brilliant Man, at the same time A Parochial Minded? What a Mismatched Assertion? You guys cannot form a statement without contradiction and ambiguity You're suffering with Ecclesiastical Altruistic Confusionism…. Join them bros."
Frank-nedu'm@Franknedum2 wrote: "Brutai is preparing to take over power in 2022, hand over to El-Rufai the bodybag governor in 2023 in the name of civilian rule to pepertuate their strangle hold on power! This is why he is checkmating every Southern region with military exercises! They'll hand us Biafra freely!."
UG@UgwunnaEjikem wrote: "Bola Asiwaju Tinubu – Mallam El-Rufai I'd rather undergo a painful crushing of both testicles than live in a Nigeria governed by any of the above mentioned men."