2023: Tinubu's Men Spread Out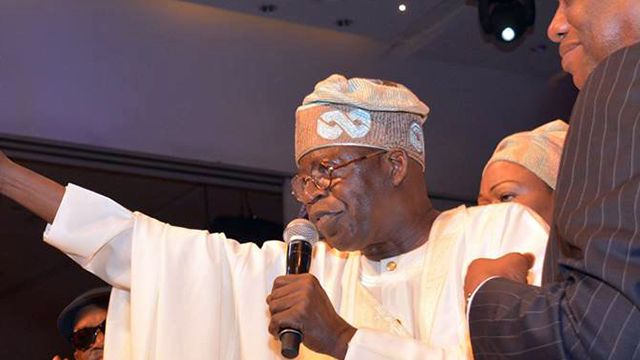 Associates of Asiswaju Bola Tinubu were on Monday mobilizing for his assumed 2023 presidential bid across the Southwest. The Tinubu's men spread out to traditional institutions following consultations on Sunday with some of the closest persons to the former Lagos State governor.
One of the major mobilization platforms, the Southwest Agenda for Asiwaju Bola Ahmed Tinubu, SWAGA was on Monday scheduled to meet the Ataoja of Oshogbo and the Ooni of Ife in their continuing moves to win the traditional rulers into their campaign.
SWAGA which is coordinated by former Peoples Democratic Party, PDP spokesman and former minister in the Goodluck Jonathan administration, Senator Adeyeye also Sunday, January 17, 2021 met with Tinubu's close political ally, Chief Bisi Akande who promised to guide and support the group in their activities.
How Tinubu's Men Spread Out
Akande it was gathered has promised to help the group to harness support from Southwest leaders and has scheduled a meeting on Sunday January 24, 2021 in furtherance of the plan to enthrone Tinubu as president of Nigeria.
Akande who is arguably the closest political ally of the national leader of the APC according to a report in The Nation met with Adeyeye and his coordinators on the sidelines of the celebration of his 82nd birthday.
The newspaper quoted the former Osun State governor as reiterating the claim that power should be rotated to the Southwest in 2023.
Akande was also quoted as saying that he had no doubt that there was no better person than Tinubu in the region to get the backing of the region for the 2023 presidential ticket.
The group also on Sunday met with the governor of Osun State, Alhaji Gboyega Oyetola. Like Akande, Oyetola's support was taken for granted. Oyetola which egging them on asked the mobilisers to remain focused and be strategic in their efforts.
The mobilization drive from SWAGA that has seen Tinubu's men spread out across the Southwest is despite claims that Tinubu would be too old at the point of the election.
GWG had reported that the APC Southwest spokesman, Hon. Karounwi Oladapo articulated two major reasons in his view why the national leader of the party Asiwaju Bola Tinubu cannot sell as its 2023 presidential candidate.
He cited age, religion as factors that would knock Tinubu out.
Send Us A Press Statement Advertise With Us Contact Us