How Many Catholics Escaped Death After Mass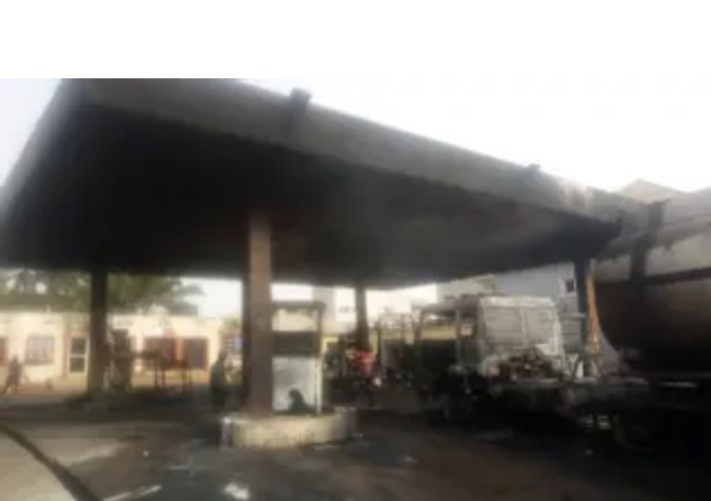 Hundreds of Catholics escaped death after attending morning Mass at the Our Lady of Assumption Cathedral, Nnewi, Anambra State, on Friday morning after a fire gutted a petrol station beside the church.
The fire descended on the fuel station, Great V. Max Oil & Gas, located along Nnobi Road, Nnewi, close to the cathedral, at about 7.00 a.m. on Friday, as the church closed service and the congregation was dispersing.
The fire started in the course of transloading diesel from a bigger tank to a smaller one, GWG learnt.
The fire affected traders and transport companies in the vicinity.
The fuel station supervisor, who gave his name as Umaru Sanda told Daily Trust on how the fire started.
Catholics Escaped Death After Fire Guts Petrol Station Beside Church
"The fire started when we were trans-loading diesel from a bigger tanker to another smaller one. We connected pumping machine from the bigger tanker to the smaller one. Along the line, the pipe connecting the two tankers from the machine pulled off, and the gas started pouring on the ground. When we were still mobilizing to fix the pipe, the heated pumping machine sparked fire; destroying the entire dispensing machines, the gas tanker, and a lot of other things," he said.
A pump attendant at the petrol station, who simply gave her name as Chinelo, said she raised the alarm when she observed that diesel scattered the filling station; but that help could not come as quickly as required before the fire started.
"I was attending to motorists when the fire started. I noticed that the pipe connecting the two vehicles from the pumping machine pulled off, and diesel was pouring all over the place. I raised the alarm; but before we knew it, the fire had started" she said.
She said fire service from Nnewi responded as soon as they were informed; but that the fire had destroyed a lot of things.
Special Assistant to Governor Willie Obiano on Petroleum Matters, Mr. Peter Nwosu, who also visited the scene of the incident with the Divisional Police Officer of Otolo Police Station, Mr. Hassan, described the development as a big loss.