How Liverpool Collapsed At Anfield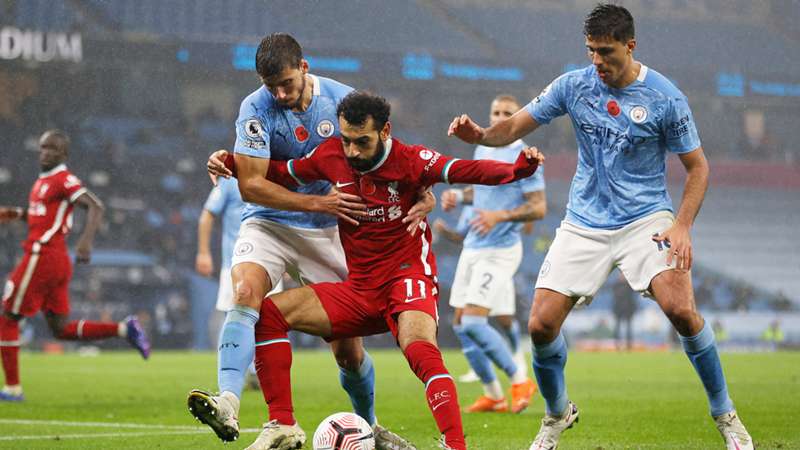 Liverpool collapsed at Anfield on Sunday as the team's poor run in 2021 continued as the defending champions were wallowed by current league leaders Manchester City in a highly anticipated encounter. The 4-1 thrashing of the defending champions meant that Liverpool are yet to win a match this year at home.
The first attempt at goal was in the 24th minute when Sadio Mane nodded over the crossbar from Andrew Robertson's corner kick.
After that Robert Firmino tested Ederson between the sticks for Pep Guardiola's outfit with a well taken volley which was pushed over for a corner before the half hour mark.
City took the game to Liverpool and Raheem Sterling was fouled in the box by Fabinho. Unfortunately, Ikay Gundogan missed the target in the 37th minute as both sides will go into the break all square like they started.
Five minutes after the restart, Gundogan will atone for his earlier miss by putting City in front. He was at the right place to score a rebound. Curtis Jones will hit two shots in a bid to equalize but he couldn't push it through.
The story of the game changed in the 63rd minute when Mohammed Salah was brought down by Dias in the box. Salah stepped up, held his nerves and sent Ederson the wrong way to cancel out Gundogan's opener.
With the game tied at 1-1, pressure mounted on both sides to score the next goal, however, Allison gifted Manchester City two goals after he made two error passes to the directions of Bernardo Silva and Phil Foden. The duo assisted Raheem Sterling and Okay Gundogan for the game to be in City's favor before Foden put the game to bed with a luxury goal in the 83rd minute.
The story of how Liverpool collapsed at Anfield also mirrored the fact that this was City's first win over the defending champions in their arena since since 2003.
It was also Pep Guardiola's first conquest at Anfield and it was the first time since 1963 that Liverpool would lose three consecutive home games. Albeit, it was the first time since 2009 that Liverpool will concede four goals on home territory.
At this stage of the season, it is City's title to lose as they are now five points clear of Manchester United in second place with a game in hand and ten points clear of Liverpool with a game in hand. City have now won 14 games in a row in all competitions as they are playing with so much swagger with Jurgen Klopp's Liverpool becoming their latest scapegoats.