NLNG Train 7: TIPEDI Backs Sylva, NCDMB Boss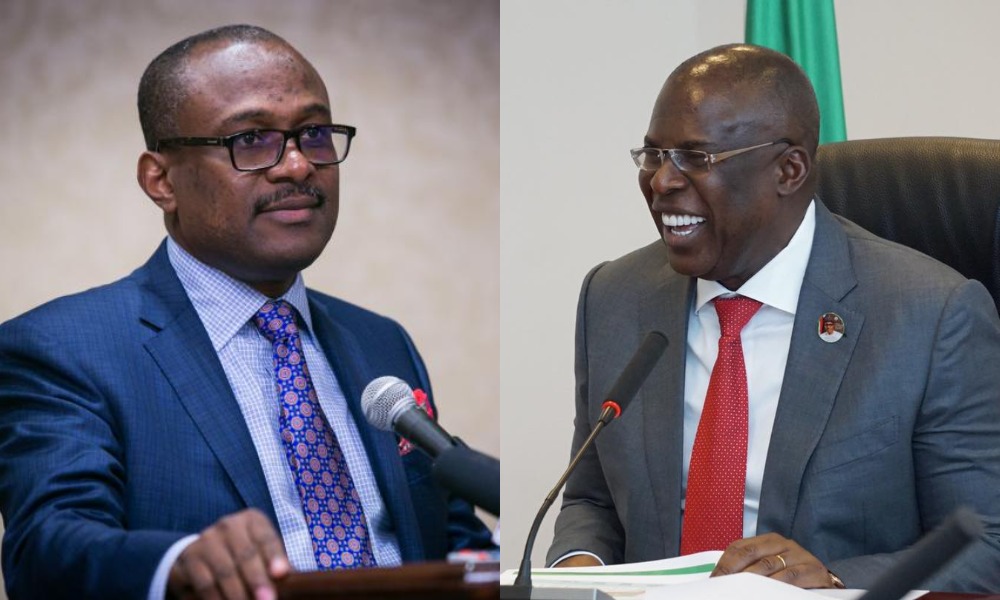 Transparency in Petroleum Exploration and Development Initiative, TIPEDI has chided acts of blackmail it claimed are directed at derailing key development projects of the Ministry of Petroleum and the Nigerian Content Development and Monitoring Board, NCDMB.
The group in a statement made available to GreenWhiteGreen GWG alleged that the moves against the two government bodies were ostensibly directed at embarrassing the Minister of State for Petroleum, Mr. Timipire Sylva and the Executive Director of the NCDMB, Engr. Simbi Wabote.
The group noted in particular allegations raised against the two men by an online news website with a publisher based in the United States.
TIPEDI in a statement signed by Mr. Igho Derek Emuobome, Director of Operations, said the allegation of impropriety in the award of the NLNG Train 7 was unfathomable given the group's familiarity with the moral content of Sylva and Wabote.
TIPEDI said:
"As an Oil and Gas Industry watchdog, we find it difficult to sit idle and watch while well intentioned and transparently midwifed projects such as the NLNG Train 7 and others are being destroyed by individuals and groups that are clearly propelled by sinister motives.
"Being obsessed with the effort at destroying the Hon. Minister of State for Petroleum Resources, Dr Timipre Sylva at all cost and with him, Engr. Simbi Wabote, the Executive Secretary of the NCDMB," the group alleged that the purveyors of the alleged blackmail "no longer have any regard for the truth or even basic tenets of journalism which obligates a reporter to seek both sides of a story before rushing to publish.
"We can understand that people/groups that lose out in the process of pursuing their business interest in a patently lucrative venture like the NLNG Train 7 project would be unhappy.
"But that is no excuse for embarking on a campaign of calumny, defamation of character and publication of spurious allegations that impinge on other people's hard-earned reputations and professional integrity.
Noting that last year the same news website had also accused without proof, Dr Timipre Sylva and Engr. Simbi K. Wabote, of illegal disbursement of $20 million, TIPEDI said the group has now gone to fish for more issues and still without proof.
"Unable to make that stick, as no such money existed anywhere to be illegally spent by the duo, Jackson Ude and his cowardly sponsors have been bidding their time and waiting for another opportunity to strike.
"Ordinarily, the successful completion of the NLNG Train 7 transaction ought to be a source of pride and celebration for all lovers of the Niger Delta region and indeed Nigeria but instead, detractors and losers are now using it as a basis to launch a destructive campaign against the Honourable Minister and the NCDMB Boss as if just performing the duties of their various offices in itself is a crime.
"As a former legislator, experienced public servant and administrator now with global standing in Oil and Gas industry, as well as being a businessman of many years standing, Chief Timipre Sylva clearly knows what is right and wrong in Government service.
"Likewise Engr. Simbi Wabote who is nationally and internationally acclaimed for his professionalism, transparency and selfless service to our dear nation.
TIPEDI as an organization with independent information and data collection mechanisms know those politicians, companies and Community leaders who are orchestrating this wholly imaginary saga. However, our displeasure is the false and totally unjustified negative public image that this hatchet job will create in the minds of unsuspecting members of the public who may not know the Hon. Minister, Dr Timipre Sylva and Executive Secretary, Engr. Simbi Wabote very well."