I Was Indoors During Soldiers, DSS Invasion Of My Residence – Sunday Igboho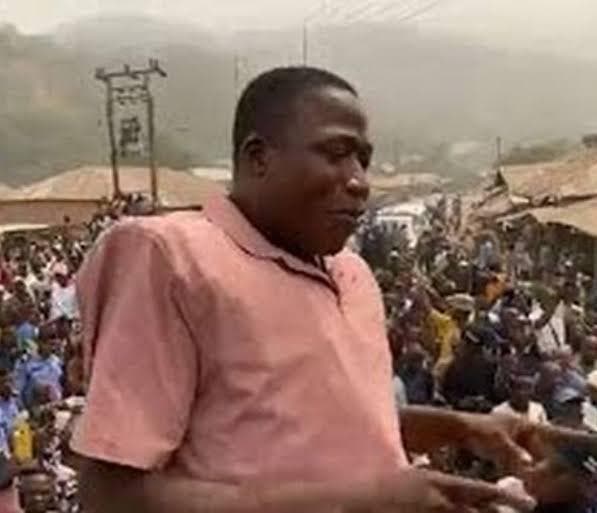 Yoruba activist and freedom fighter, Sunday Igboho, said he personally witnessed the devastating attack on his residence by operatives of the Department of State Security and the Nigerian Army.
Igboho's residence in Ibadan was attacked in the early hours of Thursday with two persons reportedly killed during the attack and properties worth millions destroyed. According to witnesses, the remains of those killed were taken away.
In a viral footage from the incident, blood spills were seen in the activist's living room.
A narrator in a live video of the incident said the men stormed the residence with five patrol vans, Hilux, and private vehicles and passed through Iwo road from Soka after the attack.
Igboho, who confirmed the incident, said he was indoor at the time of the invasion, adding that he could clearly hear the assailants identifying themselves as men of the DSS and Nigerian Army.
Igboho said he was astounded by the level of ruthlessness and aggression deployed by the security forces, noting that he had not done anything to warrant such treatment.
"Around 1:30 a.m., I just heard gunshots in front of my house. 'Sunday Igboho come out, we are DSS, we are soldiers," Igboho to BBC in an interview.
"I stood close to the window, I saw them in DSS uniform and soldiers in the Nigerian Army. So, I was surprised.
"I did not kill or fight with anybody," he said while explaining that "what I'm doing is to fight for my people. I am fighting for my people because the Fulani bandits killed my family, kidnap and take ransom from them.
"Government refused to do the right thing for my family and that's why I come out to support and fight for our rights. So, I was surprised," he added.
He further confirmed that his properties were destroyed and two men were killed during the attack.
It is however not clear how the security forces failed to see or arrest him.
Sunday Igboho: Abducted Family Members, Aides Freed In Ekiti, Given N20k For Transport
However, the Nigerian Army has refuted claims that it was behind the attack on Igboho's residence.
The spokesperson for the Nigerian Army, Onyema Nwachukwu said he was unaware of the incident.
"There's nothing like that, I don't have that information. Soldiers did not carry out an attack on Igboho," Nwachukwu said
The attack on Mr Igboho's residence came two days before a major rally of separatist agitators scheduled to hold in Lagos on Saturday