IPOB: Nnamdi Kanu's Wife Breaks Silence, Slams Family, British Govt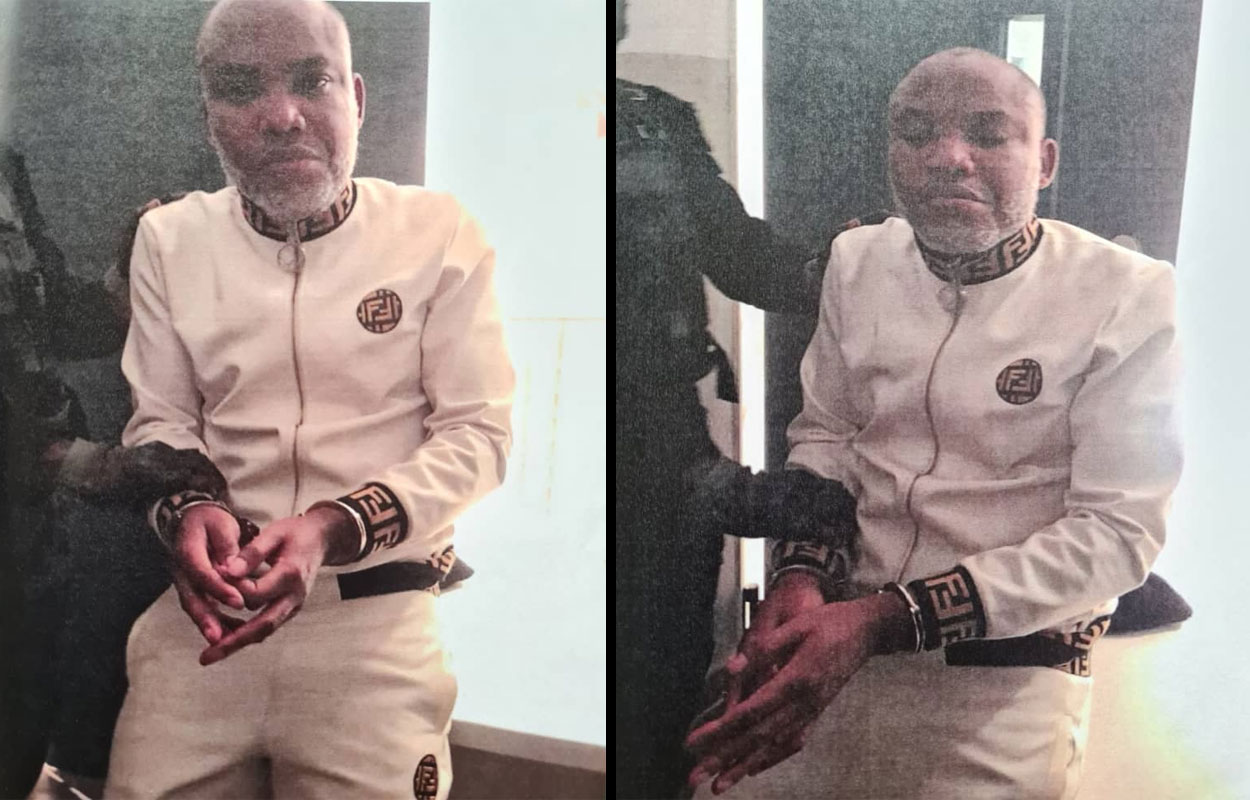 Weeks after his 'extraordinary rendition' back to Nigeria, Uchechi Okwu-Kanu, Wife of embattled leader of Indigenous People of Biafra (IPOB), Nnamdi Kanu, has finally spoken of his husband's travail.
Recall that the Nigerian government had announced the arrest of Nnamdi Kanu on 29th of July, although no details was given regarding the his arrest and extradition.
However, subsequent media reports averred that the separatist was kidnapped by Kenya authorities while he was in the east Africa country and later handed over with the Nigerian government.
Individuals and human rights organisations have expressed concerns about the rendition of Nnamdi Kanu, saying his arrest and subsequent repatriation violated certain conventions of the United Nation.
Speaking for the first time after his husband arrest, Uchechi Okwu-Kanu, said she's been treated horribly by family members since his husband's Ordeal began.
He disclosed that no family member has reached out to her since Nnamdi Kanu was taken into custody by the Department of State Services.
In an interview with Sunday Times of the United Kingdom, she disclosed that Kanu was assaulted and tortured by security forces in both Kenya and Nigeria.
The wife of the IPOB leader, who is currently in the North of England, said she and her family had not spoken to him since his imprisonment
"It's hard for me to speak I,'m in a terrible state of mind. I'm afraid for his life because he's been assaulted and tortured." she said
"I was always concerned about Nnamdi," Uchechi stated. You are a target when you want liberation from authoritarianism. But, after seeing what happened in Belarus and how no one intervened, I realised that no place was safe.
"It is a crime for the Nigerian government to carry out this rendition. She stated, "We're not even talking about independence."
She described as "a source of shame" the British Government refusal to weigh in on Nnamdi Kanu's predicament who's a British citizen.
"All we're asking for is a referendum, just like Scotland did with the United Kingdom and the United Kingdom did with the European Union, but the Nigerian government wants to exterminate our entire family. Britain's failure to act to protect its own citizens is a scandal and a source of shame."
Nnamdi Kanu Arrest: British Govt In Talks With FG
You Can't Arrest Nnamdi Kanu And Ignore Gumi, Diri Tells Buhari
In addition, a barrister at Doughty Street Chambers in London, who is advising the Kanu family, said that if the UK did not act to support Kanu, it risked being "complicit in torture."
Jonathan Cooper stated, "Extraordinary rendition is recognised as a form of torture."
"We urge the UK government to lead by criticising Nigeria's and Kenya's actions and ensuring that, if Kanu is to be returned to Nigeria, only independent courts can do so. There is a risk that the UK will become involved in torture if the foreign secretary, Dominic Raab, remains silent."
Send Us A Press Statement Advertise With Us Contact Us