Radical Priest Throws More Shade At Obi Cubana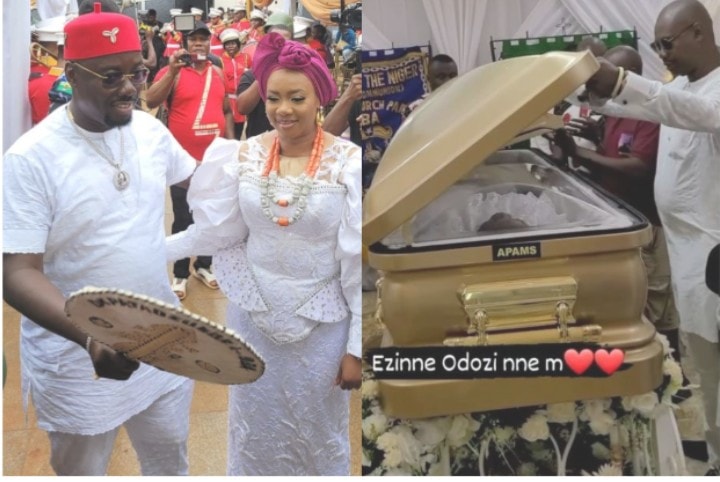 Radical Roman Catholic priest, Father Kelvin Ugwu has thrown more shade at entertainment entrepreneur, Obi Cubana saying that the best place to bury a loved one is in the heart and not a N30 million casket.
The Nigerian born priest who is based in Malawi had earlier voiced out at viral videos of people struggling for money that was thrown about during the funeral organized by Obi Cubana for his mother. He said that only animals are fed in the way that people struggled for cash during the funeral. Even at that, he said some animals prefer to dignify themselves when eating.
In the latest post on Facebook, Father Ugwu while urging contentment for everyone noted that there are various levels of wealth but that what was common to all was the ability to peacefully bury their loved ones in the heart.
His intervention was in reference to claims that Obi Cubana buried his mother in a N30 million casket while he wore a N50 million necklace.
He said:
"The richest man in this village in Malawi where I am working can afford to buy anything he wants. People here regard him as a big shot. . .to them, he is their own example of someone whose "doings get level."
"But, the moment he starts comparing himself with Obi Cubana in Anambra, he will fall under the category of those that bouncers did not allow to near the gate of his mother's burial ceremony.
"The same can be said of Obi Cubana. . . Even though his "doings get level," the moment he compares himself with people like Jeff Bezos or Elon Musk, he will fall under the category of those they employ.
"Everyone of us is rich depending on who we are comparing ourselves with. In the same way, everyone of us is poor depending on what we are using to evaluate poverty.
"What is most important is CONTENTMENT because as your earning increases, your need will also increase and your definition of comfort changes. The first class seat you use to pay for in a flight and feel very comfortable will no longer be comfortable until you take private jet.
"In the real sense, money is meant to serve our needs not our greed. This is why our prayer is that our needs should not grow beyond our earnings.
"You may not be able to immortalise your loved one with $100,000 diamond pendant neckpiece, but in sincerity, you don't need it. The heart is more expensive than any diamond. The best place anyone can immortalize anyone is in the heart. . . FORTUNATELY, as expensive as it is, everybody can afford it.
"You may not be able to afford 30 million naira casket to bury your dead, but in sincerity you don't need it. The greatest gift you can give the dead is to put them in the ground and cover the body with soil. . . FORTUNATELY, everyone can afford it."