Secondus Meets Wike in Benue With Ortom Referee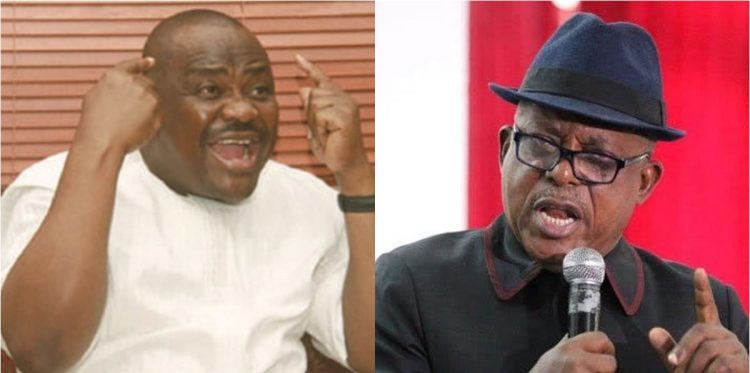 Uche Secondus, national chairman of Peoples Democratic Party (PDP) on Monday met with the Rivers state governor, Nyesom Wike, in the presence of Benue state governor, Samuel Ortom, at Makurdi in Benue.
There are indications that the meeting was organised by Ortom to reconcile Wike and Secondus.
Recall Green White Green (GWG) earlier reported Wike to have at the birthday of Senator Liyel Imoke attacked Secondus describing him as a two-faced liar.
Reacting, Secondus vowed to ignore the attack on his person by his one-time political benefactor, Wike.
Wike in his assertion had said; "The national chairman said we need good leadership in the country, but if you don't show good leadership, the party cannot produce good leaders. That is the truth of the matter.
"If he (Secondus) had shown leadership in Cross River, our party would not have had the problem we have today.
"He goes to the church, sees the pastor, pontificates him. He leaves the church, he does a different thing. What is the problem with this country? It's leadership," Wike said.
Responding through a prepared statement, Secondus' office said:
"The media office of the National Chairman of the Peoples Democratic Party, PDP, Prince Uche Secondus has been inundated with calls and inquiries on the outburst of the Rivers State Governor, Bar. Nyesom Wike against the person and image of the National Chairman.
"Our response is that no amount of provocation will make the National Chairman join issues with any leader of the party talk less a state Governor. To do that is to remove the toga of a leader of the party".
Addressing journalists after their meeting, Governor Ortom said that the meeting was geared towards regaining the confidence of Nigerians with a view of winning the 2023 general elections.
"This is a family meeting for us to reason together in order to make our party more vibrant because Nigerians are waiting for us to take over the mantle of leadership at the centre in 2023″.
Send Us A Press Statement Advertise With Us Contact Us