Peter Obi: Still A Servant-Leader @ 61
By Louis Achi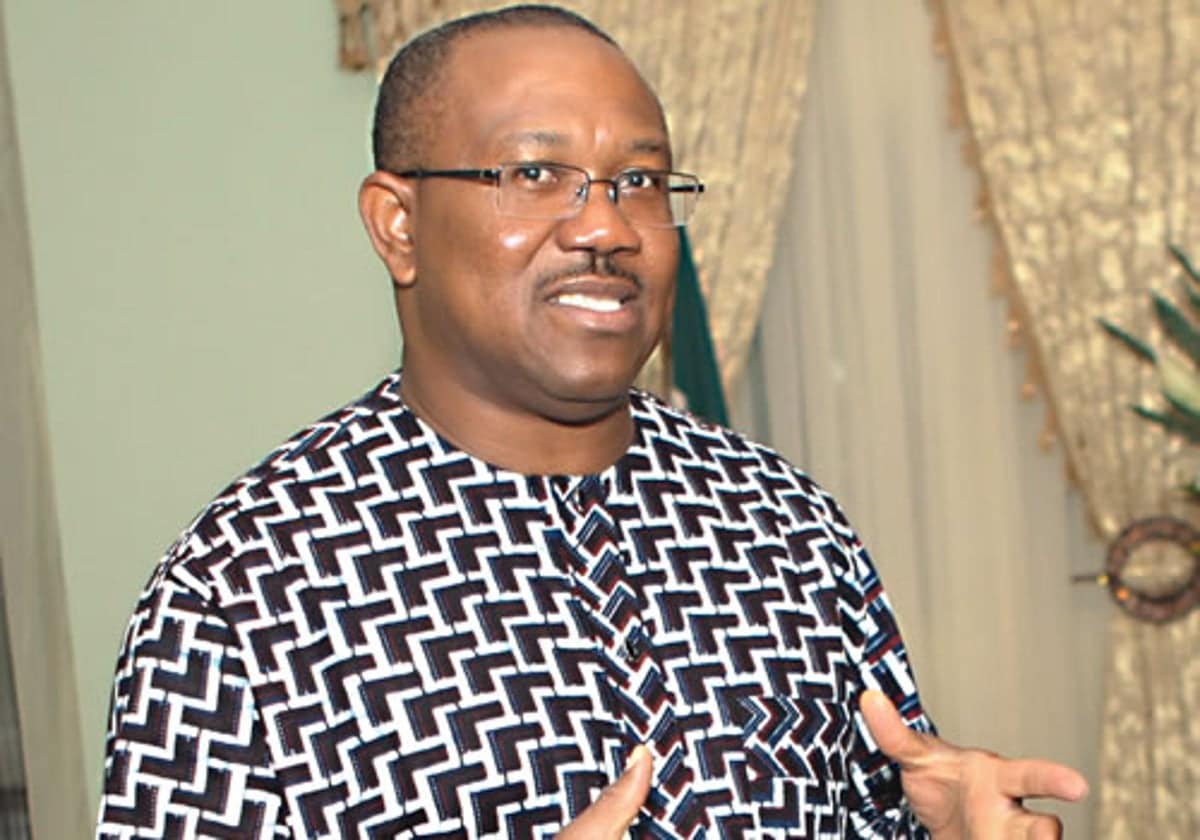 When Mr. Peter Gregory Obi, the former vice presidential candidate of the Peoples' Democratic Party (PDP) in the 2019 election turned seven years old on July 19, 1969, the US Apollo 11, the space mission that first landed humans on the moon – carrying Commander Neil Armstrong and Lunar Module pilot Buzz Aldrin – was just 24 hours from touchdown. The third mission crew member Michael Collins was left orbiting the moon.
While that audacious space event, flattering to the human pride, unfolded, back on Earth then, a fratricidal Nigeria-Biafran Civil War raged. It also in no small way spawned the stern existential conditions that helped shape the embattled, impressionable seven-year-old's worldview.
Today, as Peter Obi turned 61, some 51 years after that bloody conflagration, many Nigerians are uncertain of their values, their leadership and their safety. In a sense, what is unfolding in the nation's socio-political arena currently is comparable to an Athenian tragedy but lacking the majesty of a Greek drama.
But in all these enveloping gloom, several lights hold out hope. One such glowing light is Peter Obi, the former governor of Anambra State. He is no less a child of providence, who wielded power and exercises influence with alluring humility and exemplary focus. He has demonstrated with his life's trajectory that spirituality, business and politics fundamentally address transformation of the human condition for good. To-date, he unabashedly maintains this unique philosophy and footing.
Little wonder, the famous American poet and essayist Maya Angelou, observed that "Nothing can dim the light that shines from within." Angelou's captivating insight into the existential challenges that confront great men in the making fundamentally captures the life story of Peter Obi who notched 61 years of age on July 19.
The enthralling odyssey of former vice presidential candidate Peter Obi further goes to validate the enduring wisdom that difficult roads often lead to beautiful destinations. An unwavering sense of loyalty and duty, rigorous erudition and professionalism, stern discipline, demonstrable integrity and almost a child-like faith in his beloved God had activated and enlisted those mysterious principles that guide progress.
In the academia, business turf, faith arena, politics and even romance, these deep traits have meshed to win over the needed fundamental forces which interfaced to leverage his life's journey. Obi has simply demonstrated that he is a personality and leader not swayed by extraneous emotionalism and parochial cant.
The parameters for electing the governor of a state or picking the vice presidential candidate of a political party do not specify sainthood as a key requirement. This humble servant-leader has never claimed he is one. His electoral choice as former governor and pick as presidential running mate tacitly acknowledge the capacity of focused individuals to change their society for the better. For decades, he has provided clear, pragmatic leadership in diverse life arenas.
Today, Obi who has now been deservedly transformed into an active, circumspect and intellectually focused national political figure can do no less. The position of a governor which Obi was for eight years in one of the nation's toughest states and presidential running mate of one of Africa's biggest political parties carried considerable weight, especially in charting the course of progressive engagement with the critical elements in a fractious democratic mix.
It could be recalled that riding on the power of sheer conviction, Obi defined both a vision and a vehicle for its delivery – to transform Anambra State from a human and infrastructure-challenged land of giants to a modest, modern state, despite the extreme governance challenges. His stern fiscal discipline as governor remains unmatched in Nigeria, to-date. It is these same deep philosophical qualities that he deployed as vice presidential candidate of PDP, providing unmatched focus and panache to the party.
According to Henry Louis Gates, former leader of the African and American Research Institute at Harvard University, "People are afraid, and when people are afraid, when their pie is shrinking, they look for somebody to hate. They look for somebody to blame. And a real leader speaks to anxiety and to fear and allays those fears, assuages anxiety."
In his eight years in office as governor, Obi spoke to Anambra State's anxiety and its fears and effectively allayed those fears as well as assuaged the anxiety. On the national turf, he did the same and still does it – almost effortlessly. This is his forte.
Peter Obi, fondly called Okwute Ndigbo, was born on the 19th of July, 1961, at the Holy Rosary Hospital & Maternity, Waterside-Onitsha, in Anambra State. He had his secondary school education at Christ the King College (CKC), Onitsha. In 1980, Peter proceeded to University of Nigeria, Nsukka where he graduated with a B.A (Hons.) in Philosophy in 1984. Appreciative of further education, he left Nigeria to Ivy league and Oxbridge schools.
He is an alumnus of Harvard Business School, Boston, USA; London School of Economics where he studied Financial Management/Business Policy; Columbia Business School, New York, USA (Marketing Management); Institute for Management and Development, Switzerland; Kellogg Graduate School of Management, USA, Oxford University and Cambridge.
In 2003, he contested the Anambra State governorship election under the platform of All Progressives Grand Alliance (APGA). At the end of the election, Independent National Electoral Commission (INEC) declared his opponent, Chris Ngige of People's Democratic Party winner.
Peter Obi contested the result in court for almost three years. Eventually, Ngige's victory was overturned by the Court of Appeal on 15 March, 2006. Obi then took over on 17 March, 2006. After seven months in office, the State House of Assembly impeached him, putting Virginia Etiaba, his deputy in his position. The event made Virginia Etiaba the first female governor in Nigeria's history.
Obi challenged his contrived impeachment at the Court of Appeal and won. On 9 February 2007, he was re-instated as governor and Victoria Etiaba handed power back to him.
Again, Obi left the governorship position on 29 May 2007 after the general elections, which Andy Uba won. Obi contested the turn of events in court, arguing with merit that he did not complete his four-year tenure and that his tenure started running when he took office in March 2006.
After Peter Obi's first term, he contested again in the 2010 gubernatorial election and defeated his opponent, Professor Charles Soludo, the former CBN governor. At the completion of his tenure, he later handed over to Willie Obiano in 2014 who emerged victor in the election.
During the 2019 Presidential elections, Obi was named the running mate to Atiku Abubakar, PDP's Presidential candidate on October 12, 2018 but controversially lost to the incumbent President, Muhammadu Buhari.
Before his foray into politics, Obi was already a very successful businessman. He held high profile positions in several establishments. Some of the companies he served include: Next International Nigeria Ltd, Guardian Express Mortgage Bank Ltd, Guardian Express Bank Plc., Future View Securities Ltd., Paymaster Nigeria Ltd., Chams Nigeria Ltd., Corp Ltd and Card Centre Ltd.
He was appointed by former President Goodluck Jonathan as the Chairman of the Security and Exchange Commission (SEC). Obi is also a member of the Nigerian Economic Summit Group (NESG), the Nigerian Chartered Institute of Bankers, and the British Institute of Directors (IOD).
Not unexpectedly, a grateful society has inundated Obi with numerous awards recognising the depth, scope and sweep of his contributions and interventions in society.
Peter Obi tied the knot with the love of his life Margaret Brownson Usen in 1992. They are blessed with two children – Gabriella Nwamaka Frances Obi and Gregory Peter Oseloka Obi.
END