Pastor Umo Eno: Gratitude Meets Thanksgiving
By Ima Nkanta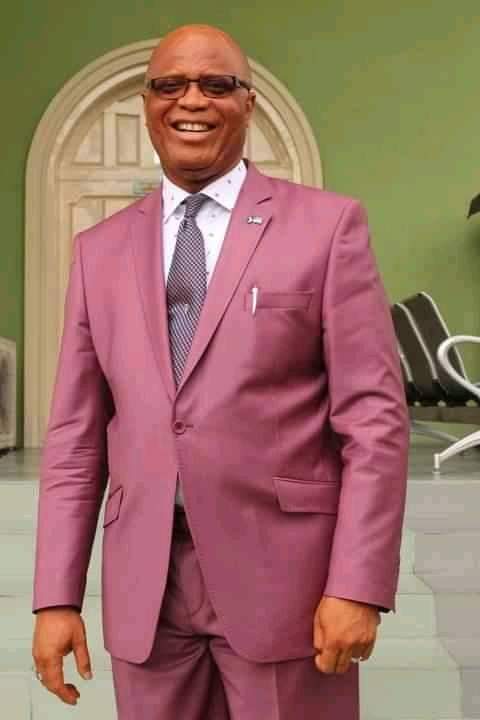 For Umo Eno, pastor of one of the largest and reputable congregations in Eket, All Nations Christian Ministry International, also known as the Lord's Kitchen, former CEO Royalty Group and the current Commissioner for Lands and Water Resources, Akwa Ibom State, gratitude has been his attitude since when he was nine years old, when Christ Jesus saved his soul.
It was that unforgettable encounter that charted a new course for a sprouting young man whose early years of his life were punctuated with several challenges -from health to the itinerary nature of his life that took him almost across the regions of the country; courtesy of his policeman father, late Bassey Eno, that national call to service took his family to many places. However, his cross-cultural exposure became a big plus in the success of his robust business and professional career, it helped him build strong relationships across the nation. Little wonder why he is so detribalised in his dealings with people.
But that's not the subject of this discourse, his attitude towards God and man is.
Having worked closely with him for over a decade, I can vouch that Pastor Umo Eno is a man with a large heart and does not forget his humble beginning for a second. He holds dear to his heart the people that have impacted his life, both young and old. From time to time, he tells with relish the stories of how God has helped him in life.
He epitomizes gratitude. Humble and cordial, he shows deep respect to both the young and old, irrespective of tribe and religion. His list of reasons to be grateful increases by the day.
Your first time impression of him tells you of a man who is habitually grateful.
Gratitude has been his attitude. Gratitude is the ladder through which God has used over the years to lift him above and beyond human imagination. Gratitude has been his theme song!
Now, if you have such a man with a thankful heart to his fellow man, then think about what should be his attitude to God who made whom what he is and what he will ever be?
Let me describe a scenario in 2013 during the dedication of the Royalty Apartments in Marina, Eket. The event was supposed to be one of a thump's up occasion for such a staggering achievement as the first person living to inaugurate the tallest and most posh apartment in Eket but it went sombre somewhere along the line. Eminent persons, including former Akwa Ibom State Governor, Obong Victor Attah and representative of the then Governor, Chief Godswill Akpabio attended the occasion.
While delivering his address, Pastor Umo Eno did the unimaginable: he couldn't control his emotion as tears freely rolled down his eyes, as he recollected his humble past; how he suffered to raise his siblings after the unfortunate death of his father in his early 20s, he measure how God suddenly turned around his captivity.
He wept further as he attempted juxtaposing his tumultuous journey to greatness – from nothing to something – to Jacob who left for his uncle Laban with only a staff in his hand but returned with two throngs of people and wealth. He wept, not for regret but for gratitude to God, the Almighty, the benevolent God who had proved his word true in his life, business and career.
Also, remembering the assurances he had from God in his teenage years that if he would serve him, he would bless him such that humans would marvel. Yes, marvel; he couldn't bear but allow the motion of gratitude to flow freely, as he saw God's word coming to pass.
For me, the magnitude of what God can do for a grateful heart is incomprehensible. It suffices to say that the world will see more of God's glory as we go the path of gratitude.
For Pastor Umo Eno to roll out drums in public thanksgiving service is not a new thing because gratitude has been his attitude.
It's therefore unkind that a man who has moved beyond success to gratitude, comes with his family to thank God, his own God – the God and father of our Lord Jesus Christ – and someone else is angry! Akwa Ibom State, in the first place is a state that values God and has placed him above politics.
The Governor of the State, Mr. Udom Emmanuel, a practicing Christian, has always held similar events to mark each milestone recorded. Legislators, Council chairmen and many public officers have of late held thanksgiving services to commemorate divine benevolence upon them. Thanksgiving is part of the culture of people who remember that what they are today did not come by their qualifications but by mercy of God.
It is common to find public officers rallying others to thank God along with them, yet there were no storms of criticism.
But beyond the spats, Saturday 25th September, 2021 has already been crowned above as the day Pastor Umo Eno and wife, Pastor Mrs. Patience Eno, will yet again enter God's gate with thanksgiving in their hearts and the court of God with praise.
Akwa Ibomites are welcome to team up with Pastor Umo Eno and show gratitude to God for one year memorial of his late mother, Deaconess Eka Bassey, thirty five years of successful marriage and for appointment into the State EXCO as Commissioner for Lands and Water Resources. Gratitude is his attitude.