Knocks As EKSU Official Shocks Student Over Alleged Exam Malpractice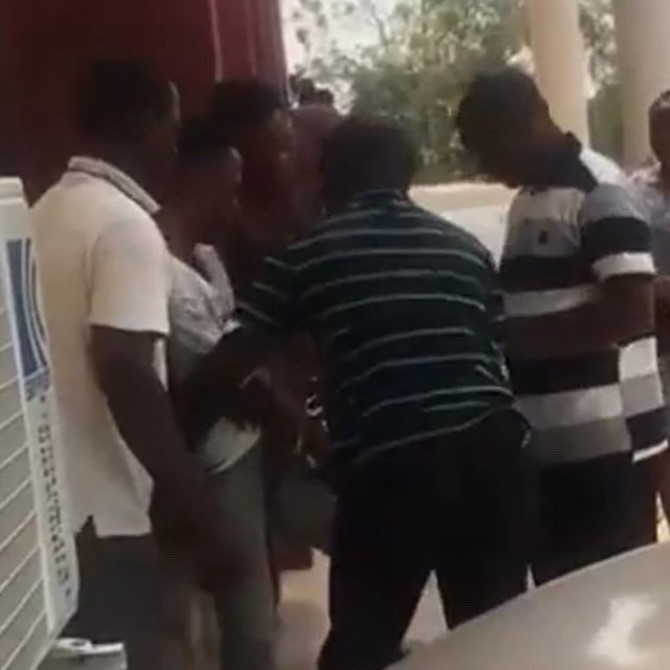 A video circulating on social media showing a student of the Ekiti State University (EKSU) being tasered by an unnamed university official has garnered criticism from Nigerians.
The video shows the student being held by two men while he pleads his innocence, then the official steps into the video holding a device which he uses to electrocute the student.
The unnamed EKSU student is then taken away.
Reacting to the video, Nigerians criticised the excessive use of force by the CSO, lamenting the abuse of power by officials.
Here are some reactions gathered by GreenWhiteGreen
According to this user, it is the HOD of the political science department
@badboyphyyz Na political science hod, the man Dey act like tiger during exams
An EKSU student speaks
@iam_jerrythe This is my school omo this one wey urna see small oooooooo😂😂😂
@veevyane_ Nigeria universities steady doing the most 🤦‍♀️
@ms_sophie The abuse of power in Nigeria is terrifying'
@choplifekitchenlagos What happened to tearing his paper and letting him be or noting his name down? Why is everything with so much v*olence in this country? Oga o
@asiwajulerry He didn't steal, he didn't harm anyone. Why is he getting treated like a murder suspect?? Nigerians dey tire me
@the.coco.king If student beat you now them go say na bad boy
@wendy_adamma Just report to the right authorities instead
@omobolanle2610 Cheating no mean anything nah😂Exam hard normal😂
@julietalfred4 What kind of madness is this, security officers do the most