PDP Govs Back Decision To Appeal Presidential Election Judgment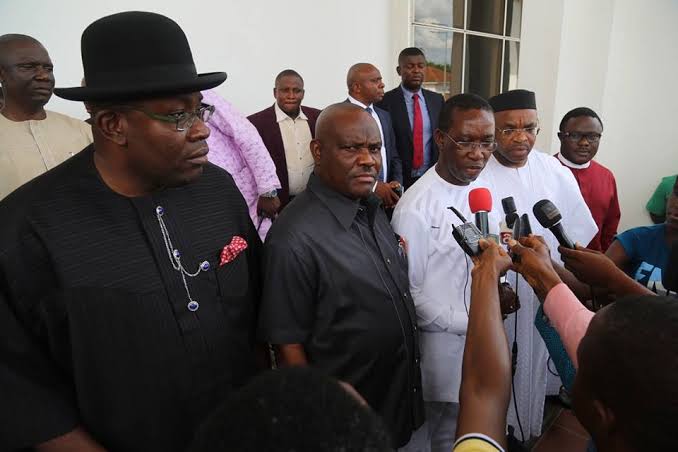 By Chuks Ekpeneru
Governors belonging to the Peoples Democratic Party, PDP have backed the decision of the party and its presidential candidate, Atiku Abubakar to appeal the tribunal judgment that gave victory to President Muhammadu Buhari of the All Progressives Congress, APC.
The governors said that given what they described as gapping holes in the judgment that it would be an eternal blemish on justice if the judgment was allowed to stay.
The communique from the PDP follows the controversial decision by one of its own, Governor Nyesom Wike of Rivers State to congratulate the president on his tribunal victory. Wike had alleged that some PDP governors were secret supporters of the president.
A statement issued by the chairman of the PDP Governors Forum, Hon. Seriake Dickson said:
"After painstakingly and prudently studying the line after line tenets of the judgement, several holes were picked and countless anomalies identified by us.
"We would be doing a greater disservice and moral injustice to our party, our democracy and Nigerians in general if we turn blind eyes, swallow such bile and applaud that rape of justice.
"The judgement to say the least has further painted our judiciary with darker colours, only this time around with a never-before-seen blemished coat of tar.
"However, we are hopeful that the Supreme Court will re-write that history by ensuring that such stains and tar are removed from our judicial archives.
"The apex court should know that its integrity is at stake and in order to avoid it been shreded to particles, it must employ all known technicalities to save our nation and the future of Nigerians yet unborn from a development that may further make us a perpetual laughing stock amongst the comity of nations. And Nigerians are very hopeful that these wrongs will be righted."
Continuing, the statement deposed that "Without any iota of trepidation, it is most paramount for us to once more, restate and reconfirm our undiluted loyalty, deserving support and maximum commitment to our great party and the Atiku-Obi Presidential Ticket. This is our stand, now and in the future. Posterity would judge us harshly if we did otherwise."