Uduaghan Renews Attack On Okowa After Snub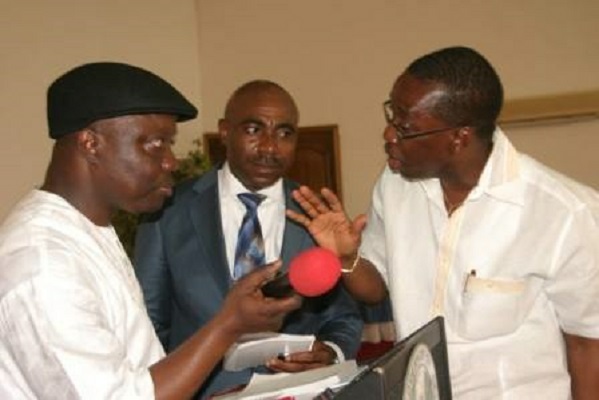 Patrick Adamagu
IMMEDIATE past governor of Delta State, Dr. Emmanuel Uduaghan, Thursday renewed his attacks on his successor, Senator Ifeanyi Okowa accusing the later of mobilizing traditional rulers to spite him saying, "All of us get smart cunny."
Dr. Uduaghan's beef came after he was left out of a reception for the serving and former governors of the state by the State Traditional Rulers Council.
Speaking ahead of the reception that took place in Asaba on Thursday where Governor Okowa and his deputy, Kingsley Otuaro alongside former Governor James Ibori were honoured in a grand reception Uduaghan warned that "some actions are just damn silly!"
Reacting to the event, Uduaghan in a series of posts on his verified Facebook page on Thursday warned that every ex-governor has the capacity to ensure that his state is peaceful, or create a platform for crisis.
He said: "In spite of the lies out there, I was on the driver's seat in 2014/2015, to midwife the current Delta State administration. The critical responsibility of any State leader is to ensure that all actions maintain the peaceful nature of the State.
"In sponsoring an action, do you assess the ethnic and political implications at all? Some actions are just damn silly!
"Congrats to those being honoured by 'some' Delta State Traditional Rulers today! Interestingly, you are being honoured for: Peace and security, human capital development, and Infrastructural development."
Speaking on his achievements while in office, Uduaghan said: "I will not comment on Peace and Security and human capital development, Deltans know who did what. On the infrastructural development those coming by air will be landing at Asaba airport built and put into use in my administration.
"Asaba airport had transported 100,000 plus of passengers including every past and current Presidents/VPs in Nigeria before I left office.
"I wish you a great ceremony as you use the event centre and Government House complex built by my administration."
Uduaghan who served on the platform of the Peoples Democratic Party, PDP for two terms between 2007 and 2015 exited the party in 2018 and sought a Senate seat on the platform of the All Progressives Congress, APC but was defeated in the election by Senator James Manager.
Uduaghan and Okowa served in the Ibori administration and were rivals for the succession in 2007 but Okowa reportedly upon pleas from Ibori stepped down in the PDP run-off in 2006 to allow Uduaghan pick the ticket.
Okowa's bid to succeed to the office in 2015 was, however, opposed by Uduaghan. Okowa, however, was able to muscle his way through the PDP primaries after Uduaghan's machine collapsed in late November 2014.
Uduaghan, however, subsequently turned around to support Okowa in the main election but at that time the confidence they had in one another from their days as neighbours and family friends during the Ibori era had been irreparably broken down.