Dortmund Win On Bundesliga Return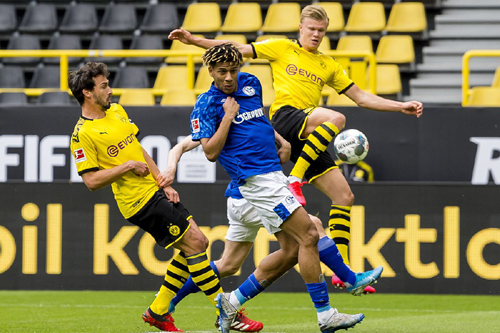 By Joshua Aziken
The Bundesliga returned to screens after a lengthy break due to the COVID-19 pandemic on Saturday with a mouth-watering clash between Dortmund and Schalke.
Dortmund playing at home ran wild with a 4-0 win over the visitors. Goals from Haaland, Thorgan Hazard, and Guerrerio humbled the hapless visitors.
Schalke couldn't find their rhythm after mustering just three shots on target where Burki stood firm in goal.
Haaland opened the scoring after some fluid passing from Brandt to find Hazard who whipped in a delicious cross to find Haaland to tap in his tenth goal in a Dortmund shirt.
Dortmund continued to dominate the match and just a few moments before the half time whistle doubled their lead with Raphael Guerrerio. After the half time break, Dortmund continued dominating with Thorgan Hazard getting in on the action to put the tie out of the reach of Schalke. Guerrerio then put the icing on the cake with his second of the match.
The result put Dortmund within one point of Bayer Munich who play Union Berlin on Sunday.
The 4-0 beating was, however, without a crowd as football matches across Germany were played in empty stadia.