Buhari's Critics Divided As Presidency, NEF Fight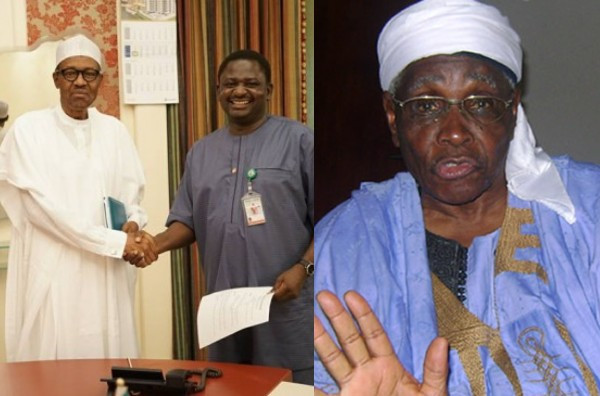 By Ayodele Oluwafemi
Mixed reactions have continued to trail the battle of words between the Northern Elders Forum (NEF) and presidency over the security situation in the Northern part of the country.
NEF led by Prof. Ango Abdullahi, on Sunday, expressed disappointment over the manner President Muhammadu Buhari is handling the insecurity challenges in the Northern part of the country.
Prof. Abdullahi alleged that the insecurity challenges in some Northern states in an indication that Buhari and the Northern governors have lost the grip of control over their territories.
Recent reports of inhumane killings in some Northern states have been awash in the media space leading to protests on and offline.
Reacting to Abdullahi's comments, presidential spokesperson, Femi Adesina, in a statement, faulted the arguments raised by the forum, describing the forum led by Abdullahi as "a mere irritant and featherweight."
Adesina said, "We are not surprised by this latest statement by Prof. Abdullahi, and our past position on what his group represents remains unchanged: a mere irritant and featherweight.
"The former vice chancellor signed the statement under the banner of Northern Elders Forum (NEF).
"Hearing that title, you would think the body was a conglomeration of true elders. But the truth is that NEF is just Ango Abdullahi, and Ango Abdullahi is NEF."
The comments of Abdullahi and the reactions of the presidency have become a subject of debate on social media.
Reacting, former Minister of Aviation, Femi Fani-Kayode noted that Adbullahi deserved the harsh response coming from the presidency.
"No-one in Nigeria has supported the barbaric savagery of the Fulani herdsmen more than Prof. Ango Abdullahi. He is even more of an extreeme hegemonist, religious bigot and ethnic supremacist than @MBuhari.
@He deserved what he got from @FemAdesina and the Presidency today," Fani-Kayode tweeted.
Former presidential aide, Reno Omokri came in defense of the NEF, while asking whether Femi Adesina and Garba Shehu will follow the president to Daura in 2023, when his tenure expires.
"Is anybody thinking at the Presidency? @FemAdesina and @GarShehu, are you okay? Northern Elders Forum complain of the insecurity in the North, and your response is to insult them as irritants and featherweights? Will you follow General @MBuhari to Daura in 2023?" Omokri tweeted.
A section of Twitter users wondered if NEF is just waking up to the reality of the insecurity challenges bedeviling the Northern part of the country, considering the role they played in criticizing the previous administration.
Another section of Twitter users criticized Adesina for hurling insults at the forum, instead of addressing the issues raised by them.
GWG gathered the following tweets:
Send Us A Press Statement Advertise With Us Contact Us