How Uzodinma's Honeymoon With Okorocha Ended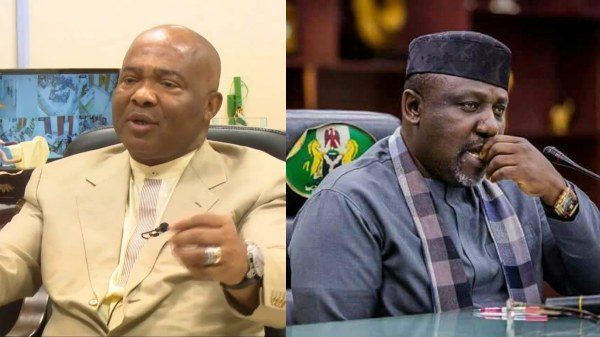 By Chuks Ekpeneru
The recent indictment of former Imo State Governor, Owelle Rochas Okorocha by the Economic and Financial Crimes Commission (EFCC) may have signaled the end of the honeymoon with the incumbent Governor, Hope Uzodinma.
The EFCC had said it seized N7.9bn belonging to Imo from the former governor and now Senator representing Imo West Senatorial District at the National Assembly during investigations.
Though Okorocha has rebuffed the EFCC announcement, it is, however, believed that the commission may have been prompted by the Imo State Government.
Having failed to install his son-in-law, Uche Nwosu as Imo Governor, Okorocha may have heaved a sign of relief when the Supreme Court declared Hope Uzodinma as governor.
That judgment removed Sir Emeka Ihedioha of the Peoples Democratic Party, PDP from office of governor.
Okorocha was quick to congratulate the new governor saying he was ready to work with him.
It was perhaps in the light of this that Ifeanyi Ararume, governorship candidate of the All Progressives Grand Alliance (APGA) and Uche Nwosu, candidate of Action Alliance (AA) joined Uzodinma to pick his certificate of return at the Independent National Electoral Commission (INEC) office in Abuja when he got the nod of the Apex court.
But as it is in the state, Uzodinma is already building his political empire.
The casualties are Okorocha and Ararume.
He wants to become his own man.
Apparently, he is learning from the fate of Akinwumi Ambode in the hands of the Lagos cabal, and what has befallen Godwin Obaseki of Edo State.
Recently, he mended political fences with Senator Osita Izunaso. This must have jolted the Rescue Mission Camp of Okorocha. Okorocha fought tooth and nail to ensure Izunaso did not return as the All Progressive Congress APC National Organising Secretary during the last party convention in Abuja.
To frustrate Izunaso, Okorocha successfully sponsored Emmanuel Ibediro.
The camps of Ararume and Okorocha are already bitter over the treatment being meted to them as their lieutenants are complaining Uzodinma has hijacked all the appointments for his boys.
It is no surprising rumours started coming out Okorocha is planning to dump the APC for the People's Democratic Party (PDP) as he is afraid he may not get the return ticket in 2023.
For Ararume the easiest indication to the end of the honeymoon will soon be made official when Governor Uzodinma makes public on who he would back for the Imo North Senatorial election. Senator Ararume is said to have thrown his hat into the contest to get the APC ticket.
However, multiple sources reveal that the governor will not back his former rival, Ararume for the Senate seat.
As one source close to Governor Uzodinma told GWG, "It will be suicidal for the governor to support Ararume as it could lead to the prospect of Ararume ganging up with Okorocha to oppose him in Imo State."
Uzodinma may end up becoming his own godfather and make his re-election easy in 2023.