Oshiomhole Speaks: Obaseki Can't Return To APC!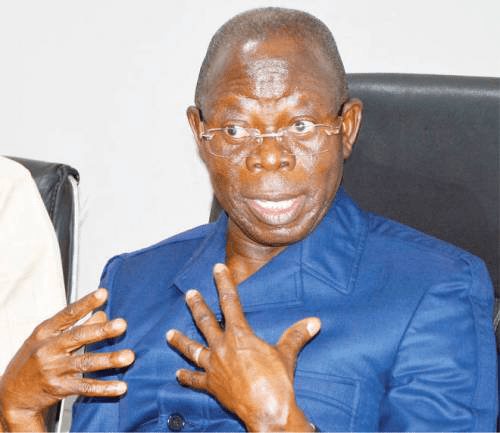 By Ayodele Oluwafemi
The suspended national chairman of the All Progressives Congress, APC, Adams Oshiomhole, has affirmed that the decisions taken by the National Working Committee (NWC) of the party on Wednesday, regarding the Edo State primary election remain valid.
Speaking for the first time after his suspension as national chairman of the party, Oshiomhole also dismissed the plot by some party members to recall Godwin Obaseki to the party saying that the governor's decision to resign from the party has been fully accepted and was not negotiable.
The embattled national chairman noted that since the appeal Court only suspended him and not the entire NWC, that the decisions as taken by other members of the NWC cannot be disputed.
Oshiomhole spoke, in an interview on Channels Television monitored by GWG.
"Until 7 pm yesterday, (Tuesday) I was in court. I remained the chairman of the APC and before then the governor of Edo state had voluntarily resigned his membership from our party. That resignation has been accepted. The screening has been completed and all that was left was done today by the members (NWC)," he said as he dismissed the plot by the Victor Giadom led factional leadership to recall Obaseki.
Giadom who momentarily took over the party had announced the cancellation of the screening exercise and said that Obaseki's resignation had not been brought to him for consideration.
However, countering him, Oshiomhole said:
"We are 21 members, (NWC) and since the court suspended me or upheld what they described as the suspension by my ward and that is another matter, I did not attend that meeting in obedience to the judgement of the court of appeal but the court of appeal did not suspend the functioning of the National working Committee."
Oshiomhole insisted that as a member of the party, following his suspension, the decision to scuttle the forthcoming Edo primary election will not stand, stressing that the NWC has appointed the committee in charge and it will continue with the process.
"My advise to my brother, Victor, it is about common Sense. In the absence of the chairman, there is nothing in our rule and the court can only interpret the rules of the party and the constitution of Nigeria. I mean, it sounds to common sense, if the chairman is absent, it should be the deputy, in the absence of the deputy, it is the vice chairman. How does the deputy secretary come in?
He argued that the position of Giadom as the deputy national secretary of the party is contentious, following his resignation from the party's NWC, noting the Giadom wants to enmesh the party in crisis just like the Rivers state APC.
Send Us A Press Statement Advertise With Us Contact Us