Edo: Highs, Lows Of Ize-Iyamu, Obaseki Debate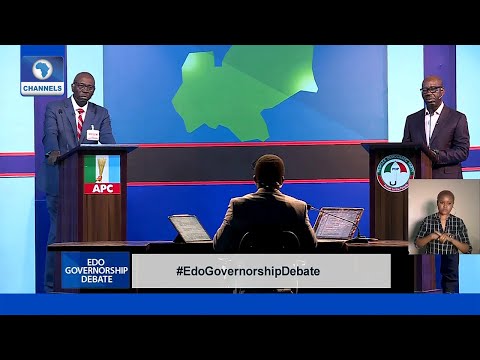 By Emmanuel Adigwe
As Edo prepares for the upcoming election in a few days' time, the two major contenders met on Sunday to tell the Edo people of their plans for them if elected.
The debate, which was organised by Channel Television was conducted to allow both Governor Obaseki and Pastor Ize-Iyamu to sell their ambition and plans to the people.
The moderator of the programme, Seun, talking about the Human Development Index of the state, in 2008 Edo was 0.622 per cent and the state was 12th out of 36 states. Also, in 2019, Edo State was rated in a poverty headcount level of sixth out of the 36 states of the federation.
Replying to this, Obaseki said: "In terms of human capacity and employment, that is one area we believe we have accomplished quite a lot. On the onset, I promised I will raise a minimum of 200,000 jobs within a minimum of a four-year period. And just before COVID-19 pandemic hit, we had created direct and indirect jobs for Edo people as much as 157,000.
"And where did the jobs come from? They came from the way the government decided to address the economy. The government role is creating an enabling environment for people to come and invest so that the economy can thrive."
However, the APC candidate, Pastor Ize-Iyamu did not buy the governor's data saying that the data is false.
Ize-Iyamu said: "Well, it is sad when the government that should be accurate with figures begins to falsify figures. If it is true that we have been able to have the number of jobs that the Edo State governor claims, our IGR (internally generated revenue) will not be where it is; there will be a significant leap but I can tell you, and they know, it has stagnated.
"I hope the governor is not going to mistake the appointments he is making now as jobs because I know that in the past one month, he has appointed over 200 people as SSAs (senior special assistants) on social media and the rest of them. Those are not jobs.
"So, when you are talking about jobs, where are the jobs, who did you give them to? It is sad when government that should be accurate with fact begins to feed our agencies with bogus statistics in an attempt to give an impression that we are doing well when we are not doing well."
However, Obaseki stated that his data was verifiable and it was based on a survey conducted by the National Bureau of Statistics, he added: "You can't just come to a debate and mouth figures forgetting that everything you say can be googled. When you talk in general terms, understand that people can just google and find out the facts"
However, Ize-Iyamu insisted: "I think that in the past four years, the economy of Edo has been mismanaged, has been plundered and all the huge amounts that we receive at the inception of this administration has practically left our state without any serious project to show for it.
"We had the opportunity to diversify our economy. The governor made what I might call a very lame attempt and he failed completely and we are in a very sorry state. During Christmas for example, people were going to Abakaliki to bring rice, they were going to Kebbi to bring rice."
GWG recalls that Governor Obaseki was dumped by his former party, APC, for the discrepancies in his certificates.
Commenting on the matter, Obaseki said: "It is very ironic that someone who has no certificate can stand up and comment on someone whose certificate was issued by the premier university in Nigeria. That is a very sad situation that we have found ourselves in as a country.
"In 1976 when I gained admission into the University of Ibadan, there was no JAMB (Joint Admissions and Matriculations Board); you could either go into the university through Prelim or through Direct Entry in your advanced level examination. I finished my O Level and my Advanced Level and it was As, so I gained admission into the University of Ibadan in 1976.
"I don't know what has happened but for the University of Ibadan, the standard is still very high and they have come out to say that I graduated from that university. How else do you want to make that clear?
"It is very sad that in a country like Nigeria, some people who do not have the qualifications, have the effrontery to challenge the qualifications of those who went to proper schools. It is sad."
Pastor Ize-Iyamu who was also accused of pouring acid on a student during his undergraduate days in University of Benin, commenting on the matter, said: "I graduated from the University of Benin. I was very active in the students' union and my records are clear. People have alleged that when I was in school, I did that but I think they should go to the university authorities and find out exactly what was the offence. If you do something very criminal, the university cannot even handle it. And I am proud that throughout my stay, I was not engaged in any criminal matter."
Speaking to Obaseki, Ize-Iyamu thundered: "We are not doubting whether you went to the university or not, that is not the issue. The issue is, you failed by your own records, you failed school cert (ificate), you had three credits, no English, no Maths, even to enter A' Level would have been difficult. And if you had A Level, why is it that you've not been able to present the A Level? Where is the result? That is a moral question. A lot of people are looking up to you as a governor and as a leader.
"The question is that you failed your A Level and that is why you were disqualified and your disqualification arose from information provided by the PDP, your present party, because the PDP, when I was contesting against you (in 2016) said you have no results. Why have you not answered the question? Where are your results?"
Also Nigerians who watched the show took to the micro-blogging platform to express their views. GWG captures some of them below:
How much is 1Milli?@Losaedos wrote: "Governor Obaseki: How do you intend to raise in this post Covid period over 500B Naira in your first year to push your Simple Agenda? Pastor Mallam Ize-Iyamu: I'm very optimistic Covid or no Covid revenue will improve. But sir how that's how we got Bohari."
Pastor Ize-Iyamu@PastorIzeIyamu wrote: "My contestant has collected over 75 billion in debts. What did he do with them? All his promises remain unfulfilled despite the fact that he came in when there was high windfall in Edo. #EdoGovernorshipDebate"
Athletic singer@ImoloameRhema wrote: "It's quite evident that Pastor Ize-iyamu has nothing to offer the good people of Edo state….. Governor Obaseki is our man. And its quite evident from the debate this evening. 4 + 4."
Nejeeb Bello Oyarese@NejeebBello wrote: "I prefer Governor Obaseki to Pastor Ize-Iyamu, but if he loses his re-election bid, I won't feel pity for him. He didn't perform excellently in his first term. Whether the cause was Oshiomhole or not, he didn't show Edo people sample of the continuity they should be fighting."
Covenant Buhari@CovenantBuhari wrote: "Pastor Ize-Iyamu swept Obaseki flat and lashed him very well in the #Edoguber debate. Edo State is about to witness a turn around. Let us say bye bye to three credits Governor without English and Maths. "
Osynachi@osynachi_1 wrote: "Nawao!!! Seeing the same scripts used in a recent campaign by APC to Ize-Iyamu shows you guys have NOTHING to offer. Deceit was all over your pastor."
Yousaseef (Abu Abubakar @yousaseef6435 wrote: "It was a debate but Pastor Ize-Iyamu left the questions asked him nd started attacking Obaseki. Edo people should choose wisely and vote for Obaseki. Namaste."
Ojo Opeoluwa KeacNg@Siropey wrote: "Obaseki is eloquent and spitting some plans like Fashola used to do. Edo people on this app, please kindly tell us more about him and his vision and why he deserve 2nd term as per people on ground. As per Pastor Ize-Iyamu, I am coming…..Coughs."
'Fisayo Soyombo@fisayosoyombo wrote: "Oshiomhole must be so irritated to watch PDP so generously use his face and voice from 2016 electioneering to sell Obaseki despite now supporting APC's Ize-Iyamu. Campaign masterstroke from the PDP! Only that after election now, sense go enter voicemail."
Premier@SodiqTade wrote: "So Oshiomhole borrowed money to pay salaries. Apparently, Oshiomhole left a sinking State for Obaseki. This reminds me of the architect of modern Osun. Lmaooo "
Premier@SodiqTade wrote: "Oshiomole won't be happy with Ize Iyamu tonight. Total flop."