Buhari Stopped Nigeria From Failure – Supporters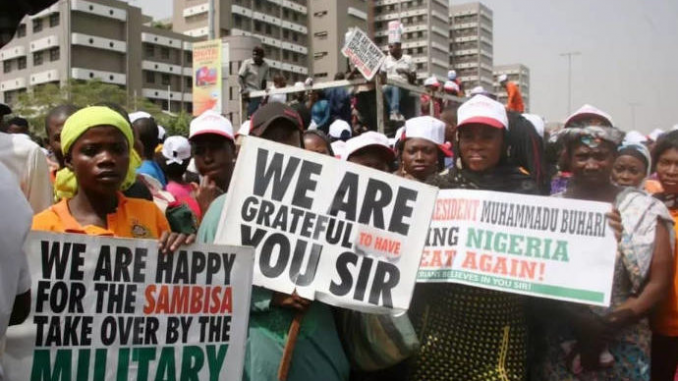 Supporters of President Muhammadu Buhari have debunked the Financial Times editorial of Nigeria being at the brink of failure as a poorly thought out job.
The supporters under the aegis of the Buhari Media Organisation (BMO) said Nigeria was indeed near a failed state when President Buhari took over in 2015 but no longer so.
In a statement signed by its Chairman Niyi Akinsiju and Secretary Cassidy Madueke, BMO described the country as a functional state with its fair share of security challenge and a global economic crisis which the government is confronting head-on.
"It is abundantly clear, at least to those who live in Nigeria that the country is neither experiencing nor close to experiencing state failure as the 'Financial Times' has attempted to force down the throats of its readers especially as the country is not facing the risk of losing any part of its territory.
"Any unbiased political observer would have no reason to doubt that the country was on the brink of a failed state by June 2015 when no fewer than 14 Local Government Areas were under the effective control of Boko Haram before the Buhari administration pushed the insurgents to the fringes of the Lake Chad area from where they have been launching hit-and-run attacks on soft targets.
"We also acknowledge the extension of criminal violence activities to the Northwest region of the country where bandit attacks had been recorded but we also take pride in the combined military and police actions in containing the exploits of the criminal gangs; an outcome of that collaboration was the quick rescue of the 344 abducted schoolboys from the Government Science Secondary School, Kankara, Katsina State.
"Yes, Nigeria may be experiencing pockets of security and economic challenges but we make bold to say that the newspaper took its editorial responsibility with levity and we are not in any way surprised that the usual suspects including groups which never backed the Buhari administration are lining up to endorse the piece shamelessly."
"We are wondering whether the Financial Times only takes delight in advertorials or paid jobs rather than taking an in-depth look into an economy that has of late received accolades for outperforming many economies in the world and is already on the path to a technical exit from recession at a time that several countries are plunging deeper.
"The record is that the decline in GDP to 6.10% in the second quarter of 2020 has now reduced to 3.62% with a clear indication of exiting the covid19 induced recession by the fourth quarter of 2020.
" In case the Financial Times does not know, this is a man that not quite long after he assumed office, stemmed the tide of four consecutive GDP contractions between Q2 2014 and Q2 2015 and set the country on the path of growth with a more resilient and diversified economy from Q3 2015.
" Equally baffling is that FT was quick to romanticise the recent EndSARS protest but overlooked how the protests set the country back by trillions of naira as a result of the destruction of public and private property."