APC S/East Caucus: Okorocha Mocks Uzodinma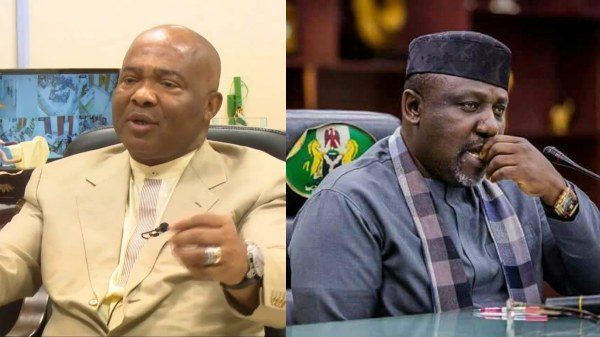 Rochas Okorocha has mocked Governor Hope Uzodinma over what he alleged as the boycott of Southeast leaders APC leaders of the meeting the governor hosted on Wednesday.
Explaining his reason for abstaining from the meeting, Okorocha accused the governor of demarketing the ruling party in the state saying the governor would destroy the APC with the way he is going.
Okorocha spoke through his media aide, Sam Onwuemeodo to The Punch.
Okorocha in mocking Uzodinma over what he claimed as a mass boycott of the parley, said:
"How many people did you see at the meeting? How many House of Reps members were there? Did you see Senator Rochas Okorocha, Senator Ifeanyi Araraume, Senator Orji Uzor Kalu and other leaders of the party there?
"It is almost one year since Hope Uzodinma became governor and he has not called any APC leadership meeting in Imo state. At the appropriate time, we will separate truth from falsehood. That meeting was a political jamboree.
"All those who brought APC to South-East were not there and you called it APC stakeholders meeting. We challenge them to bring the 2015 and 2019 booth results. Okorocha had produced Senators, Reps members and House of Assembly members for APC.
Okorocha mocking Uzodinma, said:
"Politics is a game of numbers and at the right time truth shall be unveiled. Hope Uzodinma inherited a sound APC in Imo state but sadly APC is no longer breathing in Imo state. The truth of the matter is that APC only exists in government house in Imo state."