Biden Lifts US Visa Ban On Nigerians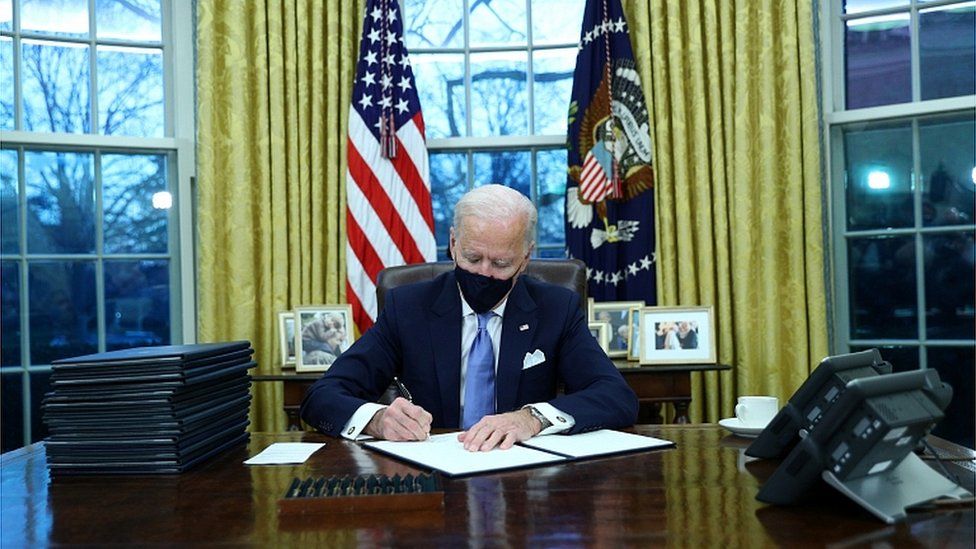 President Joe Biden has signed an executive order lifted the US visa ban on Nigerians placed by his predecessor, Donald Trump last February. The visa ban specifically barred most Nigerians from applying for US Immigrant Visas or Green Cards.
The new president has also signed an order reversing the structural ban ono visiting visas on Muslim dominated countries.
The Immigrant visa ban on Nigerians placed by Trump on Nigeria ensured that most Nigerians who applied for Green Cards without family relations in the United States were denied.
The US ambassador to Nigeria Mary-Beth Leonard, had at that time explained that the ban was placed on Nigeria because of the country's alleged faulty data intelligence system.
It was at that time alleged that the Nigerian system was easy to breach and suspicious opening Nigeria to be used by criminals and terrorists aiming to come to the United States.
With the executive order issued by President Biden the way is now open to Nigerians to apply for Green Cards even from Nigeria.
According to a Bloomberg report "The ban that Biden ended, blocked entry to most people from Iran, Syria, Libya, Yemen, Somalia, and North Korea. It also restricted immigrant visas for people from Nigeria, Kyrgyzstan, Myanmar, and Eritrea as well as for certain others from Venezuela and Tanzania."
Following his inauguration as the 46th president of the United States, Mr. Biden as promised immediately commenced action to reverse some executive orders issued by former President Trump which were part of the former president's Put America First philosophy.
Besides the reversal of the US visa ban on Nigerians and that on Muslim dominated countries, Biden has also moved to stop the physical building of a wall between America and Mexico.
Trump had made it a campaign policy n 2016 to build a physical wall to separate the country from illegal immigrants infiltrating from its southern neighbour.