Two Policemen Killed As Akwa Ibom Alleges Invasion By ESN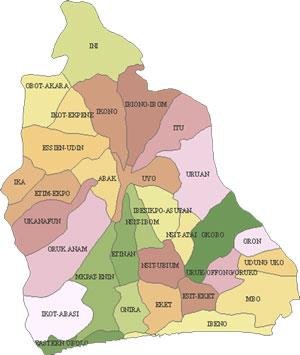 Concern about the security situation in the Southeast moved deeper into the South-South of the country on Saturday morning after gunmen alleged to be Eastern Security Network, ESN operatives allegedly killed two policemen and vandalized a police station at Ibiaku Ntok Okpo in Ikono Local Government Area of Akwa Ibom State.
A policewoman on night duty was also left critically wounded while at least five vehicles in the station were burnt.
The incident was confirmed by the chairman of the Ikono Local Government Area, Nyakno Okoibu in a statement made available to GreenWhiteGreen GWG.
He said that the incident happened in the wee hours of the morning
A statement issued by the Chief President Secretary to the chairman, Nsisong Ubong Ntuk giving details of the attack read in part:
"Today, Saturday 1st May 2021, the Executive Chairman of Ikono Local Government Area received a distress call about the invasion of the Police Station at Ibiaku Ntok Okpo by criminals alleged to be members of the Eastern Security Network (ESN) by 3am. In the ensuing melee two police officers were killed, five vehicles burnt, and a police woman on night duty was critically injured, the flag hoisted at the police station stolen and destructive acts carried out by the invaders.
Giving more details on the invasion of the Akwa Ibom LGA by the alleged ESN operatives, he said:
"On getting the alarming information, Hon. Nyakno Okoibu in line with his pragmatic approach towards governance and as the Chief Security Officer of the Local Government Area swung into action by arriving at the scene of the mayhem with his retinue of aides. On getting to the location, it was discovered, to the chagrin of the Council Boss that the report was true. However, as a proactive administrator, the Chairman has been making overarching measures to ensure that normalcy is restored to the area of attack and other parts of the Local Government Area.
"By this press release, the Executive Chairman of Ikono wants to inform the people of Ikono Local Government Area and the State at large to stay calm as he is assiduously working with relevant security agencies to ensure that the situation is contained and necessary measures are being put in place to forestall a reoccurrence. Already, efforts are being made to bolster the security architecture within the perimeters of Ikono.
"The Executive Chairman wishes to reassure the people of Ikono that in liaison with the Chief Security Officer of the State, His Excellency. Governor Udom Gabriel Emmanuel, all necessary apparatus will be activated to ensure that the perpetrators of this heinous crime are apprehended and brought to book. Akwa Ibom State has over the years been known as a peaceful state where lives and properties of those domiciled within it are safe and secured. The narrative will not change now."