Deltans To Omo Agege: We Have Seen Your Good Works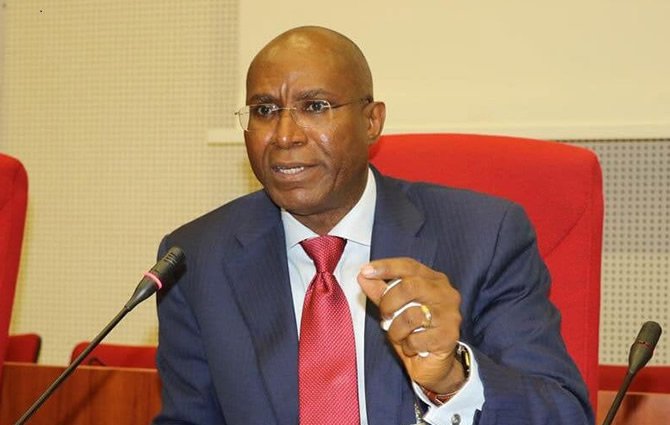 Delta State inhabitants from all works of life have this to say to the Deputy President of the Senate His Excellency, Distinguished Senator Ovie Omo-Agege; "we've seen your good works" a statement that is an attestation to his relentless efforts of attracting democratic dividends to the people.
Nwafor Chinelo an indigene of Ebu likens the absence of good governance in Delta State under the current PDP administration to the challenge of political leadership which has stunted economic and social development of the State. A case in mind is the sales or alleged "concession" of the multi-billion naira Asaba International Airport built with public funds.
She further submits that Delta State requires Senator Omo-Agege's political leadership model (Agegenomics) for the economic development of the State as already put to practice through legislation in the 9th Assembly.
As 2023 beckons, Deltans are unanimous in their clamour for Senator Omo-Agege to rescue the State from it's current degrading status arising from reckless borrowings and poor governance structure under the current PDP inept administration which has led to the collapse and sales of State institutions such as Direct Labour Agency (DLA), Delta Transport Service Company (Delta Line) to mention but a few.
This position has been expressed strongly by the clergy, civil servants, pensioners, artisans, transporters, petty traders, market women, farmers, fishermen, keke riders, community and opinion leaders who are overwhelmed by the governance skills and innovative approach of Senator Ovie Omo-Agege's aggressive developmental drive and selfless service to the people of the State which they describe as the hallmark of good leadership and one of it's kind in the political history of Delta State.
They stressed that Senator Omo-Agege's performance has been so incredible and his landmark achievements indelible. They're in utter amazement as to how he has been able to achieve so much in less than six years as a federal lawmaker with no executive powers. They said that they are more than convinced that if given the mandate to govern Delta State, he will transform the State and make it a model for other states.
The compendium of opinion about the good works of Distinguished Senator Ovie Omo-Agege is such that cannot be ignored especially at this critical stage of Delta State political history were the current PDP administrator has failed to harness the States rich natural endowments. Rather, it has foisted an ethnically based leadership.
According to Mrs Hannah Ifeachukwudi a trader in Igbodo, " Omo-Agege don show every politician how to represent their people" her views is anchored on the glaring tremendous empowerment schemes floated by the Distinguished Senator to encourage small and medium scale entrepreneurs and particularly, his unmatched infrastructural developments attracted to the State, within his short stay at the National Assembly.
A similar view was re-echoed by Matthew Edozien a school teacher from Illah who couldn't hold back his excitement while expressing his profound gratitude to Senator Ovie Omo-Agege over the rehabilitation of the Illah-Ugbolu road. Fighting back tears, he stated " this man Omo-Agege's performance is beyond human comprehension". He stressed further, " I have never seen or heard of this type of genuine love from a politician in my 46 years on earth, that a Senator elected to represent Delta central people to rehabilitate a road in Delta North which has been a death trap and kidnappers enclave still amazes me".
The testimonies on the streets of Asaba, Ugbolu, Illah, Kwale, Ibusa, Aboh, Ughelli, Sapele, Warri, Okpe, Abraka, Agbaroh, Udu, Ogor, Kokori are overwhelming and all point to the joyous mood of the inhabitants of Delta State who see in Senator Ovie Omo-Agege a rare political gem who has dedicated his life, resources and time to the service of the people irrespective of tribe, ethnicity, religion or creed.
The above expressed views are no doubt propelled by visible completed and ongoing infrastructural projects couple with highly impactful bills that have direct bearing on the average citizenry.
By and large, deltans in their large numbers are in consensus in their appeal to Distinguished Senator Ovie Omo-Agege to hearken to the clarion call to contest the 2023 gubernatorial election and to bring his wealth of experience to bear in the overall development of the State which today is seeking for a political liberator and effective leadership which it presently lacks.
We must therefore join hands together as a people and align with the yearnings of the electorates of Delta State in their call on His Excellency, Distinguished Senator Ovie Omo-Agege to rescue our dear State from squalor.