REVEALED: How Hushpuppi Bought Richard Mille Luxury Wristwatch Worn On Instagram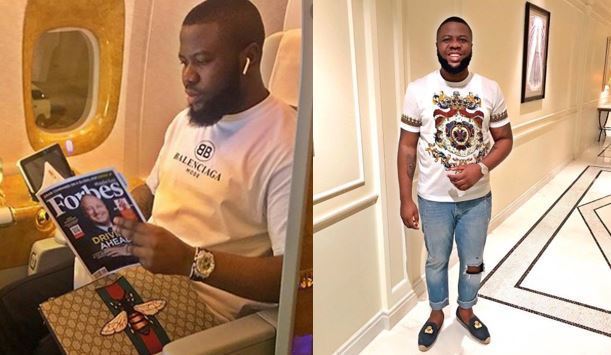 The Federal Bureau of Investigation has revealed how Ramon 'Hushpuppi' Abbas  bought a Richard Mille wristwatch which he wore in a picture he shared on his Instagram page in early 2020.
Hushpuppi is an Instagram sensation whose flamboyant lifestyle and intemperate display of questionable wealth spurred his elevation to the status of celebrity.
Hushpuppi recently pleaded guilty to fraud charges a year after he was arrested in the United Arab Emirates and extradited to the United States of America.
His operations were revealed in an affidavit issued before the United States District Court by a Special Agent with the FBI, Andrew John Innocenti.
The affidavit showed that Hushpuppi and his co-conspirators engaged in Business Email Compromise schemes with which they defrauded a Qatari businessman of more than $1.1 million.
The FBI agent, in the affidavit, said Hushpuppi used $230,000 got from the victim to purchase a Richard Mille wristwatch which was flown to him in the UAE from the US.
According to the affidavit, "After Abbas joined the conspiracy that month, Juma and Abbas received and laundered additional funds in a variety of ways with the assistance of other co-conspirators. Agbabiaka and Fashola were among the co-conspirators who assisted Abbas in receiving and laundering funds.
"Among those payments, Abbas convinced the Victim Businessperson to make wire transfers of $230,000 to a Wells Fargo bank account of a luxury watch-seller and $100,000 to a Capital One bank account of Agbabiaka in late December 2019.
How Abba Kyari Flew To Dubai To Rendezvous With Hushpuppi – FBI
"Abbas used the wire transfer of $230,000 to purchase a luxury Richard Mille RM11-03 watch. Abbas arranged for the watch seller in Florida (the "Florida Watch Seller") to ship the watch to the New York metropolitan area, where Agbabiaka and Fashola picked it up and ultimately delivered it to a coconspirator, who was a relative of Fashola. Abbas then directed that person to transport the watch on a flight from John F. Kennedy International Airport ("JFK") in New York to the U.A.E., where that person hand-delivered the watch to Abbas on about January 4, 2020. Abbas posted a photograph of himself on Instagram wearing the watch, with the hashtag "#Rm1103," on January 13, 2020."
A look at Hushuppi's Instagram page with 2.5 million followers shows him wearing the wristwatch in a photo posted on January 13, 2020.
"One of the best things I learnt that keeps me going is to "Never take criticism from people I'd never go to for advice" #Gucci #RichardMille #Versace #Rm1103," he captioned the photo.