Pantami: Nigerians Hit Aisha Want Buhari Cry Video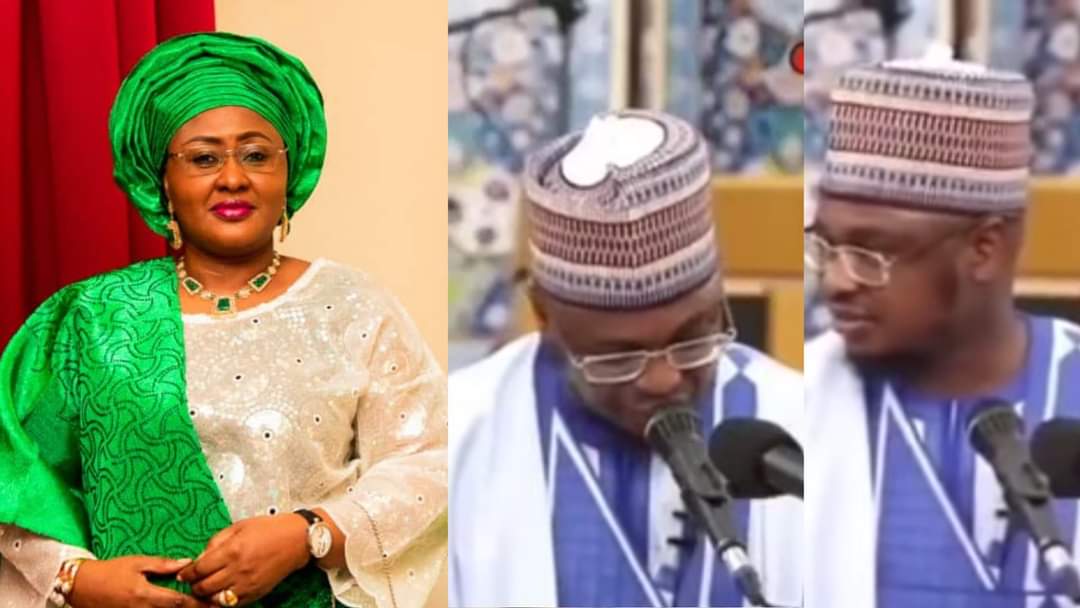 Nigerians were on Monday reacting on Twitter after First Lady Aisha Buhari called out the minister of communications and digital economy, Isa Pantami to do the right thing in an Instagram post after she posted his video crying during an Islamic sermon.
GreenWhiteGreen GWG had reported the First Lady as having presented a video of Pantami crying in the course of delivering a sermon and had captioned the video, "Be courageous, do the right thing."
Aisha Buhari's assertion was perceived to be a return by her to the public spat with some of her husband's officials. However, the assertion towards Pantami has left many Nigerians confused especially after Aisha Buhari tuned off the remarks section of her Instagram account.
Many Nigerians have, however, been reacting. The reactions have ranged from supportive to outright condemnation of her with some accusing her of being First Lady of Nigeria but living in Dubai. There were also charges on her to bring out videos of her husband shedding tears after the 2011 presidential election.
GreenWhiteGreen GWG
Abdul-Aziz Na'ibi Abubakar @jrnaib2
Aisha Buhari posted a video of Pantami crying over insecurity on Instagram, Aisha is wondering why d crying Sheikh is no longer crying despite Northern Muslims are still being killed on a daily basis but, d crying Sheikh couldn't talk becox of the afraid of losing his position
Umar Sa'ad Hassan @Alaye_100
Aisha Buhari posting a video of Pantami and asking for the right thing to be done doesn't mean she is speaking out against Pantami or the government. Get into any discussion on that topic with people who first understand this basic fact. She is not a hero.
Banks Omisore @MrBanksOmishore
Aisha Buhari takes swipe at Pantami What's First Lady's plan? Whip up enough sentiment to claim she wasn't one of them in order to run for office?
itua terry @ItuaTerry
Nigeria and Dubai first lady we hay ….. It's only Nigeria u will see somebody have an office in Aso rock and operate from Dubai and spend tax money in another country.
Best of the Best @SirSimone
Taqqiya, fake. They are all on same boat. People don't be deceiv
Chukwu Ka @Chukwu_Ka_
She should also post Buhari crying when Yusuf had that accident.
Sweetlyn @Sweetlyn2020
so because buhari don cry for 2011 become president, pantami sef don dey do warm up dey cry him own abi?
Emma ik Umeh (Tcee ) @emmaikumeh
She should also post Buhari crying when he promised to change the country for good. Instead he has changed the country from good to bad, from bad to worst. As much I dislike Pantami, she should keep her hypocrisy to herself. She only talks, when it affects her personally.
Proudly Esan Also known as Angee Power. @Angela201045315
Don't give her your time. Aisha is an unnecessary distraction.
Rony @Rony37220245
Dubai based first lady you mean. Fulani has changed this Contraption's course of history. A first lady can stay in another country and still be functioning as a firstlady of a country which his husband heads. What a shame!
ㄒ凵尺卂Ҡ丨@turakilowry
Smiling face with open mouth and tightly-closed eyesRolling on the floor laughingFace with tears of joy their fanatic state doesn't permit a First Lady
BASIL AZUBUIKE @BASILAZUBUIKE
From all indications, GMB wants Pantami to be more significant in Nigerian politics. It seems he's grooming him to be president for his ideologies of being happy when people of other faiths die.
uwa novia @noviabet55
You see for we that believe m buhari is a boko haram our instinct was never a means of assumption we were correct right from the onset
Roboticanimation @newbreed1914
Aisha in an Instagram post on Sunday shared a video showing Pantami, an Islamic cleric shedding tears during one of his sermons. Pantami never repented from his core Jihadist Islamic fundamental ideology. Don't be deceived this man has plenty of his ideology in the basket Basket.