Fans Want Tiwa Savage To Hold Boyfriend For Sex Tape Leak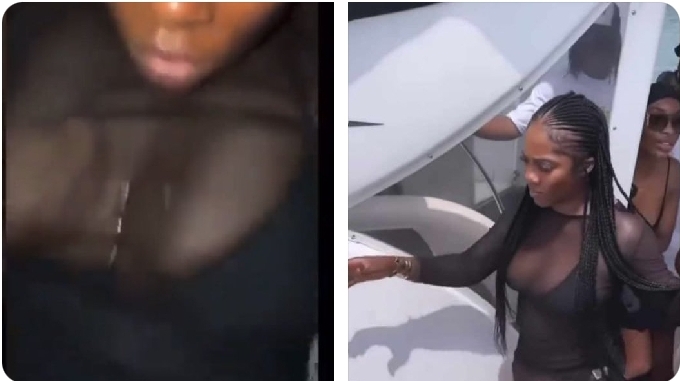 Some friends and fans of popular afrobeat singer, Tiwa Savage are asking her to hold her boyfriend responsible for the leakage of the sex tape that has savaged her reputation among many.
In comments on the singer's Instagram page, the sympathetic fans said that it was their view that the yet unnamed boyfriend caused the leakage either deliberately or mistakenly.
GreenWhiteGreen GWG reports that Tiwa Savage had said that the boyfriend posted it mistakenly on snapchat and immediately deleted it.
It was, however, the view of several on the Tiwa Savage Instagram page that the friend sought to show to his friends that he was in bed with the famed singer.
Here is how some of the fans responded to the issue:
food_loversnaija
Your man probably wanted to send your video to someone to show he slept with you and probably mistakenly selected "share to my story". He didn't post the video "mistakenly". Be careful dear. We love you ❤️❤️❤️❤️❤️❤️❤️❤️
__tim_hardly_chase
Throw that useless guy of a bf away. He used you for bragging rights 😢. He's very culpable and you should stay farrr away from him. I'm sorry you have to go thru this cos nobody holy pass. I love you tiwa ❤️
sammuel__001
You said we won't see the video, but it's out now …your man posted it from camera roll, that means it wasn't a mistake , he clearly cropped the part he didn't want to be seen , I think he's the one blackmailing you .
WOW!!!! Thank you soooooo much for the repost! We love and appreciate you! ❤️❤️❤️😍😍😍
Others also speaking on the issue said that the Tiwa Savage sex tape saga was a warning to ladies to be careful on the kind of boyfriends or lovers they keep.
ta.lia9023
I pray ur son grows up to be a strong boy.i pray ur son shouldn't be able to be bullied becz of this I pray I pray I feel so ashamed on ur behalf. It can happen to anyone..ladies be careful who u sleep with these men are hungry
batheejay
I stand with Tiwa on this, some niggas are jst something else, I don't know how u would betray Ur lovers trust. We all have our sex life n how we want it. So shaming Tiwa do more naughty stuff in close doors than outside. I don't know why we Nigerians take some issues too seriously. Na sex