29-Year-Old Man, 28-Year-Old Bride Who Married As Virgins Tell their Story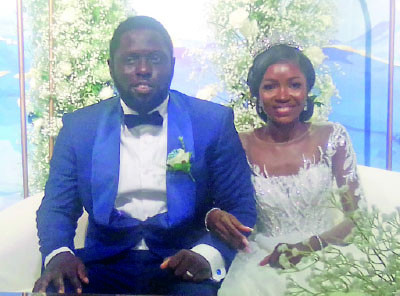 A 29-year-old man, Oghale Ighele, and his bride, Clementina Agbate, 28 who both recently got married as virgins have told the story of the discipline that they went through to keep their chastity for one another.
The duo got married in a lavish ceremony at the Holy Spirit Mission in Marcillina's Place, GRA Ikeja.
The fact that the pair were marrying as virgins was revealed by the presiding bishop Bishop Charles Ighele.
Confirming what the bishop said, Oghale Ighele said that his Christian upbringing was the cornerstone upon which his chastity was built.
"As I grew up, my parents drilled into me the importance of maintaining myself and never making a mistake, and I followed their counsel. I sought to establish pals who wouldn't trick me into having sex before getting married. He told The Sun, "I was also completely involved in church activities, and I thank God for leading me."
The bride spoke in the same direction saying she determined to marry as a virgin when she was a teenager adding she was happy keeping herself and the pledge.
"I am happy and fulfilled marrying as a virgin, though it was not an easy thing to do. I took the decision of remaining a virgin till I get married when I was a teenager. Meanwhile, I grew up in a Christian home. So, I had to keep myself.
It was not easy for me. I was severally tempted by my lecturers while in the university. Friends also tried to lure me into fornication and men asked me out. In fact, I went through so many challenges. But what guided me was God and my principle".
The groom's father, Bishop Igbele, rejoicing in the moral triumph of his son said he was happy raising his children with such strong moral fibre.