Disquiet Over Abiodun's Plot To Sideline Osoba In Ogun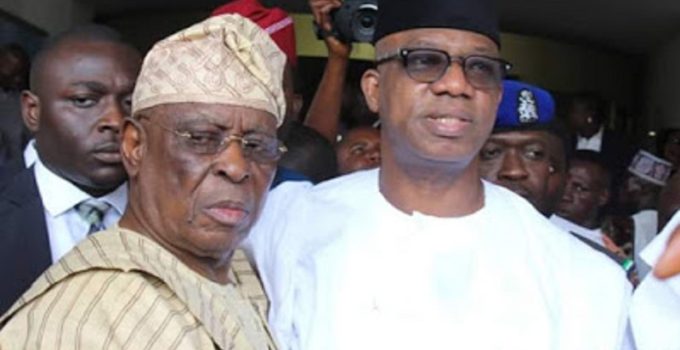 Fears of Ogun State falling back into political bickering arose at the weekend after loyalists of former Governor Segun Osoba accused Governor Dapo Abiodun of scheming to edge them out of relevance in his government.
While noting the visible role they played in contributing to Abiodun's victory, they, however, alleged that the governor has schemed them totally out of his government.
What triggered the brouhaha was apparently the list of commissioners forwarded to the Ogun State House of Assembly last Thursday which according to the Osoba camp did not take care of their interests.
Responding to the development, the Osoba group in a statement in which they called on national and regional leaders of the All Progressives Congress, APC to intervene said that they rejected completely the list of commissioners as forwarded.
The statement was signed on behalf of the group by Ayo Martins, Titus Osikoya and 22 others.
"Governor Abiodun, after his victory at the poll, promised to run an all-inclusive administration that will represent the interest of blocs that worked for his victory and other groups interested in contributing positively in running the affairs of the state.
"However, to our dismay, the words of the governor was reduced to still-born on the face of the list of commissioner-nominees and other appointments made by the governor so far.
"We have observed the slang 'all inclusive', is a ploy to specifically ease out the Osoba political family from the administration of Abiodun and which was sold to the governor by some power mongers and unscrupulous elements who participated actively in the misrule of the state in the past and are now surrounding the governor like hyenas, ready to pounce on anyone who does not belong to their camp or pay homage.
"Meanwhile, Osoba political family has patiently observed the activities of these individuals who are conservatively greedy business men and hijackers of power who have succeeded in hijacking the soul of the present administration in Ogun State."