FCMB Sex Scandal Set To Trigger Law Suits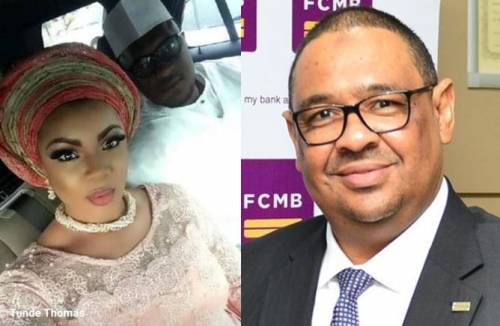 The FCMB sex scandal involving the managing director of Nigeria's first indigenous banking group, Adam Nuru was on Tuesday set to trigger lawsuits in the light of media reportage of the issue.
The threat came from the Vice-President, Renewable Energy Association of Nigeria, Adetunji Iromini who threatened the media over his linkage with a statement purportedly issued in defence of Moyo Thomas, the lady alleged to have passed on two children from an affair with her former boss, Nuru to her husband.
Ms. Thomas is the wife of the late Tunde Thomas whose death, last month activated anger against Mr. Nuru who allegedly fathered two children that were passed on to the late Tunde.
A statement purportedly issued by Iromini on behalf of Moyo's family had sought to insinuate that the two children of the marriage between Tunde and Moyo Thomas were not fathered by Nuru.
GWG had published the statement but did not attribute the statement to Iromini.
Clearly miffed by the attribution to him on the FCMB sex scandal, Iromini, a former banker who is also CEO and founder of Solarcentric Technologies on Tuesday vowed to drag those linking him with the statement to court.
He said:
"I have in the last couple of days  inundated with telephone calls and messages over a press statement purportedly signed by me on behalf of the Thomas family over the paternity scandal allegedly involving Moyo Thomas and the current Managing Director of First City Monument Bank, Adam Nuru.
"It is unfortunate that otherwise reputable organisations could publish the statement without properly verifying the authenticity of the purported statement. I hereby categorically state that I am not a member of Moyo and Tunde's family I did not issue such a statement."
Expressing wonder why his name would be linked to what he described as fake news, the former banker said:
"In the meantime, I have asked my lawyers to take action against media organisations that have published the tissue of lies. Members of the public are therefore advised to ignore the purported statement as it is nothing but fake news," he said.