How Wike Taunted Rivers APC Leaders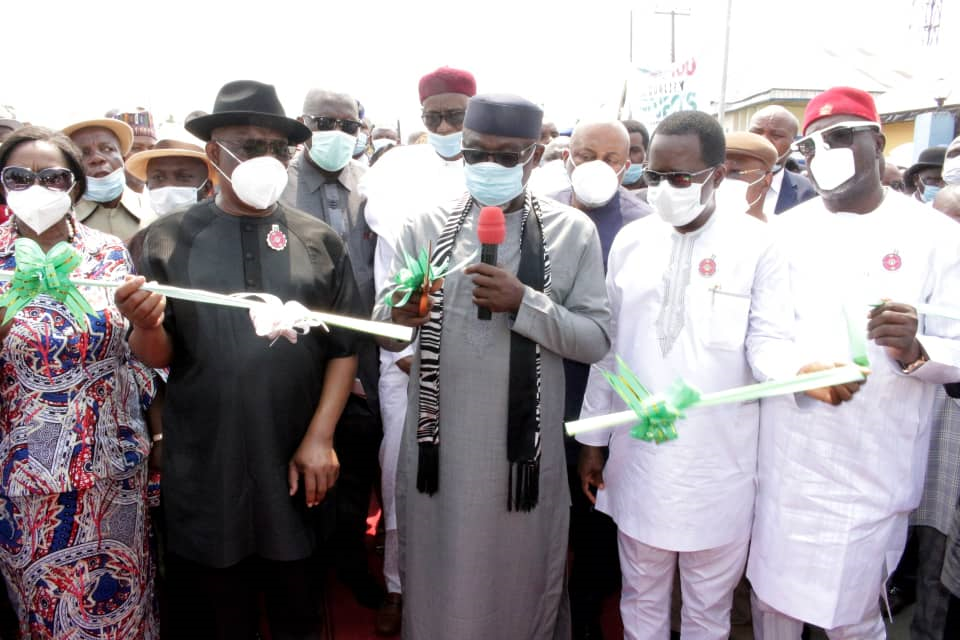 Commissioning projects in the stronghold of a leader of the All Progressives Congress, APC in Rivers State on Monday, Nyesom Wike taunted Rivers APC leaders over what he alleged as their inclination to politics of bitterness that frustrate development projects attracted by others to their communities.
Governor Wike as such counselled them to discard such politicking .
The governor spoke at the inauguration of the Rumuche/Rumuakunde/Ohna Awuse Link Road in Emohua Local Government Area, performed by the former Governor of Imo State, Senator Rochas Okorocha on Monday.
He said politics is a game of interest and future looking politicians like him are not vindictive in nature, but pursue the interest that will enhance the overall socioeconomic life of communities and individuals that have supported the party.
How Wike Taunted Rivers APC Leaders
The governor challenged Senator Andrew Uchendu of the APC to show what he has achieved for his community while a member of both the House of Representatives and Senate.
Governor Wike announced the immediate award of contract for the reconstruction of the Mgbuitawo Road in Senator Andrew Uchendu's community to serve as a proof that he is a liberal politician.
"I am different, so, I will do the Mgbuitawo Road immediately. I am going to do it because I am not a vindictive politician. If I am a vindictive politician, that road will not be done.  Also, I want to tell him,  there is no need to play politics with bitterness. Politics is a game, we will talk today  and talk tomorrow. No permanent friend and enemy but permanent interest. For Mgbuitawo Community people, Ohna Awuse, and Emeka Woke do not hold anything against you. Therefore the road will be constructed.  So, the Commissioner for Works is hereby directed to go and scoop the Mgbuitawo community road, and also go for the internal roads in Ogbakiri Town."
The governor also announced that street lights will be installed on the just inaugurated Rumuche/Rumuakunde/Ohna Awuse link Road and Isiodu Road all in Emohua Local Government Area to further appreciate the support that they have given to him.
"I came here, I told you that I will do this road, I give God the glory that I have done it using one of the best construction firms in Nigeria.
Commissioner for Works, Hon. Elloka Tasie-Amadi said the once deplorable Rumuche/Rumuakunde/Ohna Awuse Link Road has been reconstructed into a desirable access. It is 7meter wide, ended the one way entry problem into the community and will also serve as bypass to Kalabari people.
In his speech,  Ohna Sergent Awuse expressed his gratitude to governor Wike for ending the several years of unfulfilled promise by previous administration. According to him,  it pays to have such a leader who means well for the people.
Send Us A Press Statement Advertise With Us Contact Us