IPOB Denies Role In Owerri Attacks
From Chukwuemeka Benson, Onitsha
Says It Is A Peaceful Group, Had No Reason To Attack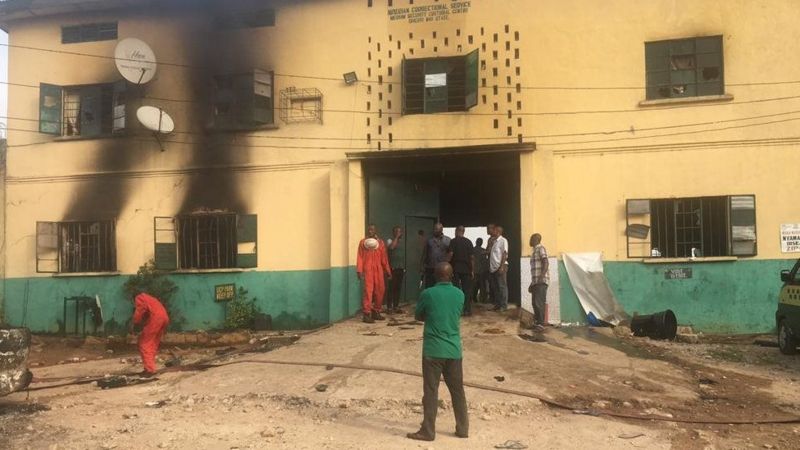 The Indigenous People of Biafra, IPOB, Monday denied any role in the attack on the Owerri Correctional Centre and the State Police headquarters saying that its mandate and that of Eastern Security Network ESN was not to attack security personnel and their facilities.
IPOB however mocked South East Governors who refused to set up a security outfit to confront any security threat to the people of the zone, only to accuse IPOB and ESN, for the consequences of their inefficiency and failure.
In a statement by its Media and Publicity Secretary, Emma Powerful, IPOB, said that there was no justification for it to attack the facilities given that none of its members were detained in the facilities. It said that even if their members were detained there, IPOB being a peaceful group would never have contemplated such an attack.
IPOB said: "It is not part of our mandate or that of ESN, to attack security agents and their facilities, IPOB was formed on principle of peace and are still in it because Biafra actualization is built on peaceful approach.
"We are not a faceless group, neither are we unknown gunmen, that the South East Governors claimed have been attacking security agencies and dispossessing them of their ammunition.
"The attention of the Indigenous People of Biafra, IPOB, has therefore been drawn again to the fallacious and fabricated news that IPOB and ESN are involved in the attack of prison and police headquarters in Owerri Imo State.
"IPOB and ESN are known group not unknown gunmen. ESN is in the bush chasing Fulani terrorists, why linking IPOB and ESN to this attack. IPOB and ESN were not therefore, involved in the attack in Owerri Imo State and the recent attack on Onitsha Owerri road at Ukwuorji junction. It is not our mandate to attack security personnel or prison facilities.
"The Nigeria Government and her compromised media outfits should stop linking IPOB and ESN to the multiple attacks going on in Nigeria now. IPOB was formed on principle of peace and we are still in it.
"Unknown gunmen are people we don't know and they are not IPOB or ESN security outfit, if the Governors or those accusing us know them, they should tell the world and go for their arrest.
"We wonder why anybody will be linking us with the attack of Imo State headquarters of Nigeria Correctional Center, when the authorities at the center has confirmed that there is no IPOB innate in the center, that will warrant involvement of IPOB in such attacks."