Emir Of Kano's Mother, Maryam Ado Bayero Dies In Egypt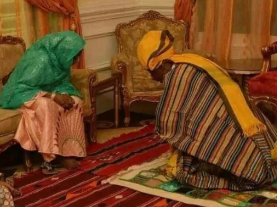 Hajiya Maryam Ado Bayero, the mother of Emir of Kano, Alh. Aminu Ado Bayero, is dead.
The deceased was also mother of Emir of Bichi, Alh. Nasiru Ado Bayero.
Sympathisers have been trooping to the palaces of the Emir of Kano and Emir of Bichi to condole with the family.
A source from the palace said Hajiya Maryam died on Saturday morning in Cairo, Egypt after a protracted illness.
According to reports, arrangements were being made to bring her remains home for burial.
The source added the funeral programme will be officially announced.
The late Maryam, who is wife of the late Emir of Kano was a princess and elder sister to Emir of Ilorin Alh. Ibrahim Sulu Gambari.
Until her death she held the title of 'Mai Babban daki' accorded to mother of reigning Emir.
Ado Bayero was born on 25 July 1930 into the royal family of the Fulani Sullubawa clan that has ruled over the Emirate of Kano since 1819. His father was Abdullahi Bayero and mother Hajiya Hasiya. He was the eleventh child of his father and the second of his mother. At the age of seven, he was sent to live with Maikano Zagi. His father reigned for 27 years. Muhammadu Sanusi I who was Ado Bayero's half brother ruled after their father from 1953 to 1963. Following his dethronement in 1963, Muhammadu Inuwa ascended the throne for three months.
After the death of Emir Muhammadu Inuwa who ruled for three months only, Ado Bayero was crowned the Emir of Kano on October 22, 1963, becoming the 13th Fulani Emir of Kano and the 56th ruler of Kano.
On 6 June 2014, after fifty-one years on the throne, Ado Bayero died in his palace Gidan Rumfa.