Amaechi Sends Confusion On Plans Of Anti-Tinubu Camp
Backs Fashola On Power Shift To South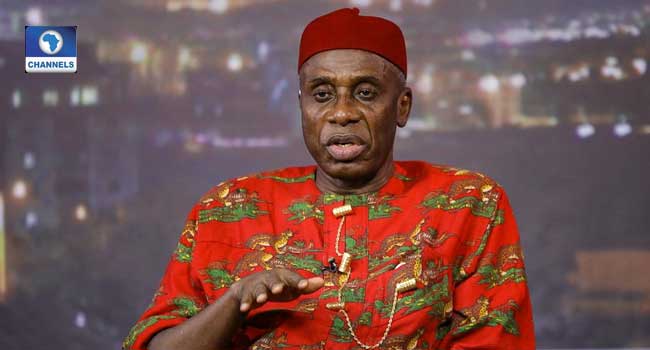 By Emmanuel Adigwe
Transportation Minister Rotimi Amaechi has backed power shift to the South but shoved off questions on his potential candidacy in the contest.
His indistinct response is bound to elicit concerns as to whether the anti-Tinubu camp will be raising multiple candidates to challenge the national party leader for the 2023 presidential ticket of the ruling All Progressives Congress, APC.
Amaechi has been repeatedly mentioned as part of the rival camp of party chiefs in the APC who are said not to share in the aspiration of enthroning Asiwaju Bola Tinubu as presidential candidate in 2023.
The camp is believed to have Dr. Kayode Fayemi, Governor Nasir El-Rufai among the leading figures. El-Rufai has been repeatedly pitched as running mate to either Amaechi or Fayemi should the presidential ticket be zoned to the South.
The camp which seems to have the ascendancy was believed to have forced out the immediate national chairman, Comrade Adams Oshiomhole out of office.
Oshiomhole was an ally of the national leader, Asiwaju Tinubu.
Speaking in an interview as to whether he would back power shift to the South, Amaechi said:
"it is a difficult question for me to respond to . I just believe that the zoning which was done between north and south should be respected just as Fashola has said," he told Channels Television in an interview.
But asked whether the power shift should go to the Southeast, the only zone in the South not to have produced a president in the Fourth Republic, he said the decision should be left to the party to decide.
Asked whether he would want to be the candidate of the party, he said:
"it is too early to have that conversation. The best conversation to have now is how to deliver on railway, maritime as per the responsibility assigned to me by the president of the Federal Republic of Nigeria."
Asked if he would want to be the party's candidate one day in the future, he said:
"I have answered that question already. I have a responsibility as minister of transportation to address the issues concerning transport.
When the reporter reiterated the question, Amaechi again poohpoohed the question saying:
"Third time the response you will get is why don't you allow me deliver the responsibility given to me by the President of the Federal Republic of Nigeria and the people of Nigeria which is the responsibility of being minister of transportation."
Though it is too early for any presidential aspirant to make his intentions clear, the refusal of the transportation minister to rule himself or his South-South zone out of contention will indicate that the anti-Tinubu forces are yet to settle on their choices.